The Sabres score the fewest goals, give up the most, have the worst power play, penalty kill, 5-on-5 numbers, goal differential and faceoff numbers and take the fewest shots and give up the most shots per game in the league.– Mike Brehm, USA Today, 2/17/15
So you're telling me there's a chance.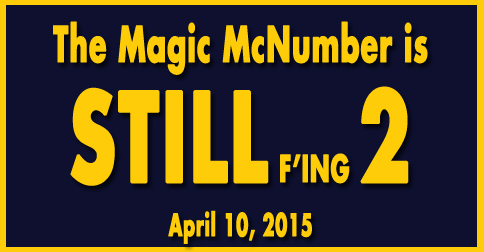 Up is down. Black is white. Winning is losing and losing is winning and Connor McDavid or Jack Eichel is the prize. We've all been doing some form of bizarro NHL math on our own but with the finish line in sight, we have to track this thing.
For the purpose of our standings, a loss is worth 2 points, an OT loss is still worth 1, and a win is worth 0.
When the Magic McNumber hits zero, the Sabres will have clinched 30th place.
As of April 10th, we're down to two teams and a total of three games with the Sabres clinging to the lead. The season ends tomorrow.

WHAT DO WE WANT TO SEE?
With two games left for the Sabres and one for the Coyotes, the Sabres need just two points to go their way in order to clinch 30th.
Those two points can happen in one move with:
one Sabres loss in regulation OR a Coyotes win
The two points could also be spread out over multiple games, with the Sabres needing two of the following one-point events to take place:
Sabres loss in OT/SO (two opportunities)
Coyotes loss in OT/SO (one opportunity)