Tri-Main Center is one of Buffalo's leading mixed-use office, studio and light industrial facilities. The first large-scale rehabilitation of a vacant industrial complex, Tri-Main Center has been at the forefront of the Buffalo resurgence. Today, its success draws businesses and visitors from all parts of WNY and beyond.
Real talk: In our view, its tenants consist (primarily) of two groups of people– a) artists and b) the staff at Trending Buffalo.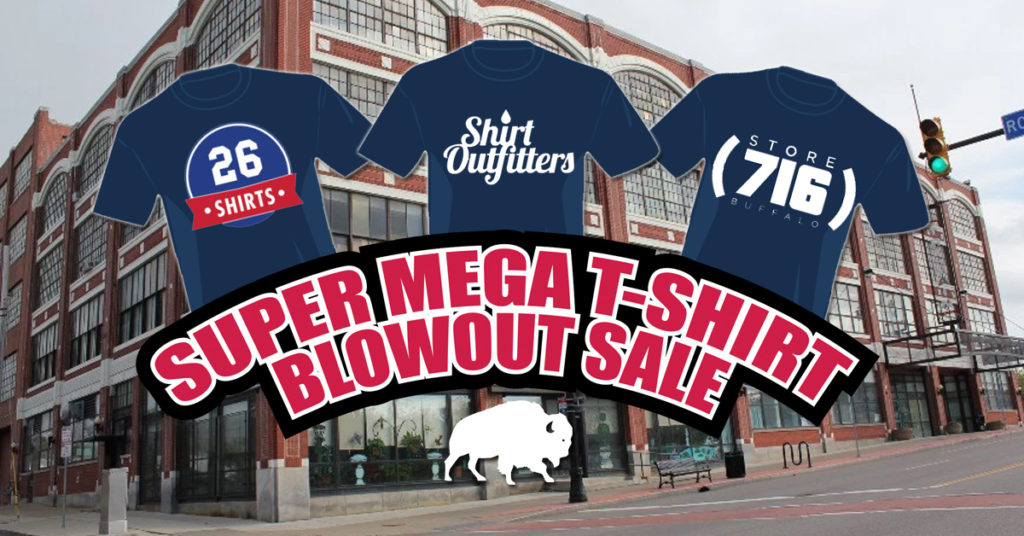 Bridging the gap between the high-brow artisans and the idiots working for us are three local t-shirt companies and THIS WEDNESDAY AND THURSDAY, they're banding together to host the mother of all Buffalo t-shirt sales.
Exclusive events have been held in the past but this is the first time that you (yes, you!) are invited. Here's the main info you need.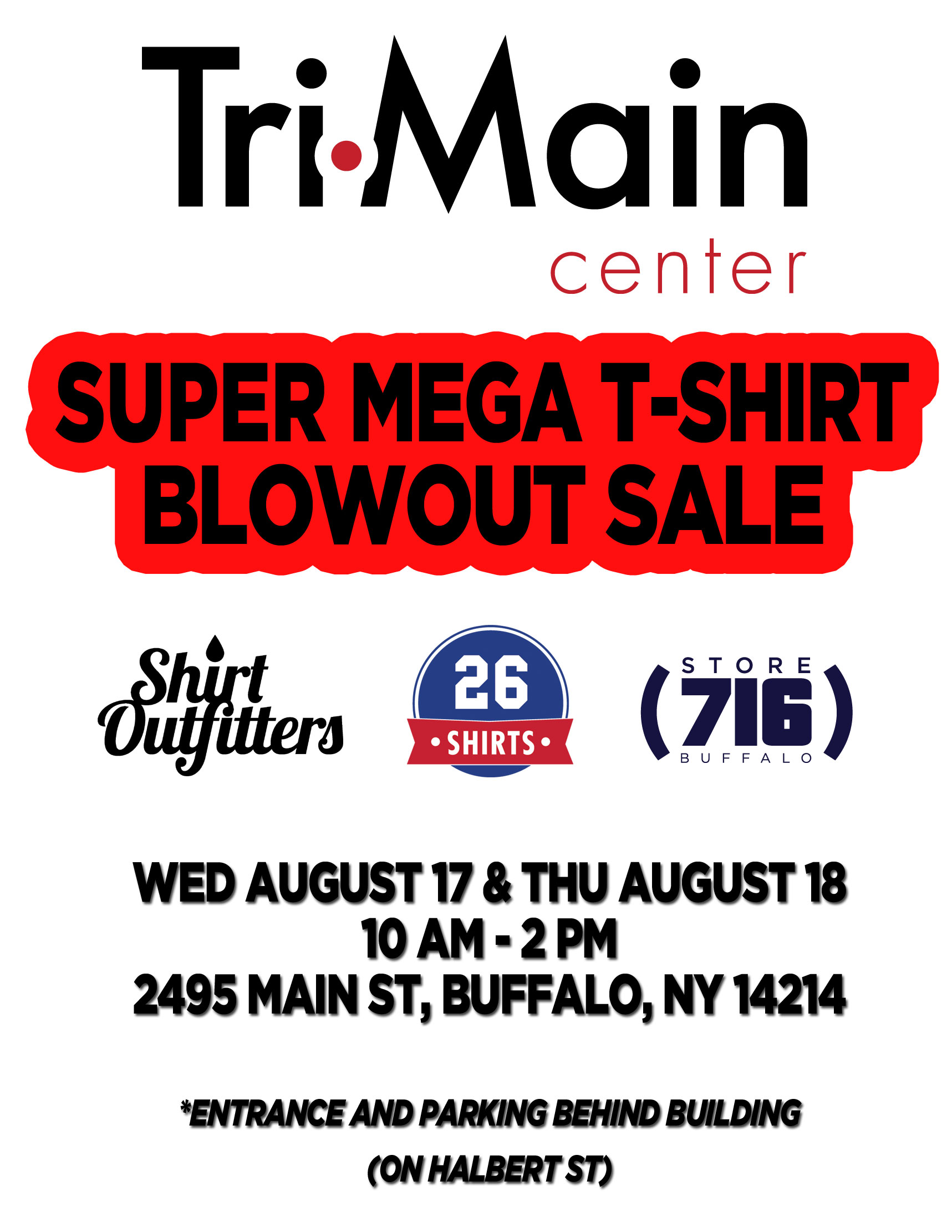 The three companies involved:
Store 716 has sold Buffalo-themed designs– often inspired by sports– since 2011. Their recent #716Throwbacks are a huge hit. So is I Remember Buffalo #courageforgord. Their vast collection of products includes tailgate plates, trivia games, and winter apparel. All are available at the Super Mega T-Shirt Blowout Sale.
26 Shirts releases a new design every two weeks and when the new one comes out, the old one goes away. Guess what? Some of the old designs didn't actually disappear and they're available at the Super Mega T-Shirt Blowout Sale.
Shirt Outfitters print t-shirts in mass quantities for local and national businesses. As such, they've got a wide assortment of shirts– many of them blank– in varying colors and styles (including tees and hoodies) available at the Super Mega T-Shirt Blowout Sale.
The three reasons to attend:
Ridiculous discounts on t-shirts (prices as low as $2)– Buffalo-themed, otherwise-themed, and even blank shirts (if your favorite fashion statement is "I'm making no statement") for men, women, kids, and even babies.
The availability (in limited quantity, obviously) of designs you waited too long to purchase online and have been unable to find since.
A reason to explore Tri-Main Center— a building you always pretend to know but have never actually entered.
PRO TIPS:
Don't be fooled by the address.
Tri-Main Center is located at 2495 Main Street but the "main" entrance is actually BEHIND the building on Halbert Street. Ample free parking abounds– also behind the building. The only reason to park on Main Street is to accumulate FitBit steps.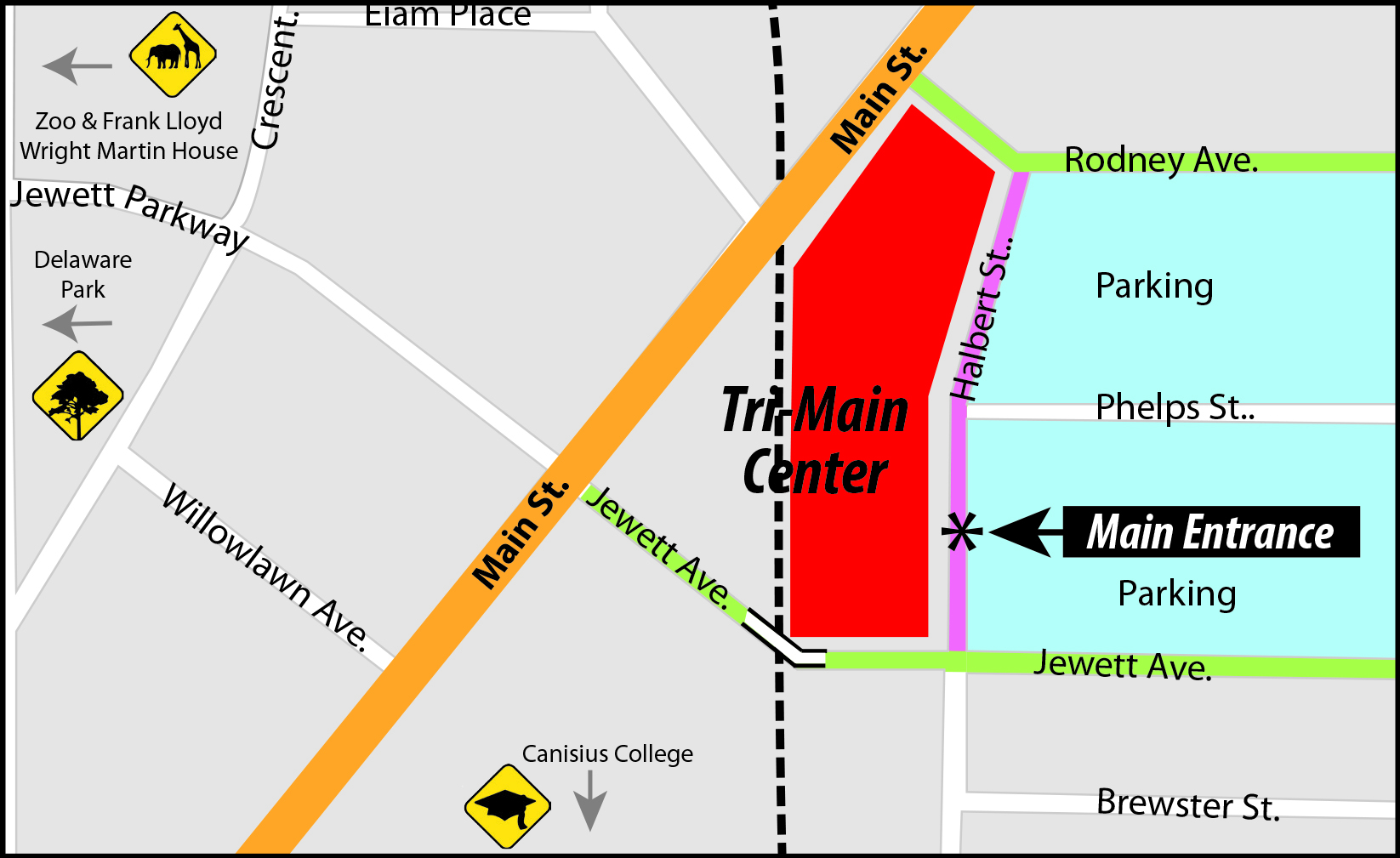 Show up on Wednesday.
You want first crack at the merchandise. Thursday is for suckers. (Note: If you're reading this after 2PM on Wednesday, disregard and swing by on Thursday. There's plenty of merchandise left.)
Show up EARLY on Wednesday.
The sale begins at 10AM. The line will form at 9:30 because #noearlybirds.
No cash? No problem.
All three vendors are equipped to accept payment via credit card. Of course, cash is cool, too… but no checks, money orders, promissory notes, gift cards, or goofy Canadian money.
Remember the holidays.
Yes, Buffalo has averaged 96 degrees and 107% humidity over the last three months* (We were even named "the best weather city in America!"**) but winter is coming and soon you'll be scrambling for gifts. Know who you'll turn to in December? These same three t-shirt companies– at prices way higher than the ones they're offering this week.
*All numbers approximated… then rounded down.     **Story patently false.
Bring a shopping bag.
You're going to leave with a bunch of stuff and we know these guys. They do almost all of their business online and not one of them can be counted on to remember to show up with bags for you to carry out your booty.