Sports media members empower themselves as judge, jury, and executioner of the teams they cover.  We thought it's only fair to turn the microscope around to let fans, readers, and listeners pass judgment on them. TrendingBuffalo.com conducted a Buffalo Sports Media survey on May 29 to find out how our sports media members stack up. Here's a summary of our findings.  Please let us know what you think in the comments section below.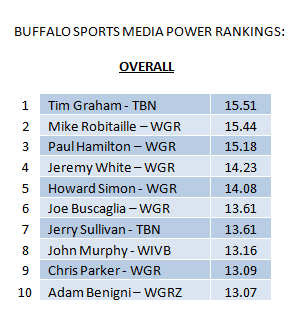 About the rankings:
Our unscientific methodology started with a survey on this site asking respondents to rank several Buffalo sports media members in four different categories (influence, knowledge, insight, and entertainment value) using a 5 point scale.  Overall ranking is based on the averaged combined score of all submissions.
There were 441 responses over 24 hour period.  We could've gone longer to establish a larger sample size but were excited to start processing the stats.  Also, the short time frame helped to limit opportunities for ballot stuffing.

The survey list included the following 20 media members:
Adam Benigni – WGRZ
Bob DiCesare – TBN
Bucky Gleason – TBN
Chris Brown – Buffalo Bills
Chris Parker – WGR
Ed Kilgore – WGRZ
Howard Simon – WGR
Jay Skurski – TBN
Jeff Russo – WKBW
Jeremy White – WGR
Jerry Sullivan – TBN
Joe Buscaglia – WGR
John Murphy – WIVB
John Vogl – TBN
Mark Gaughan – TBN
Mike Harrington – TBN
Mike Robitaille – WGR
Mike Schopp – WGR
Paul Hamilton – WGR
Tim Graham – TBN
In the interest of simplifying the process for voters, some people who probably should've been included were left off the initial list. Shawn Stepner, Stu Boyar, and Ben Hayes all contribute solid coverage on their respective TV stations.  Paul Peck did the same until recently and continues to serve as the voice of UB football.  Rich Gaenzler (aka "The Bull" from 103.3 The Edge) has successfully juggled music and sports guy roles for years.  The same can be said for Shredd and Ragan.  Kevin Snow is the lead writer for Sabres.com.  Sal Capaccio established a strong online following before returning to Buffalo and joining the staff at WGR.  Brad Riter now hosts a daily podcast.  Inevitably, someone has also been off THIS list.  I apologize in advance.  Use the comment section below to let me know who I forgot.
It's not a perfect study but it's meant to be fun and spur conversation.  If you've got something to say, again, use the comment section.
Congrats to our winners.  Thanks to our voters.  We expect to revisit this list occasionally. More to come.
Here are the links to the results for each category of the Buffalo Sports Media survey.