Category #3 in our 5 part series to reveal the results of the Buffalo Sports Media Power Rankings is "most insightful."
My best guess is that "insightful" was generally interpreted as "well-sourced with reliable information."
Here are the top 5 finishers.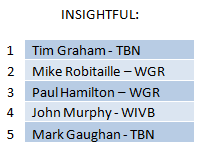 5.  Mark Gaughan—  With 28 years under his belt at The Buffalo News, Mark has been one of Bills' fans most important connections to the franchise for a long time.  He has successfully presented numerous former Bills as candidates for the Pro Football Hall of Fame and currently serves as the president of the Pro Football Writers of America.
4.  John Murphy—  The play-by-play voice of the Bills has also been a local TV anchor and radio host at WKBW, WIVB, and WBEN.  The hours logged at One Bills Drive give Murph the inside information that fans crave and his time spent in the booth with Van Miller help connect him to the now-distant glory years of the K-Gun.
3.  Paul Hamilton—  Paul has ranked in the top 5 in each of our first 3 categories.  As such, he's a safe bet to place high in the overall Buffalo Sports Media Power Rankings which are coming soon.  As I write this, Paul is in Toronto interviewing NHL prospects in preparation for this month's Entry Draft.  That's how you gain insight!
2.  Mike Robitaille—  Roby also placed second in the category of "most knowledgeable" and has been teaching fans the game for years, particularly since the days of Hockey Hotline.  His handshake is dangerously firm.
1.  Tim Graham—  How many nice things am I supposed to write about Tim Graham over the course of a few days?  He's a great writer, a great guy, and everybody loves him so he keeps showing up at or near the top of these lists.  He's tall, handsome, and likely very kind to the elderly.  We once attended a Public Enemy show together.