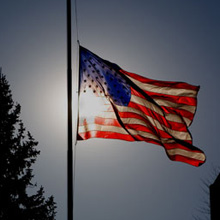 Thankfully, election season is over.
Normally we would just move on with our lives but Facebook and Twitter have prolonged this event with various posters announcing that Obama's re-election unequivocally spells the end of America as we know it. Every stream has its own version but the sentiment usually runs along this line– "We (the losers) know more than you, and super soon you will be forced to recognize how right we were when the world as we know it comes to an end." Sometimes they also use terms like "meddling kids" or "they called me insane at the Academy" but like I said, your stream may vary.
I'm not on food stamps nor do I collect welfare.  I'm a married white male with two young children. I have a graduate degree and own a small business.  My demographic profile SCREAMS Republican but I could not bring myself to vote for Mitt Romney for two simple reasons.  First, Mitt Romney seemed about as sincere as an animated wax statue, and second, because Republicans have turned into freakin' lunatics!
Have you seen this stuff?
Tonight is the end of America as we know it. Mark my words, our country is ruined. Welcome to socialism.

— Hunter K. Cabe (@HuntKeatCab) November 7, 2012
If Obama wins, this will seriously be the worst night of my life… And possibly the end of America

— Lexie Metz (@LexieMetz) November 7, 2012
The above appears to be sour grapes masquerading as a wise prediction — because we didn't listen to those who opposed Obama, we are all screwed. So, as a way to reach closure, and as a gesture to reach out to this vocal minority, we'd like to offer them the opportunity they missed in this last election: the chance to win something. That's right, we'd like to offer them a wager: We will bet $1,000 today that America doesn't end between now and Tuesday, November 8, 2016.
Now, a prediction that can't be measured is no prediction at all. So, to make sense of this assortment of claims above, we are offering the following terms…
America ends when the following three criteria are met:
1) National unemployment is over 20%
2) The National debt is over $20 trillion dollars
3) Americans no longer have the right to bear arms
When this comes down by the next Presidential election, we'll pay up to anybody willing to take the other side of our wager.
So, who's in? Anybody? Anybody….?
*Please share this with your fellow Americans as a means by which to offset impending tax increases.