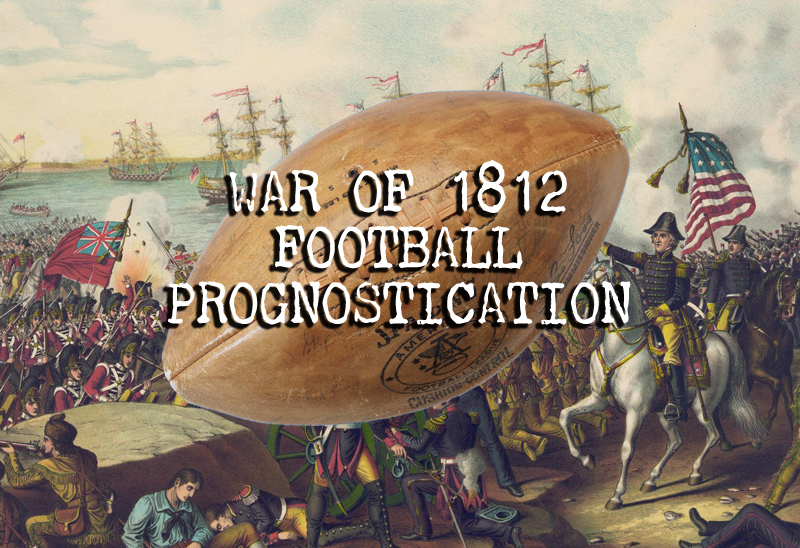 (Editor's note: Mixed into a rambling narrative about the current state of affairs in the NFL loaded with historical and pop culture references, Mr. Brutal makes some football picks. Why does he call it the "War of 1812 Football Prognostication"? He likes history, he's Canadian, Bob Gaughan is American and includes his picks as well.)
"I'm shocked! Shocked to find that gambling is going on in here!" – Claude Rains as Captain Renault in "Casablanca"
TMZ releases the interior elevator video of the Ray Rice incident this week and it begs one question: just what did the NFL, the public and the coterie of squealing ex-jocks & pseudo journalists at ESPN think happened in that elevator in Atlantic City? Two months ago, the hallway footage of troglodyte Ray Rice dragging his unconscious fiancee from the Revel Casino lift was made public. The police investigated, they charged him, he admitted hitting her, the courts dealt with it, Ravens' fans and teammates cheered caveman Rice's return at preseason games and the Potentate-Sultanate of the NFL, Roger Goodell, imposed a pathetically brief suspension.
Then, the new video is released and the aforementioned are all suddenly shocked and appalled. The moral outrage is mostly of the Johnny-come-lately variety– every "Me Too" chirping attention-seeking twit feels the necessity to take to the television/radio networks and social media airwaves to publicly announce their new-found concern for domestic abuse and call for the resignation of Generalissimo Goodell.
Geez, we suppose some good will always comes when the spotlight is shone on a serious social problem, but what is disappointing is that our current culture (which at the best of times has the attention span of expectant father lemmings addicted to methamphetamine) …. reacts with such immediate, spasmodic, random and ultimately vacillating resolve when prompted and primed by the Tube Face Twitterverse and the Court of Total Views and Likes.
"We want Blood! Grab the torches and pitchforks and advance toward Dr. FrankenGoodell's castle! Maybe Kony and Boko Haram are there too, cooking crystal blue in the laboratory."
The highlight so far in this latest mess was the newly bespectacled Ray Lewis on Monday Night Football espousing advice and concern for ex-Raven teammate Rice and the issue of violence in society in general. Ray almost went Vesuvius when Suzy Kolber questioned the differences between the Ray Rice crime and Lewis' own past troubles involving a double homicide.
"Completely different! Completely different! No relationship at all!" he fumed with pagan idol eyes blazing red as Nervous Nellie Steve Young cowered in the middle seat between the two.
Taking a page from Texas Governor, Mensa Master and Presidential-wannabe Rick Perry, Lewis the ex-linebacker and edged weapons specialist has started wearing glasses on television to appear more intelligent, part of the never-ending remake of his public image, ….. Or, maybe he is about to resume his post graduate studies at the University of Miami to pursue his Doctorate in Contemporary Criminal Sociology.
In a special shout-out as a point of interest to Professor Ray Lewis, a British author and researcher has claimed through DNA testing to have finally solved the century-old mystery and revealed the identity of Jack the Ripper. Also, the second season of the Anglo-Irish TV series "Ripper Street" is now available on DVD, click on the Amazon icon at the bottom of the page. We all win.
In further developments, upon screening a PETA video of slaughterhouse operations, the NFL has expressed ignorance, shock and dismay and decided to suspend the serving of all varieties of cocktail sausages at league-sponsored luncheons.
Thursday, September 11, 2014
8:30 pm
Pittsburgh @ BALTIMORE (-3) 44
We're guessing that the Ravens' release of Ray Rice was made a lot easier by the size of his contract, the emergence of RB Justin Forsett last Sunday and their long-term belief in RB Bernard Pierce. That being said, this week has been a bit of a distraction for the Ravens. That coupled with the fact that the status of the Steeler running back duo of Cheech & Chong is unchanged for this week, Bell and Blount scheduled to play tonight, easy pick.
Pick: Steelers +3
Gaughan: Ravens -3
Sunday, September 14, 2014
1:00 pm
Detroit @ CAROLINA (-3) 43.5
The Motor City has been through some bleak times the last few decades. The Ford Motor Company has generally weathered the new economic realities better than GM or Chrysler, except for one nagging smudge on the corporate spreadsheet– the Lincoln Luxury Division.
Sales have fallen badly, but the start of the football season is the time to introduce a brand new edgy advertising campaign to attract those younger demographic professionals who crave the latest technology in an upscale SUV that looks and performs pretty much the same as all the competitors' models. Fomenting brand identity, product differentiation and the "cool factor" means desperate measures are required.
Cue Ford's new spokesman/pitchman for 2014… Matthew McConaughey! We must have seen that car commercial last Sunday at least a half dozen times. The super thespian spaceman aimlessly cruising his Lincoln Sports Ute through the foreboding urban nighttime landscape, seemingly oblivious to the realities of the space-time continuum while repeating a rambling stream-of-consciousness mantra that only he and the terminally insane could possibly even begin to decipher and comprehend.
What in Hell's half-acre is he talking about?
In the distant past, we've read the works of Sartre, Kierkegaard, Castaneda, Plath and Dr. Seuss, imbibed in several psychotropics and mescaline (for religious sacrament purposes only), but we can't even begin to swim in the same lane as the double Oscar/Emmy winning Master Shaman.
And where the Hell is he going?
He drives the mean streets casually, with the quiet confidence of a man who has discovered the secret to eternal serenity while simultaneously plotting a comprehensive plan to derail an ISIS terrorist cell who are planning to sabotage the Hadron Collider and/or …. like a man heading to Burning Man for the weekend to personally and physically audition scores of wastrel hippy chicks for the position of this present lifetime's soul mate, looking for fecund vessels to ride shotgun in this new Lincoln chariot, traipsing around the Hippodrome of Nirvana and onward down the road to spiritual serenity in Xanadu where they can explore the nature of the "Four Noble Truths."
After several viewings of this commercial, the hypnotic drone of his mellifluous voice, the effusive patented drawling McConaughey delivery, the dyslexic mixed metaphor word selection, the Zen Buddhism indifference to the violent jungle that lurks in the dark alleys just beyond the boundaries of the safe metal and plastic Lincoln womb. It all seems to combine… to eventually… win us over.
He's talking about accomplishing things (possibly even real, tangible things) and mapping out a New Age Mission Statement for the vanquished and intellectually displaced. And somehow, by affiliation, this can all be achieved if we just join Space Cadet Matt in some sort of third-eye simpatico by purchasing this vehicle and cruising the evening streets of a large city while digesting Deepak Chopra from our top-of-the-line digital in-car sound system.
There is precedent for this form of CAPA (Cool Associative Product Association) in automobile advertising. In the 1995 movie "Get Shorty," celebrity word-of-mouth led to everybody in Hollywood buying GM-Oldsmobile Minivans because they were now perceived as the "in" vehicle.
In the film they were dubbed the "The Cadillac of Minivans."
And in the real world, I'm pretty sure that all worked out really well for Oldsmobile.
We like this bold new direction by Ford, the Lincoln Motor Car Division and by association the Detroit Lions. Yes, yes, yes. they are the "Whatever-the-Hell-Roman-Numeral-Super Bowl-it-is-this season's" Team of Destiny.
I think we take the Lions all year… and our next vehicle is that Lincoln "Cadillac of SUV's."
Pick: Lions +3
Gaughan: Lions +3
Miami @ BUFFALO (Pick Em) 43
Terry Pegula has won the Buffalo Bills Ownership eBay auction!!! The Bills will stay on the Niagara Frontier!!! The Bills are in first place in the AFC East!!!
Cue the bands! That is: The Goo Goo Dolls, the Buffalo Philharmonic, Spyro Gyra, Duke & the Blazers, a hologram of Rick James, even Point Blank… but no stinking faded, shredded-laundry hair extension metal-light from the eighties!
Or blowhard billionaire bullies… Good riddance, Bon Jovi! Good riddance, Donald Trump!
Jon Bon Jovi was one of the most annoying, disingenuous and talentless poseurs to hit the Western New York scene in decades.
Embracing his tough, blue collar New Jersey roots while simultaneously recording/performing overproduced panty-moisturizing drivel for the lowest common denominator has always been a balancing act for this hairspray saturated chameleon. Now he can go back to music management, pursuing his dream of becoming the 21st Century Colonel Tom Parker and console his mentor and rival losing bidder, the Donald of Trump.
Fittingly, the Trumpster has just had a company involved with him or licensing his name declare bankruptcy for what… the fourth or fifth time? Who knows? This Captain of Industry can now go back to making buffoonish and irresponsible socio-political declarations and continue working on perfecting a hair dye the color of John Boehner's skin.
Pick: Bills 
Pick: Bills
Jacksonville @ WASHINGTON (-6) 43.5
The Jax Hot Tubs are rolling. Sure they blew a 17-0 half-time lead in Philly, but most people expected them to be steam rolled by the end of the National Anthem. The Jags' D sacked nimble footed Eagle QB Nick "Fred Astaire" Foles five times while Chad Henne threw for over 200 yds– two touchdowns and no interceptions. This is amazing, since opponents don't respect the Jaguars' running game because phone booth short yardage specialist Toby Gerhart is their starting long yardage running back.
Wow is that exciting Jay Gruden/Sean McVay Attack off to a scintillating start in D.C.! A 7.2 yard completion average for RG III, a 29.7 QBR, 0 touchdowns, 3 sacks and a multitude of hits, hurries and rude collisions. Despite all the new weapons purchased for his Heismaness, Bob Griffin looked lost, confused and jackrabbit-nervous about re-injuring his pins. Gruden was criticized in Cincinnati for his dink, dunk and cover offense, but that matrix looked positively Rooseveltian compared to this Quaker-conservative concoction.
But things should go better this week at home. Owner and poster boy for sufferers of Napoleon Complex Syndrome, Little Danny Snyder will likely be toasting victory in his private box with his bleating sycophantic entourage of guests on Sunday. All the while he will be plotting another "new" stadium extortion from the NFL, the politicians and mostly the taxpayers in exchange for renaming his team (although he has declared in the past that re-branding this racist moniker is non-negotiable, a non-starter and sacred to the core of his being.)
Pick: Rufescent Epidermis (-6)
Gaughan: Jacksonville +6
Dallas @ TENNESSEE (-4) 49.5
Cowboys' owner Jerry Jones was livid this week. Not because his team was waxed by the Forty Niners or the fact that San Fran fans filled up half of his Taj Mahal in Dallas and vocally smothered out the indifferent Dallas supporters all afternoon. No, the Ponce de Leon of NFL Owners was severely perturbed that none of his extensive collection of selfies, private bedroom and Snapchat poses with young women were stolen from Apple's Cloud and distributed freely throughout the Internet. The Lone Star Hefner's ego could not fathom the seeming lack of interest in a billionaire septuagenarian's Lothario escapades.
Just a few days later, Jerry Jones got the publicity he craved when one of the young women that he has been seen with in multiple groping, mugging and bathroom porcelain decorated portraits sued him for millions.
Pick: Titans (-4)
Gaughan: Cowboys +4
Arizona @ NEW YORK FOOTBALL GIANTS (-1) 44
Update: After One Week, Eli Manning has fallen 16% behind the seasonal goal; the George Clooney threshold of 70% pass completions.
Cardinals' Pro Bowl WR Larry Fitzgerald and especially his dad are unhappy that he is less involved in the new Bruce Arians offense. Apparently this is due more to financial considerations revolving around contract incentives than strategic game considerations. While nobody expected Larry to be targeted as often as Islamic Caliphate disciples in the Badiyat al-Sham Desert, one completion for 22 yards on four second half targets on Monday Night is Bob Davie-caliber ridiculous.
Pick: Cardinals +1
Gaughan: Cardinals +1
New England (-3.5) @ MINNESOTA 49
Does Tom Brady miss All-Pro guard Logan Mankins? The GQ cover-boy was hit and hurried a record sixteen times on Sunday in Miami. While Bill Belichick is going to make adjustments to avoid the indignity of falling to 0-2, a Mike Zimmer defense and Norv Turner Offense are bound to cover the small spread at home if not win outright.
Pick: Vikings +3.5
Gaughan: Patriots -3.5
New Orleans (-6.5) @ CLEVELAND 48
Jonathan Manziel's management team has filed copyright on dozens of terms relating to the anointed one, including: "Johnny Football", "Johnny Heisman" and "Johnny Money". ( We're not kidding.) After watching Brian Hoyer's brave Brian Sipe-like but belated comeback on Sunday against the Steelers, we also hope he patented "Johnny Clipboard", "Johnny Sideline" and "Johnny Volek".
Pick: Saints -6.5
Gaughan: Saints -6.5
Atlanta @ CINCINNATI (-5) 48
Bengals fans were outraged last year when the management played a Katy Perry song to announce the arrival of the team onto the field. They demanded more appropriate, inspirational music be played in Paul Brown Stadium, anointed "The Jungle" by the faithful.
But many people were also tired of the team's signature song, the overplayed "Welcome to the Jungle" by Clamps and Hoses. Many fans are tired of this overplayed arena anthem featuring the annoying "Testicles in a Vice" caterwauling of Axl Rose.
Fan suggestions for new team entrance music:
1. Bungle in the Jungle –  Jethro Tull ….. Rejected! …. too lame, too cliche, too folk progressive and too British.
2. The Lion Sleeps Tonight – Robert John/The Tokens …. Rejected! ….. wrong feline.
3. Concrete Jungle – Bob Marley …… Rejected! …. Way too existential, laid back and the fact that just listening to this song violates the NFL standard ridiculously low threshold THC levels in the listener's bloodstream.
4. Monkey Music – Jo Jo Gunne ……. best song by far, but Rejected! ….. due to awesomeness & obscurity.
5. A sensitive soliloquy reading of William Blake's "Tiger, Tiger, Burning Bright" by Bengals' legend Ickey Woods was also rejected for any number of reasons.
The search continues.
Pick: Bengals -5
Gaughan: Falcons +5
4:05 pm
St. Louis @ TAMPA BAY (-5) 37
Tampa Bay-Saint Petersburg has more churches per capita than any other major North American city. Most of these houses of worship are of the Evangelical persuasion. In 2008, in an effort to attract more fans of this demographic, the Tampa Bay Devil Rays baseball team dropped "Beelzebub" from their name and became the "Rays." Team performance has since been solid but attendance has actually declined. As a result, the Buccaneers have permanently shelved plans to rename the franchise the "Pleasant Privateers."
Pick: Bucs -5
Gaughan: Bucs -5
Seattle (-6) @ SAN DIEGO 44.5
Former AFC West foes meet and Philip Rivers has a short week after a Monday night loss to prepare for the Seahawk juggernaut who have ten days rest. All logic points to a Seattle white wash.
Pick: Chargers +6
Gaughan: Chargers +6
4:25 pm
Houston (-3) @ OAKLAND 39.5
The home opener in Oaktown is always a fashion show spectacle. The Black Hole of Raider Nation takes the opportunity to show off all the new additions to their Autumn Collection:
Everyday wear, full-body armor designs, soft and hard leather underwear, chain-mail accessories, multi-colored tattoos of obscure demonology caricatures and innovative body piercings featuring live ammunition are the always eagerly anticipated highlights each year.
The over/under on this game could hit the high twenties by game time, if enough people care about it to wager on it.
Pick: Raiders +3
Gaughan: Texans -3
New York J-e-t-s, Jets! Jets! Jets! @ GREEN BAY (-9) 46
It isn't often or in many pursuits that the biggest city in the United States can be humiliated by one of the smallest. The Packers have had three extra days rest and Cheesehead Nation is restless. Gino and the Jets aren't playing the Raiders this week.
Pick: Packers -9
Gaughan: Packers -9
Kansas City @ DENVER (-13) 52
This used to be a "must see" divisional rivalry, but unless Kansas City QB Alex Smith channels the spirit of the still living Len Dawson and inspirational direction from the late Hank Stram, this could be an early season Chiefs' disaster of Donner Party Massacre/Krakatoa proportions. We'll take Peyton Android and the untamed equines.
Pick: Broncos -13
Gaughan: Broncos -13
8:30 pm
Chicago @ SAN FRANCISCO (-7) 49
Watching and betting on Jay Cutler play Quarterback is similar to playing high stakes poker against Bruce Dern, Dennis Hopper, Christopher Walken, John Cassavetes & J.T. Walsh.
You can't get a read because the mindset is abnormal, the blank expressions and frequent counter-intuitive emotional outbursts belie any "tells." They'll go "all in" on any throw and the results can result in catastrophic physical injury and financial ruin.
Pick: Niners -7 
Gaughan- Niners -7
Monday, September 15, 2014
8:35 pm
Philadelphia @ INDIANAPOLIS (-3) 53.5
So far, suspended Colts owner and drugstore cowboy Jim Irsay has been meeting the extremely strict conditions of his suspension. He's staying away from attending games, team functions and the business office. This despite the fact that Bobby Valentine called him this week offering fool-proof tips on disguises & sent him a Special Edition Director's Cut Blu Ray DVD of "The Seven Faces of Dr. Lao."
As we predicted, Eagles QB Nick Foles has continued his preseason struggles. He played the first half of Sunday's game against the Jags as if his feet were wading through a shallow layer of magma. Trailing the double digit underdog Jaguars 17-0 and seeing "Human walking Hand Grenade" Mark Sanchez warming up on the sideline jolted him into recovery mode. 34 straight points later the Eagles cruise to victory.
Despite this, our radical "First Wild Prediction of the Year" that practice squad QB G.J Kinnie from Tulsa will eventually be running the Eagles this year is one week closer to reality.
Pick: Eagles +3
Gaughan: Eagles +3