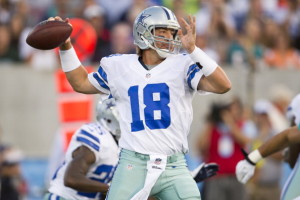 My thoughts on the Buffalo Bills' benching of EJ Manuel…
(Make sure you read Point No. 5)
1. This move was made out of clear-as-day desperation
And, honestly, I can't blame Doug Marrone on that fact. We know nothing about Terry Pegula's football acumen, and quite frankly, he probably has none whatsoever, which can be a good thing for an NFL owner. But he'll almost assuredly want to hire his own "football guy" to call the shots at the top of the Bills organization by the time the 2015 league year begins in March. Marrone's not stupid — he's in his second year as head coach of a franchise that hasn't been to the playoffs since the first week we realized Y2K wasn't going to put an end to mankind.
The worst development for Marrone pertaining to his job security would be to miss the playoffs for a second-straight season with new ownership taking over. Sure, Pegula retained the head coach and GM of the Buffalo Sabres when he bought the team a few years back, but in almost every case, if a coach isn't winning when a new owner comes in, that coach is as good as gone.
In a football vacuum where reasonable patience is allowed, something that's becoming increasingly rarer in today's instant gratification NFL that mirrors how we are as a society, I imagine Marrone would love to stay dedicated to EJ Manuel and let him progress naturally…you know, like, not having to bench him before his 15th start.
But, this is the world we live in today. A 24-year-old, former first-round QB with a career completion percentage close to 60 percent and more touchdowns than interceptions gets relegated to a backup role before he plays a "full season" of 16 games.
Marrone's I-have-no-choice-but-to-make-this-decision decision is the perfect segue…
2. Kyle Orton will give the Bills a (slightly) better chance to win in the short-term
This should be obvious to everyone. Orton's appeared in 75 NFL games and has made 70 starts. 70. You know here he was through 14 career NFL games? Very quickly — 51.9% completion, nine touchdowns, 13 interceptions and a measly (worse than Manuel) yards-per-attempt average of 5.1.
But I digress.
Back to current day Orton, yeah…there's no doubt he'll be more savvy at the line, he'll probably get the ball out quicker, and he'll probably be more accurate. Probably. I'm sure he'd appreciate his wide receivers helping him out a bit.
A career completion percentage nearly identical to Manuel's could indicate Orton may not actually be more accurate, but with a 59-game experience edge on his side, I'll say he'll be an upgrade for Buffalo's offense at the quarterback spot.
And that's precisely what Marrone needs.
Back to Marrone…
3. Benching EJ was super ballsy and potentially very damning?
Manuel was Marrone's first draft pick as an NFL coach. He tied himself to the Florida State quarterback. He, and the Bills front office were to develop Manuel, build a team around him and mold their first-rounder into a franchise signal-caller who'd keep the floundering franchise viable for many years.
Instead, Marrone has, essentially, "given up" on his project — out of reasonable desperation, yes — but he's given up, or at the very least, destroyed Manuel's already shaky confidence.
What does that say about Marrone?
In theory, he's saying "whoops, I whiffed on a first-round quarterback."
Usually in the NFL, head coaches and GMs don't survive whiffing on a first-round quarterback. That's just how it goes. Rex Ryan did with Mark Sanchez, but Marrone doesn't have Ryan's track record, and Jets GM Mike Tannenbaum who drafted Sanchez didn't survive.
Even if Orton "takes" the Bills to 9-7 and makes the playoffs, wouldn't it be pretty logical for Pegula to think:
Wait, this head coach drafted a quarterback in Round 1…who he didn't believe was good enough after seeing him play just 13.5 games, and, great, my team made the playoffs for the first time in 15 years, but now I'm heading into my first full year as an NFL owner with a 32-year-old journeyman quarterback under center — what good is Marrone?
I'm sure in those circumstances, Marrone (and Whaley) would be given credit for patch-working the quarterback position en route to the postseason. And, heck, the city of Buffalo will go bonkers when the Bills make the playoffs, however it's done, so Marrone will have the public and media as strong backing.
But, unfortunately for Marrone, after the "OMG we made the playoffs!!!!" hysteria dies down, the Bills will begin 2015 as the same team they've been since Jim Kelly retired — a team without a franchise signal-caller.
Also, Marrone's ability to adjust on the fly and make such a courageous move might be applauded by Pegula — if the Bills win 9-10 games — but the adjustment would be viewed as a total abandonment (after being in first place in the division at the quarter pole, mind you) of his philosophy and strategy heading into the 2014 season.
The Bills made it known they were "all in" with Manuel, and even if you didn't believe the words of Marrone, Whaley and Russ Brandon, that trio made it obvious they were all in when they; traded away next year's first-round selection to move up to select wide receiver Sammy Watkins with the fourth overall pick, and when they drafted two wide receivers in the 2013 draft after Manuel and three offensive linemen in 2014, traded for Mike Williams, re-signed 2013's leading receiver Scott Chandler and veteran do-it-all running back Fred Jackson.
It wouldn't be crazy for Pegula to look at the Bills situation in six months and think, "this regime failed at what it set out to do to over the long-haul, and why should I believe they can develop a quarterback in the future? They haven't done that yet."
4. Shouldn't some other Bills have gotten benched first?
How about right guard Erik Pears? He's easily Pro Footballl Focus' worst offensive guard. Through four games, he's been given a grade of -16.4. That score is dead last among every guard who's played in the NFL this year. The next lowest grade is -9.3. Yeah, that large of a gap.
Say what you want about Pro Football Focus, but they watch and have an intricate grading system in place for every play. They have multiple contracts with NFL teams to do analytics.
If you despise their grades because you don't know what exactly goes into them, then I give you this less subjective stat.
Per PFF, Pears has surrendered 12 quarterback pressures (sack, hit or hurry…all pretty easy to see, right?), which is the second-most among all offensive guards, but he's allowed the 12 quarterback pressures on one fewer snap than the guard who's allowed more pressure than him, former Bill Chad Rinehart.
Pears is a 32-year-old, 6'8″, 315-pound career offensive tackle playing the wrong position, and he's been a consistent play-ruiner.
Pears should have been benched before Manuel.
(Doesn't Marrone remember Colin Brown?)
For what it's worth, Eric Wood, Cordy Glenn and Kraig Urbik, the latter should be playing ahead of Pears, have positive PFF grades thus far, but Wood's rating is almost entirely based on his run-blocking grade.
Manuel's been pressured on 40.4 percent of his drop backs the past two games combined, and he was pressured 48.9 percent of the time against Houston, the highest figure in the NFL in Week 4, per PFF.
Football's a team game, remember? And maybe Manuel was just slightly taking of his game when he realized there was about a 50-50 chance J.J. Watt would be running free at him within 1.5 to 2.0 seconds after the snap on every pass play.
Also, wasn't Marrone supposed to be an offensive line guru?
You'll rarely read or hear me bash an offensive coordinator for specific play-calling, because I firmly believe execution is 50x more important, but my man Michael Purinton tweeted these metrics regarding the game against the Texans in Week 4.
The Bills were leading 10-7 at the half. They had called 14 rushes for 72 yards (5.1 YPC) and 27, yes 27, pass plays for a whopping 84 yards (3.1 YPA).
In the second half, the Bills never got into worse hole than 20-10, but Buffalo finished the game with twice as many passes as rushes.
What happened to the "run-heavy" philosophy in such a tight game?
No, you can't really bench your offensive coordinator, but Nate Hackett was just as bad, or arguably worse than Manuel was on Sunday.
Don't forget about four dropped passes, either.
5. Maybe this is the redshirting Marrone wanted for Manuel all along?
If you think back to last summer, the Bills did want Kevin Kolb to begin the 2013 regular season as the starting quarterback. But after he slipped on a mat during practice and suffered a career-ending concussion in the third preseason game…that plan went awry.
Manuel was apparently given "half the playbook" and, frankly, he performed pretty well for a first-year quarterback despite "not being ready" and given his injury predicaments. I've done the research, he was slightly better than the average rookie quarterback drafted in the first three rounds over the past decade.
Marrone (and Whaley) have to realize how badly they're indicting themselves by benching the quarterback they drafted in Round 1 not even two years ago, so it's fair to assume they actually want Manuel to succeed in Buffalo in the long run…as I alluded to in Point No. 2.
Therefore, Marrone and the Bills front office could see this as the redshirt opportunity they always wanted for Manuel.
It's not outrageous to envision the following as Marrone and Whaley's new plan:
Start Kyle Orton
Make playoffs with Kyle Orton
Keep jobs
Have Kyle Orton vs. EJ Manuel QB competition in 2015
EJ Manuel wins QB competiiton
EJ's finally "ready"
Bills win / make playoffs with EJ Manuel
Marrone gets a statue outside of Ralph Wilson Stadium
Not totally outrageous, but not exactly the most likely chain of events. And, yikes…it'd be the most backhanded way to ultimately feature a quarterback as the franchise guy in NFL history.
"We drafted you 16th overall, you're the man!" "You're the starter!" "We're ALL IN with YOU." "You suck, you're benched." "You'll watch from the sidelines now…hold this clipboard." "We MADE THE PLAYOFFS…without you." "We want to give you another shot." "You won the QB competition, you're the man!" "You're the starter!" We're ALL IN wi…
After 1,000+ words, I think it's time for a conclusion.
I maintain my thought that the Bills have a playoff caliber roster, and I'm certainly sticking by my 10-6 prediction.
Kyle Orton isn't a savior sent from the football gods, but he should be able to manage the game slightly better than Manuel. Then again, if the offensive line — most notably Erik Pears — plays as poorly as it has the past two weeks, and Nate Hackett calls 44 passes to 22 runs, Orton may very well be worse than Manuel, because he's not nearly as athletic to elude pass-rushers.
But this benching reeks of (reasonable) desperation and, most likely, sets up the Bills to, as usual, be stuck in the mud next season.