This column is essentially a continuation of an article I wrote in late September when the Buffalo Bills benched EJ Manuel for Kyle Orton and a miniature Twitter rant that may have come across your timeline Monday morning regarding the team's quarterback situation.
As stated in the September column, I didn't and still don't blame Doug Marrone and the Bills' front office for naming Orton the starter when they did although I didn't necessarily agree with the decision.
He was basically a sure thing to give a much-needed boost to Buffalo's passing offense if for nothing more than the fact he had 70 career starts leading up to his debut with the Bills compared to Manuel's 14.
Marrone and Co. couldn't afford to "tank" in 2014 and / or experience the "growing pains" of the beginning-to-intermediate portions of Manuel's developmental process with a new owner coming to town.
My thoughts on the QB change, the inconsistent and occasionally drive-killing offensive line (that suffered a deterioration which coincided with Manuel's downturn against the Chargers and Texans) haven't changed.
But I have more thoughts on how the Bills have handled, may handle and should handle Manuel.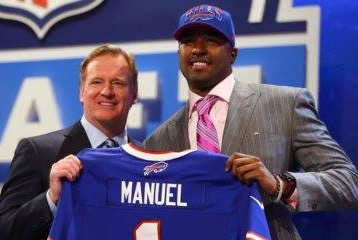 Despite those who think I'm a delusional Manuel apologist or defender — what would the point of that be for me? — my argument has always been that instead of being compared to veterans quarterbacks, he should be compared to his recent rookie QB contemporaries when we're trying to decide how truly good or bad he's been.
In that context, Manuel has been slightly better than the average rookie quarterback drafted in Rounds 1 – 3 over the past decade who threw at least 200 passes in his debut season.
The group consists of 29 quarterbacks. Here's how Manuel stacks up against the average:
| | | | | | |
| --- | --- | --- | --- | --- | --- |
|   | Completion % | TD % | INT % | Sack % | Yards Per Completion |
| EJ Manuel's 2013 | 58.8 | 3.6 | 2.9 | 8.4 | 11 |
| EJ Manuel Career | 58.6 | 3.7 | 2.7 | 7.2 | 11 |
| AVERAGE | 57.4 | 3.3 | 3.2 | 6.7 | 11.4 |
Statistics certainly aren't everything and don't tell the whole story — all those figures prove is that Manuel hasn't been nearly as bad as many believe he has been, and that, if anything, the Bills probably shouldn't be giving up on a quarterback with those numbers who has played in just 13.5 games in his NFL career.
Remember, Ryan Fitzpatrick, Trent Edwards, J.P. Losman, Drew Bledsoe, Rob Johnson, Doug Flutie and Todd Collins were all given more time as the Bills starter, and the organization had never taken a quarterback with its first pick in any draft until Manuel.
(Simply by that fact, can't a rather logical argument be made that he should have the longest leash of that group…not the shortest?)
Two truths about the situation Manuel found himself in made his journey from collegiate stardom and draftnik skepticism to NFL franchise quarterback an even steeper uphill climb than most.
First, he entered the league the year after the finest rookie quarterback season in history highlighted by Andrew Luck, Robert Griffin III and Russell Wilson…oh, and Colin Kaepernick who sat as a rookie but "took" his team (with an amazing defense and running game) to the Super Bowl after Wally Pipp'ing Alex Smith in San Francisco.
What's ironic is that it's easy to forget AFC East rival Ryan Tannehill was in that draft class as well. Check his rookie year statistics compared to Manuel's.
| | | | | | |
| --- | --- | --- | --- | --- | --- |
| Name | Completion % | TD % | INT % | Sack % | Yards Per Completion |
| EJ Manuel's 2013 | 58.8 | 3.6 | 2.9 | 8.4 | 11 |
| Ryan Tannehill's 2012 | 58.3 | 2.5 | 2.7 | 6.7 | 11.7 |
The outlier season of 2012 unfairly and rather ridiculously raised rookie quarterback expectations to unattainable and unsustainable levels. Just ask Blake Bortles, Derek Carr and Teddy Bridgewater, quarterbacks who, to most, were better prospects than Manuel but have struggled much more in their debut NFL seasons than the Bills quarterback did.
Secondly, Manuel was drafted by an organization incredibly starved for Jim Kellyian quarterback play and a fan base which has witnessed three lifetimes worth of horrible quarterbacking in the past 15 years.
That deadly combo has driven the Bills, their fans, and, yeah, some media, to be unfairly impatient, quick-to-concretely-judge, and eternally pessimistic. And frankly, it's hard to ridicule any of them for that — bad quarterbacking in Buffalo is all they've known this millennium.
Throw in the ownership change, and it's easy to realize Manuel was in a "you better be really good right away, or your getting benched" environment, which isn't exactly an environment that would foster growth for any player, regardless of position.
It definitely isn't a "we're all in with you" environment…that's for sure.
Some want the Bills to draft a quarterback every year "until they find one." In theory, sounds great. The problem is, quarterbacks come on a bell curve, like a lot of other things.
Sure, we "know" right away with a few quarterbacks. Within a year or so, they're either so productive or so inept that it's obvious they're going to be viable franchise leaders or are bound for backup roles at best.
But the majority of quarterbacks are going to be in the middle of that bell curve, and we won't "know" right away. Or after their rookie season, or their second season.
With those quarterbacks, you hope they're on the "right" side of the curve to begin with, but it's the front office's job to build a productive "team" around that quarterback, because, after all, football is the greatest team sport on the planet.
Isn't that the basis of the "Quarterback Wins Is Not A Stat" argument?
Totally removing hindsight, which, to me, is the greatest hindrance on sound, objective analysis most of the time, here's a list of current (and pretty good) NFL starters that their team, fans and media probably weren't totally "sold" on after Year 2:
Ryan Tannehill
Joe Flacco
Andy Dalton
Matthew Stafford
Philip Rivers
Eli Manning
Robert Griffin III
Sam Bradford
Drew Brees
That list features four Super Bowl rings, 27 playoff victories and five other playoff appearances than ended in defeat.
Not the best list of quarterbacks, right? But not terrible, and I imagine the Bills and fans in Western New York would gladly accept all of those quarterbacks outside of Eli Manning and Sam Bradford to lead their team.
However, the quarterbacks not listed who've become the league's best signal-callers were afforded the luxury of joining very well-constructed clubs and weren't asked to do much as they began their NFL careers (outside of Peyton Manning and Andrew Luck).
No, Tom Brady, Ben Roethlisberger and Russell Wilson didn't set the NFL on fire when they first entered the league.
(By the way, Matt Ryan is an amazing aberration. He was really good out of the gates on an otherwise blah team and has been good-to-great ever since. Aaron Rodgers, sure, we knew pretty quickly, but he sat for three full seasons before starting.)
But they won almost immediately, so today they're viewed as quarterbacks we should have "known" were going to be good right away when that wasn't really the case if we only examined their individual play.
Those franchises — in this case let's use the Patriots and Steelers — were confident they had "the correct" quarterback they could build around, and who, over time, would likely be good enough to mask team flaws.
They were right.
If I were calling the shots, Manuel would be starting against the New York Jets. Does Orton give the Bills a better chance to win right now? Maybe. But that difference is marginal at best, and due to that marginal difference, I'd side with the 24-year-old youngster with promise who just might be the answer rather than the 32-year-old journeyman who really has no future with the team.
Coaches and Manuel himself have admitted his greatest "flaw" has been a conservative playing style and not "letting it rip." The only way he'll learn to let it rip is by playing, not by watching film with Orton and holding the clipboard on Sundays.
Then again, Marrone wouldn't be crazy to think he can get to 8-8 or even 9-7 with Orton under center, thereby keeping his job and allowing an "adequately redshirted" Manuel to be in a quarterback competition next summer.
Maybe Manuel will feel more confident in what he sees by then which will lead to him "letting it rip" more often.
(Funny, though, because if "letting it rip" equals throw more interceptions instead of checking down to talented RBs on a team with an elite defense, I'm not sure if the Bills want Manuel to be more aggressive.)
Heck, that redshirting plan could work.
As Twitter buddy Rich Fann pointed out, it would give Manuel be a mix between the modern QB'ing method (start right away) and the Aaron Rodgers route (learn and wait).
It just seems wrong that Manuel doesn't control his own future in Buffalo. If Orton and the Bills finish 6-10 or 7-9 and Marrone is fired, the 2013 first-round pick is a goner.
Can No. 3 be the "right" quarterback for the current Bills regime to continue to build around and eventually "take over" as the franchise guy?
I truly don't know.
And I'm with just about everyone else — Manuel hasn't been "good enough" for everyone to "know" he's the long-term answer at quarterback.
But his past play has warranted much more than a 14-game audition.
UPDATE: I originally wrote this column on Monday, and Tuesday Bills' GM Doug Whaley spoke on WGR about Manuel amidst an assortment of topics.
Some thoughts…
Whaley stated "all of us were on board with drafting EJ" during the interview — the entire discussion is wonderfully pieced together here by Joe Buscaglia — which, to me, was such a sigh of relief. In recent months, there have been instances in which some members of the Bills brass have subtly and not directly "distanced" themselves from the Manuel selection in Round 1 of the 2013 draft by stating the fact that Buddy Nix was technically the team's GM at that point, although Whaley took over just weeks later.
While no one ever publicly said Whaley and the current front office were "against" picking Manuel, even the slightest attempt to slide the pick to the semi-retired Nix at this juncture seemed fishy and a sneaky, easy way out.
Especially after Whaley made these comments on NFL Network on May 17, 2013:
I was an integral part in the drafting process of EJ Manuel. I was the person that handled the draft process and setting up the board.
Sure, Nix, by name, was Buffalo's GM, but, to me, the 2013 offseason should be on Whaley's resume as well. With Whaley waiting in the wings behind Nix, there was no need to drum up controversy by firing Nix when Marrone was hired during a critical stretch before the draft.
So, considering Whaley's comment on Tuesday…glad that's over.
Furthermore, Whaley touched on Manuel's current redshirting, and how it's what the team wanted for him in the first place with Kevin Kolb originally on last year's roster.
It may sound like revisionist history at work here, and that Whaley's looking to cover his behind given the current state of Buffalo's quarterback position.
Many on Twitter reminded me of the handful of times it was made pretty clear by the media that the Bills "wanted" Manuel to win the quarterback competition in 2013 and how the team was "all in" entering this season.
Even more pointed out what they believed to be the Bills' complete fumbling of the quarterback spot since Manuel's arrival until this point.
Here's what I think, and instead of a paragraph, here's a chain of events I think is pretty plausible, written from the perspective of Marrone, Whaley and offensive coordinator Nate Hackett:
April 2013 – "Ok, EJ's the guy in this class. Let's get him. But he's not "totally ready" yet. With Kolb, who can operate a West Coast based offense fairly sufficiently if we can protect him, EJ will get what he needs…a redshirt."
August 2013 – "Ummm, EJ's coming along a lot faster than we expected, and Kolb's well, yeah, just not as good. We need to WIN NOW. Maybe we shouldn't start Kolb just because?"
August 2013 – "Crap, EJ hurt his knee against the Vikings in the preseason. Damn, we were going to name him the starter after the game too. Ok, well back to Kolb."
August 2013, following week – "How lovely…Kolb suffered a career-ending concussion against the Redskins. Maybe EJ will be ready for the Patriots game Week 1? Not a lot out of QB help out there. Let's sign Thad Lewis to be safe.
October 2013 – Well, EJ doesn't have full grasp of the entire playbook, and he's made some rookie mistakes, but we like we're we are headed…GREAT, EJ's out for 6-8 weeks. Thad Lewis it is.
November 2013 – Now Thad's hurt, enter (gulp) Jeff Tuel.
Put any NFL staff in the predicament the Dougs were in by August and then November, and yeah, it'd probably "fumble" the quarterback situation as well.
It's worth noting that Lewis was actually pretty good as Manuel's replacement in 2013, and while it may be a stretch, I think the Bills felt relatively comfortable going into the 2014 regular season with Lewis at least as a viable backup, if not the original starter.
(If that was the case, the Bills front office was wrong in that thinking. Lewis flopped in training camp and was a disaster in the preseason.)
But, remember, EJ wasn't bad as rookie. And there was reason to believe with an improved receiving corps, bolstered offensive line and reliable running game, he'd be able to take the necessary step in Year 2.
Hence the "all in with EJ" talk.
Following Lewis' train wreck of a summer, the Bills scrambled to find the best quarterback available…and did with Kyle Orton.
We all know what's happened during the 2014 season — a lot of which was outlined above — and, now, we come full circle to Whaley's "redshirt comment" during his WGR on Tuesday:
It goes back to our original plan. When we first drafted EJ, you guys understood, we had the plan of having a veteran quarterback come in and mentor him until we thought he was ready.
I really don't think this is untruthful GM speak, and yes, Manuel's now getting the redshirt the Bills thought he needed after they scouted him for months in the fall of 2012 and spring of 2013.
As usual, feel free to reach out on Twitter @ChrisTrapasso.