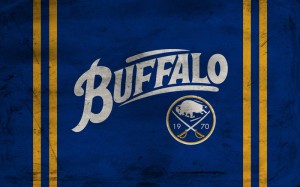 When Lindy Ruff led the coronation ceremony in Europe, revealing which veteran players would serve as club-sanctioned leaders for 2011-2012 Sabres, something seemed off.  Good players…  but not the "core" group to lead the team to the newly-stated goal of WINNING THE CUP.
This is a team built from the goal crease out.  Say what you will about Ryan Miller, but the team has long been structured as if its "hedgehog concept" begins from his position…  if not necessarily from him as an individual.
Yes, winger center  forward Ville Leino accepted a boatload of cash to join the team but the heart of the 2011 offseason acquisitions had nothing to do with what was happening up front.  The addition of Robyn Regehr and, most notably, Christian Ehrhoff (ten year deal!) define the first offseason of the Pegula era and provide some insight into the mind of "unchained" Darcy Regier.  If you can't score, you can't win–  and we'll do everything in our power to prevent you from putting it past our guy.
If we must resort to reduction of the Sabres' roster to a "core," expect the following list of players (listed alphabetically) to be at the center of everything when the parade makes its way down Delaware Avenue.  
Meet the new core, better than the old core.
Tyler Ennis (26th overall, 2008)
Christian Ehrhoff (106th overall, 2001)
Mikhail Grigorenko (12th overall, 2012)
Cody Hodgson (10th overall, 2008)
Tyler Myers (12th overall, 2008)
Thomas Vanek (5th overall, 2003)
Players like Leino, Regehr, Marcus Foligno, Zemgus Girgensons, Nathan Gerbe, and Brayden McNabb may play a big part in a Cup run, especially if it comes soon.  In a perfect world, Miller and Pominville get their names on the Cup, too.  But the "core" is not about who has been on the team the longest.  It's about establishing a base of talent, by any means necessary, to compete for and ultimately win the Stanley Cup.
That process is well underway and continues when free agency opens on Sunday.