Actually, the headline SHOULD read:
UB's "Clash at the Ralph" Is (At Worst) A Playoff Game
With Tuesday night's 30-3 win over the Ohio Bobcats, the UB Bulls have ensured that they'll head into the season finale "Clash at the Ralph" against Bowling Green with a chance to wrap up the MAC East… if they haven't wrapped it up already. The winner of the division will play in the MAC Championship Game on December 6th at Ford Field in Detroit.
To simplify– if the Bulls beat Bowling Green, they win the MAC East— regardless of what happens in any of the games played between now and then. I'm a little disappointed that I didn't realize this while hosting Tuesday night's postgame show but here are the standings, the remaining schedule for each team still alive for the divisional crown, and an brief explanation.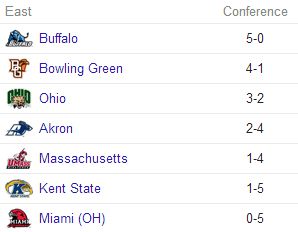 BUFFALO
@ Toledo
@ Miami (OH)
vs Bowling Green (at Ralph Wilson Stadium)
BOWLING GREEN
vs Ohio
@ Eastern Michigan
@ Buffalo
OHIO
@ Bowling Green
vs Kent State
vs Massachusetts
EXPLANATION OF SCENARIOS:
Akron, UMass, Kent State, and Miami have all been eliminated.
Ohio can still win the East but would need UB to lose out. Even if the Bulls were to somehow drop their next two, UB could kill this scenario by beating BG.
Because head-to-head is the tiebreaker, any scenario in which UB and BG are within a game of one another puts the winner of the Clash at the Ralph atop the division.
If the Bulls can pull two games ahead of BG before the finale, they'll have the division clinched in advance. They accomplish this by either going to 2-0 to BG's 1-1 or 1-1 to BG's 0-2.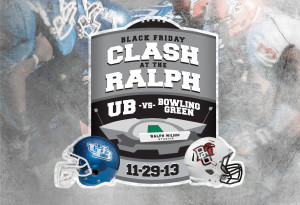 None of the above counts for the likelihood of any of the different scenarios. It's just math.
Bottom line– if you purchase a ticket for the Clash at the Ralph, you'll either witness a "playoff" game the Bulls can win to move onto the title game or you'll be there to send off the already-crowned MAC East Champions to Detroit.