Podcast: Play in new window | Download
Subscribe: RSS
California Chrome looks to secure the second leg of horse racing's Triple Crown with a win at the Preakness Stakes on Saturday.
CLICK HERE FOR A SNEAK PEEK AT THE PROGRAM.
It's a two-minute race but an all-day party at Pimlico Race Course in Baltimore.
EXHIBIT A
This video from 2008 gives you an idea of what happens when you drink a bunch of beer and then run across a bunch of toilets in front of a bunch of people who have also ingested a bunch of beer. (Turn down the volume and stick around for the 18 second mark.)
EXHIBIT B
In 2011, Infield Fest introduced "Kegasus"– half-Kenny-Powers-looking-man, half-horse– imploring you to "Get Your Preak On."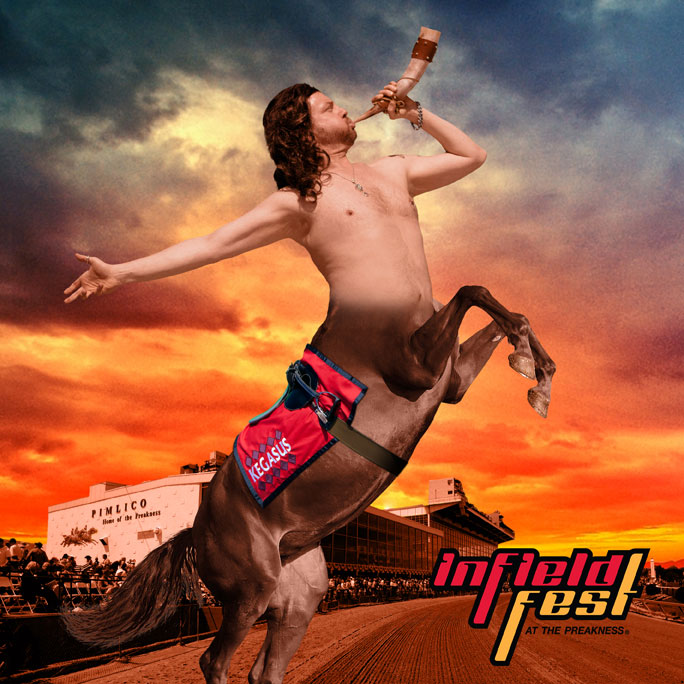 Sounds like a fun road trip… unless you're looking to bypass the frat party atmosphere.
Want to just bet on a the race and make money? No problem. That's why we have OTB and bataviabets.com.
Want to make a day of it? We recommend "The Preakness Trifecta" at Batavia Downs Gaming's Grandstand because ten dollars gets you:
$5 free play
$2 Preakness Stakes wager
choice of: cheeseburger, pulled pork, beef on weck, a dozen wings, or a chicken caesar salad
OTB's Ryan Hasenauer joins today's podcast for a preview of the race. (Listen near the top of this page.)
Advance wagering is available right now at all OTB branches.
Oh, and how about some picks courtesy of OTB handicapper Todd Haight?
Winners Edge Preakness Superfecta

3-CALIFORNIA CHROME—The overachieving colt heads to Baltimore with a five-race winning streak and is showing no signs of wear and tear, in fact he's put on weight since the Derby, a very positive sign. A win here puts him on the doorstep of racing immortality.

2-GENERAL A ROD— Comes off a very difficult trip in the Derby, certainly one no horse could overcome, yet he was still able to gain ground down the lane. His 15-1 price tag makes him a very intriguing alternative.

8-SOCIAL INCLUSION— This lightly raced colt may lack experience compared to some of the others in the field but certainly not ability.  That track-record performance in his final Gulfstream start was an absolutely scintillating effort.

10-RIDE ON CURLIN— Found himself with too much work to do and too slow of a pace to close into in the Run for the Roses. With a much faster pace expected in the Preakness, his chances improve significantly.

3-2-8-10
Disclaimer: These picks are not a guarantee and should not be considered as such. You knew that. It's gambling, dummy.