We were immediately intrigued when we started seeing the Consumer's Craft Cruiser popping up around town.
The Craft Cruiser website gave us some info– it's a fifteen-rider, pedal-powered vehicle with a forward-seated driver, tubular steel frame with automotive chassis, suspension, steering, brakes and drivetrain with a maximum speed of 6 MPH. Suggested uses include bachelor/bachelorette parties, team-building, and family night out.
We decided to go in for a closer look and here's what we found.
1. You can choose from four different routes for your journey.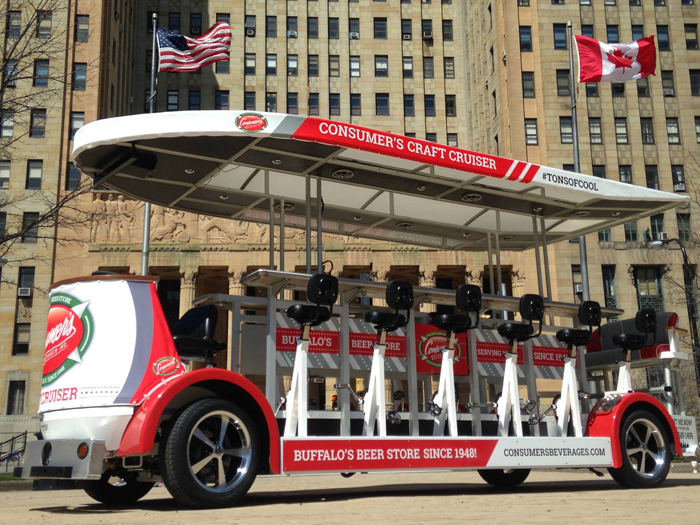 Pick from Canalside, Elmwood Village/Allentown, Village of East Aurora, and Village of Hamburg for your Craft Cruiser excursion. Then parade about as envious townsfolk ooh and aah, knowing you're having a better day than they are. It's like riding on a horse-drawn carriage as both the horse and the passenger.
2. Beer and wine are perfectly fine.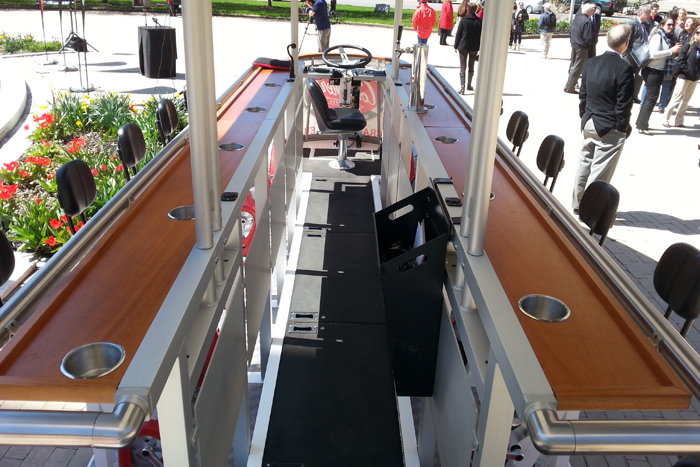 Well, duh. Open containers are A-OK since, you know, that's kinda the whole point. If you think we're the type to just tell you to "go for a bike ride with a bunch of your friends," you're reading the wrong site. The Craft Cruiser is stocked with supplies (coolers, ice, cups, cup holders, purse hooks, USB chargers, sound system, etc.) You just bring the beverages. A pregame trip to Consumer's is HIGHLY recommended.
3. It'll be you and 7 to 14 of the best people you know.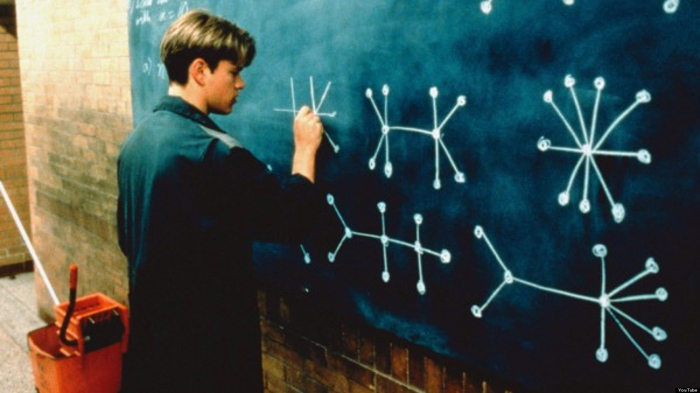 The Craft Cruiser is a bicycle built for between eight and fifteen people. It was (probably) collectively-engineered by many of the world's greatest scientific minds from this or any other century.  Don't show up in a group of seven or sixteen thinking you're better than physics.
4. It comes with a driver AND a Director of Fun!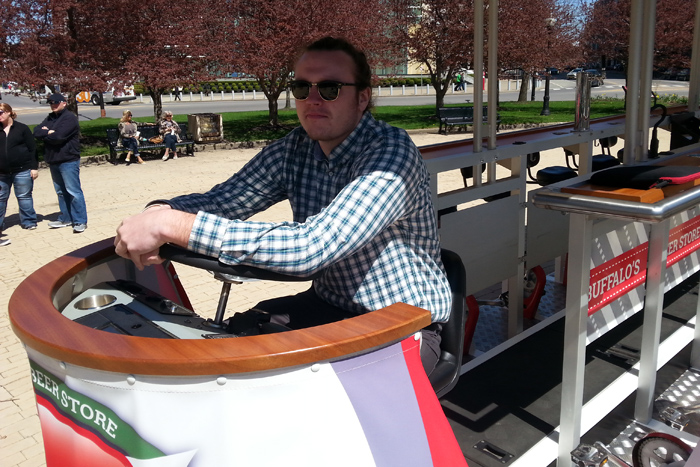 Meet Pat. He's your driver. You pedal. He steers. It's a beautiful relationship. But (no knock on Pat) the MVP of your cruise will be the DIRECTOR OF FUN– part host/tour guide/beverage facilitator/photographer/DJ with a Spotify Premium subscription– who makes sure everything goes perfectly.
5. Built-in USB charging ports will make you feel like Lance Armstrong with a beer.
Plug in your phone, pedal away, and watch your battery power go up and up and up. That's all you, man!*
* Not really, but it feels good to tell yourself that.
6. A keg is an option.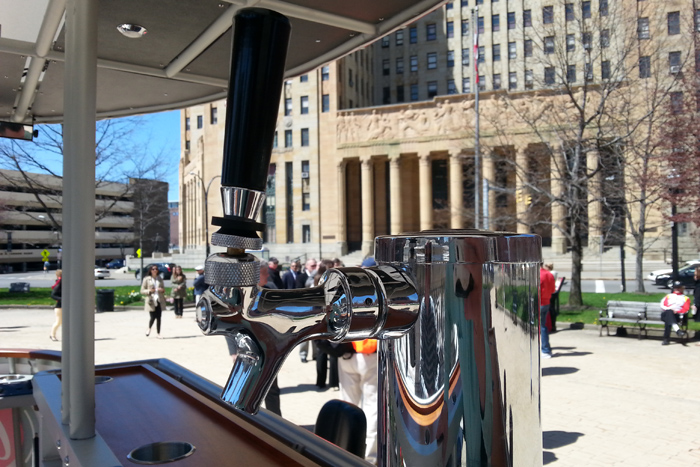 Just look at that shiny tap. She's a beaut.
7. Enjoy the comforts of home, your car, and your favorite bar all in one… while you pedal.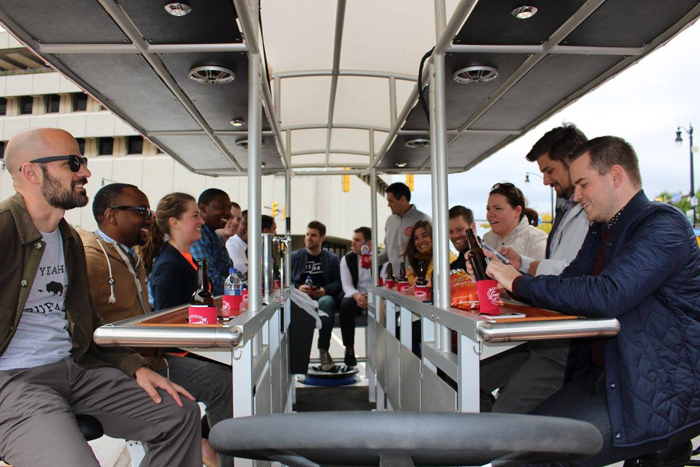 BEST. BIKE. EVER.
 Worth noting:
You can make stops at your favorite watering holes along your route.
The Craft Cruiser features adjustable seats in case everyone isn't the exact same height.
The pedal deck makes it easy to get on and off the bike.
The Craft Cruiser is equipped with LED and ground effect lighting so you'll look like hotshots.
Built-in pedal-assist helps deal with hills and/or lazy friends.
BONUS: The King's Seat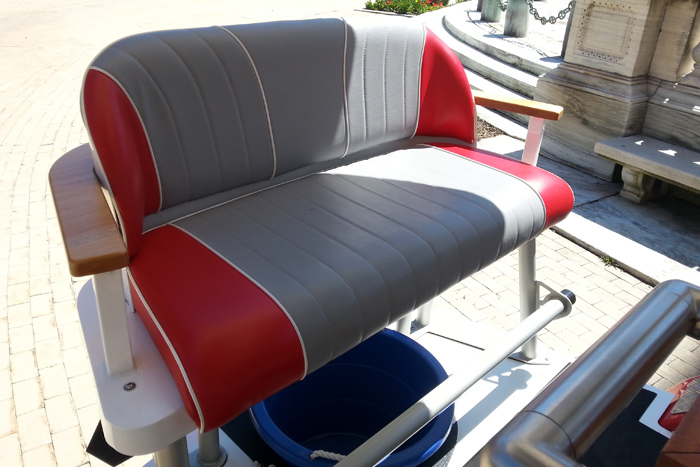 YOU organized the outing and booked the Consumer's Craft Cruiser. Now YOU sit in the back and enjoy the ride. Pedaling is for commoners.
HOW TO BOOK THE CONSUMER'S CRAFT CRUISER