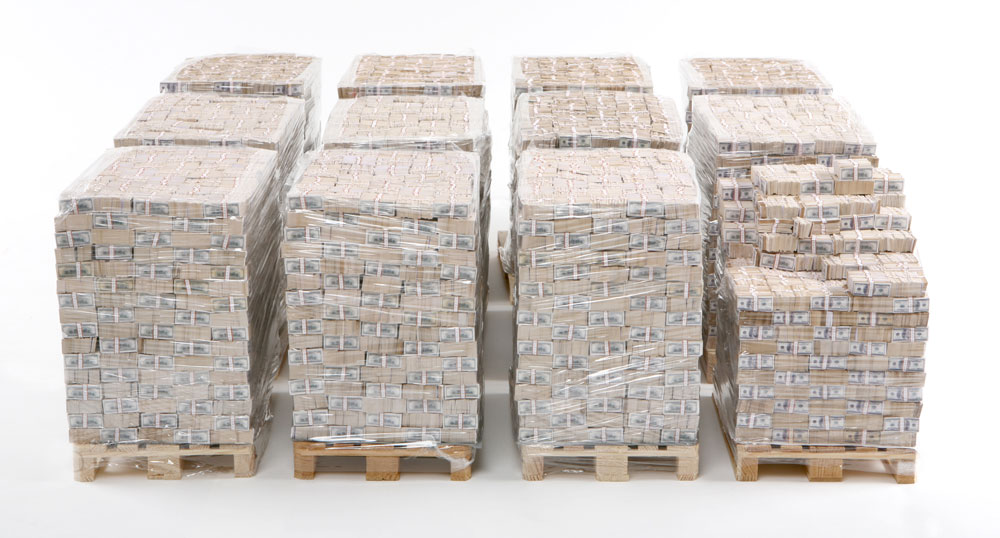 I'd like to start off by saying that I don't care if the Bills ever get a new stadium. I would be fine watching games from the Ralph. I would not mind at all if I took in some football from a state-of-the-art seat. It's football. I'd stand if I had to. If I had a preference, I'd go hammock, but that's not the issue here. New stadium or old stadium is all the same to me. I'm easy. I don't even own a cell phone.
I would like to ask if there isn't something better and more impressive that could be done with $1.4 billion . In an age where numbers fall short of impressing, 1.4 billion of anything is a lot, even sperm. Why a stadium? You can't even really use it that much. I have several better ways to spend $1.4 billion.
1. Feed everyone forever.
We don't all have to eat at the Chophouse every night, but we don't have to survive off Ramen noodles either. We've got 1.4 billion dollars. My Mom used to feed 7 kids with, like 20 dollars. We'll cut some coupons. Do you want a retractable roof, or do you want everyone to eat forever?
2. Buy 46,666 cars and just leave them around the city for everyone to use.
If the average cost of a nice new car is $30,000, then we could get 46,666 of them for 1.4 billion dollars. No one would need to buy a car. When you leave the Dentist, just jump in one of the 46,666 cars parked around town with the keys left in the ignition. If it's out of gas, stop complaining and put gas in it, asshole! You didn't even have to pay for the car!
3. An extra lane… on all roads.
Don't tell me $1.4 billion isn't enough to add an extra lane to all highways. I'm sick of driving behind Minivans and Canadians. At the very least, fix that part of the I-90 near the 400 exit that turns my car into a wave runner. Seriously, we can't make a road anymore? You can screw up an entire stretch of road and turn it into the Pacific Ocean? Was the big heavy flattening truck-thing not working that day?
4. Buy Ohio.
How much could Ohio cost?
5. Put it on black.
Can you imagine watching a roulette ball bounce around knowing that, if it lands on black, we get $2.8 billion? That would be so much fun.
6. Start a Professional Hockey League.
If you act like you're hurt and you're not hurt, you're banned from the league. And, no Peter Laviolette with his face.
7. Kick Ass Concert
Every band… in the world… in Buffalo… on five stages… every night… for a year.
8. Books for kids.
Not everything I say is stupid.
Back to the hammock thing, we are woefully under-hammocked as a society. My computer doesn't even recognize 'under-hammocked' as a word. We can't afford the ignorance. If you're a stadium planner and you draw up plans for a stadium and those plans do not include 72,000 hammocks, you're planning to fail.
Greg Bauch is the author of 'Frank Dates' and is really trying to sell you his book after posting this article.