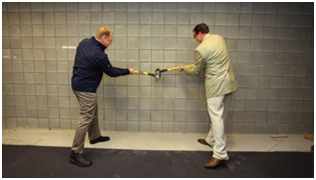 "I want to help you build Buffalo."
– Terry Pegula to Mayor Byron Brown
How's that for a quote of the week? Watch out, Buffalo. Pegula gets stuff done.
Send your wrecking crew to the Skyway, Terry.
Smart Thing 1: Higgins Targets the Skyway
Love it or hate it, the Skyway needs to be taken down for Canalside to be a success. This opinion is not new (see the link above for more than that), and now Rep. Brian Higgins is pushing for the iconic but monolithic byway to be ripped off the landscape.
It might take years for this to actually happen, but it's only a matter of time. Enjoy the view while it lasts.
Smart Thing 2: UB Bulls hold Record Smashing Party
While the Buffalo Bills can't seem to help but be surrounded by doom and gloom on and off the field, their collegiate counterpart has been thriving. Hit the link for a run-down on the records the Bulls broke after this weekend's 56-34 stomping on Morgan State.
Branden "Bo" Oliver has been a remarkable story for the Bulls. His 238 yards rushing broke the single-game FBS record of 235 that he had set himself last season. Keep handing him the rock, UB. He's amazing to watch. From the Bulls blog, "Bull Run:"
"Take a moment. Just sit there and watch. Watch BO in traffic. It's a thing of beauty. A sidestep, a shuffle, a burst, a shoulder to the defenders chest. It remarkable seeing him go into a mass of humanity, watch how he navigates it, and comes out the other side. Just watch sometime, go ahead, treat yourself."
If you're not on the UB bandwagon yet, grab your trumpet and get on board. You're missing a hell of a ride.
Smart Thing 3: Grain Silos becoming Patrons of the Arts
I've noted the immigration of the art (and bee) colonies into "Silo City" here on TB before, but the latest installations and happenings on the sites are pretty remarkable.
******
Note: "3 Smartest Things" is being produced to go along with the "5 Dumbest Things" series here on TB. "Why three," you ask? Well – far be it from me to break our time honored tradition of berating each other on the progress of our fair Queen City. Tell you what, when the new Peace Bridge goes up, we'll go up to five. And of course, feel free to follow me on Twitter to discuss all things trending in Buffalo, and check out my blog "Buffalo Sabres Nation" when you're bored at work. Your boss will appreciate your increased productivity afterwards.