It's 2013 and you can get a message to just about anyone.
Just because you CAN doesn't mean you SHOULD.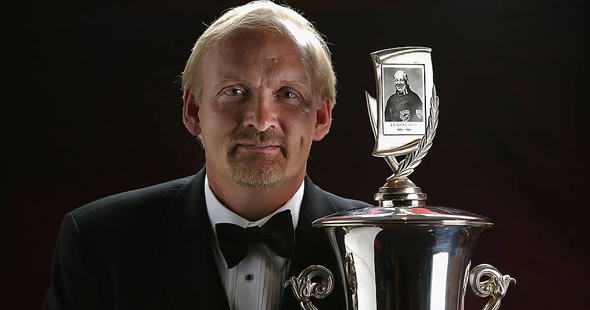 Pretty sick of all these people chirping me for my dad. Have a complaint, talk to him. I'm just the son. Dont u have something better to do?

— Brian Ruff (@BRuffles22) January 30, 2013
Society is still working out the ground rules but taking out the frustration of a rocky start to the season on the 18 year old son of the local NHL team's coach seems out of bounds.
.@bruffles22 rumor has it that your dad puts ketchup on his French toast #weirdo #FireLindy — Ryan Yeates (@Ryan_Yeates) January 26, 2013
 That was a strange start.
@bruffles22 congrats on your dads 4 game losing streak! Hes looking good!!! — Jimmy Galanti (@JimmyG1692) January 30, 2013
That one would be acceptable only if sent by the son of a different current NHL coach. Or possibly Ted Nolan.
.@bruffles22 if you're a Sabres fan, you'll tell your dad to resign. #15yearstoolong

— stanley yelnats (@J_Cullens) January 26, 2013
"Hey dad, it's me, your son. A guy on the internet told me to tell you to resign. Don't shoot the messenger."
@bruffles22 Ur dad has been a crap coach for a lot more than 7 games. When was the last time we made it past the 1st round? #FireRuff

— My Name (@TweetHandleHere) January 30, 2013
Here. Let me Google that for you.
Regardless of any past or future accomplishments, we can say with 100% certainty that @Ryan_Yeates, @JimmyG1692, @J_Cullens, and @TweetHandleHere are bad people.
Don't lend them money.
Don't let them merge into your lane.
Don't hire them.
Don't date them.
Don't trust them.
We know everything we need to know about them.
They are intentionally making our world a more miserable place.