I've been asleep for a couple of days. I don't know what I did to this flu bug that motivated it to attack me so violently, but my body and brain haven't been functioning well enough to do more than get out of bed for a few minutes at a time since Saturday afternoon.
One of my last memories B.F. was having this photo taken with IFOCE champion Eric "Badlands" Booker. Coincidence? Probably.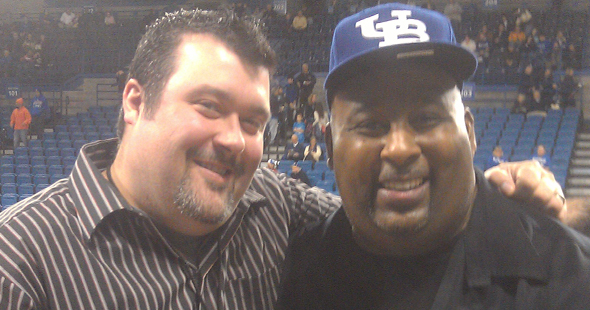 Since then, it's been a blur.
The flu's effects are finally subsiding and I'm ready to find out what I missed. I know the Sabres lost again and I'm not about to sit through what, by all accounts, was a full-on beatdown.
What else is in the DVR? Ooh, the Grammys!
I'm not aware of a setting that will allow me to rewind Twitter and take part in the actual conversation that went on during the live broadcast, but I want in on this– hence, a (probably way too long) post at Trending Buffalo full of "real time" commentary on a show you already saw.
Taylor Swift opens the show.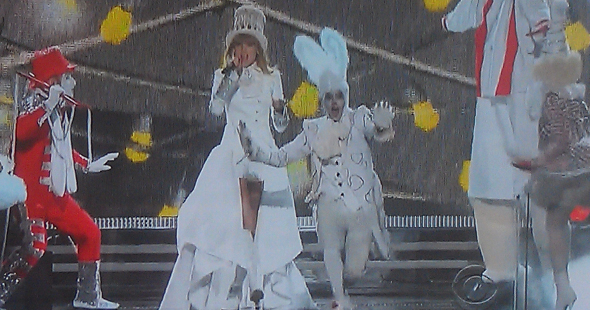 All I know of Swift is that she has a reputation for singing about breakups. "We are never ever ever getting back together." Yep, that sounds like her. Also, some choreographer was paid to roll over and say "let's go with an Alice in Wonderland vibe. Nobody's ever done THAT before."
Ed Sherron and Elton John perform on a pedestal in the middle of the crowd.
I liked Ed Sherron better when he was called David Grey and I miss Elton John's duck suit.
Pitbull and Jennifer Lopez give out an award.
They show Lopez in that green dress from several years ago. That was a good dress. I think I like Adele although I've never heard her song that just won.
Doogie Howser introduces fun.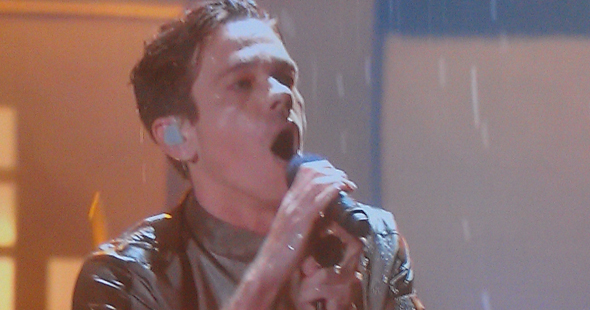 Here's what I know about fun. You're not allowed to capitalize their name, there's a period after their name, and Dan Fisher hates them. While I reserve the right to fast forward through parts of this show, I'm going to watch this entire performance.
When the singer went to the barber, he must have said "just have fun."

This guy probably stands about 4'8″ and this song sounds so triumphant. So did "Ding Dong The Witch is Dead."
I've heard it said that when it rains, that's god crying. Prior to now, I'd never considered it as a possibility.
Bonnie Raitt and John Mayer present our next act.
Looking at Mayer's purple velvet suit, I realize it must be nice to hit that certain threshold of fame where getting dressed up (as in "put on a suit because there's an awards show tonight") and getting dressed up (as in "it's Halloween so make yourself look as ridiculous as possible") merge. Knowing Mayer's reputation, I also spend this time trying to figure out if he and Raitt "just did" or if they're "just about to."
LL Cool J pays tribute to Dick Clark by way of a clip of LL Cool J on American Bandstand.
Classy!
We get our 5th or so look at Chris Brown sitting with on-again girlfriend Rihanna.
You know that friend of yours who, months or years into a relationship, went through a breakup with a person that nobody likes? Remember the "you're better off" and "we never liked him/her" conversations that you had? Then remember when they got back together 2 weeks later and everyone decided to pretend that those conversations had never happened?
Chris Brown wishes people would pretend those conversations never happened.
Faith Hill and Tim McGraw present an award.
McGraw would play Lindy Ruff in a Sabres movie, right?
fun. wins.
That doesn't look anything like a sentence and those don't look anything like grown-up pants. Capris?
Johnny Depp emerges from a hole to intro Mumford and Sons.
It's fun to try to figure out which one is dad.
Justin Timberlake. It's that guy from SNL with the giant hands!
And he's friends with the guy from the Nets games!
Chris Brown is nominated for an award…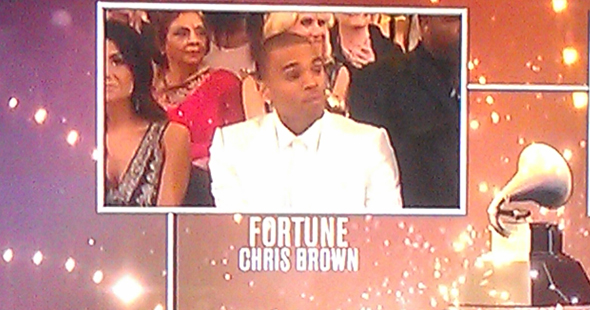 … and is visibly relieved he won't have to go on stage to accept it.
"13- time Grammy winner Dave Groehl"…
is a phrase that makes me realize I haven't watched this show in awhile.
The Black Keys win…
… for that song that plays when Vanek scores.
Maroon 5 performs with Alicia Keys.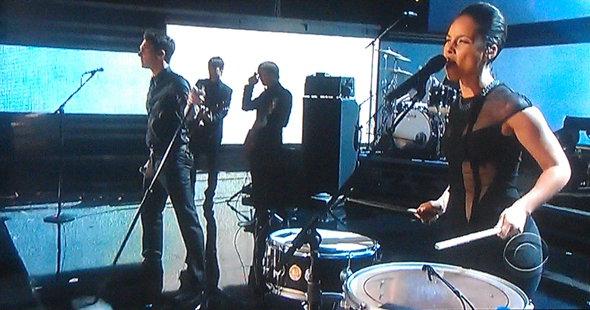 I should hate Adam Levine, right? I don't. I hate just about every band that sounds like Maroon 5 but, for some reason, I'm OK with him/them. I'm also OK with Alicia Keys channeling Sheila E.
It's Keith Urban.
And the award goes to Kelly Clarkson! Is anyone here NOT a reality show judge/contestant/mentor?
The Black Keys perform.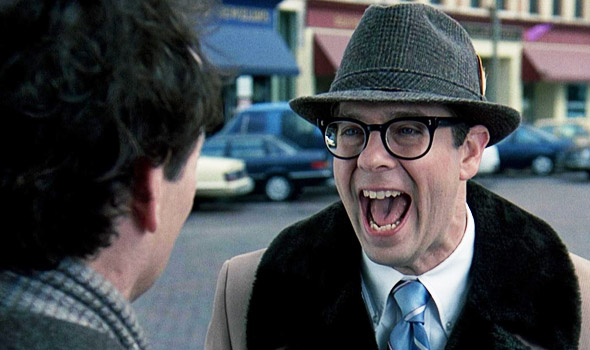 Dan Auerbach gets all the credit but where would these guys be without Ned Ryerson on drums?
Bruno Mars!
Let the record state that I am totally cool with my current pattern of forgetting that this guy exists, then watching him bring a 20-piece band on stage and dominate an awards show, then forgetting he exists, then watching him bring a 20-piece band on stage and dominate an awards show.
Jack White.
It's appropriate that White appears on this show if for no other reason than his participation in every single song that was released by anyone in the year 2012.
Katy Perry is a tremendous talent.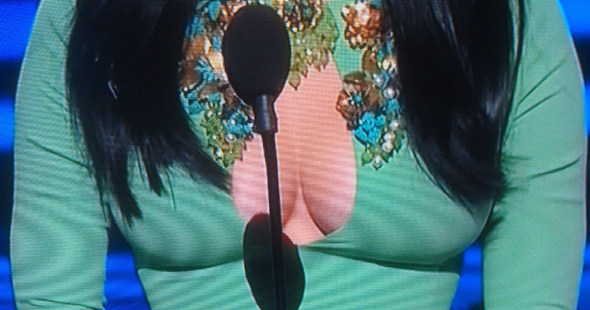 Prince presents Gotye with Record of the Year.
Prince always looks cool on stage but he probably wouldn't look nearly as cool if you ran into him in line at Walmart.
This should've won something, too.

Our annual tribute to dead people.
A lot of people died (including Levon Helm) so let's have Elton John lead The Band's "The Weight." This was pretty good, actually. It seems like this would've been a good show-closer. There'd better be something special coming up.
A little dude with a beard pays tribute to Elton John.
Did he die during the commercial break? It feels like we LITERALLY just saw him.
Billy Ocean's kid, Frank, performs in a jacket that is only to be worn by members of the Pro Football Hall of Fame.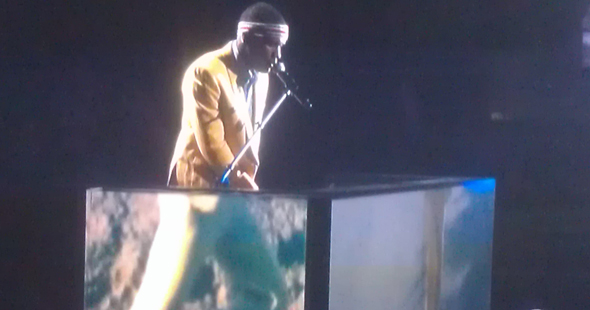 A) Give the jacket to Andre Reed.
B) Are you singing about Forrest Gump? Is this real?
Mumford and Sons win Album of the Year.
If the rest of the album is anything like the 3 songs I know from these guys, I guess it's probably decent. There's also a chance that the same song is on there 12 times and nobody's calling them on it.
LL Cool J with Chuck D, Tom Morello, Travis Barker, and another guy.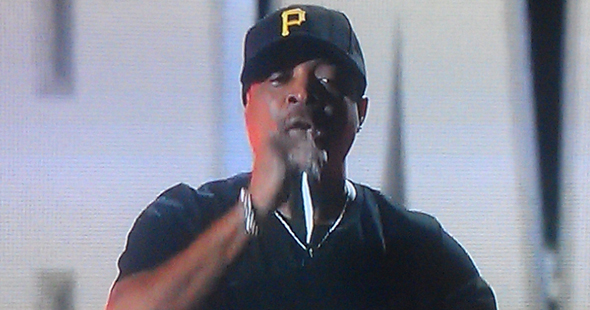 "Who gives a f*** about a g**d*** Grammy?"- Public Enemy, 1988.
"Sure, I'll close the Grammys. No problem."- Chuck D of Public Enemy, 2013.