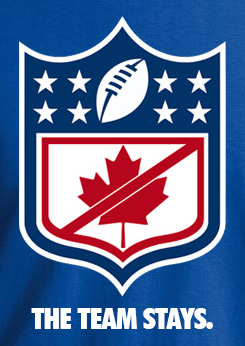 Bills fans aren't very high on Jon Bon Jovi at the moment… you know, the whole "he wants to buy our team and move it to Toronto so let's boo cover bands attempting to play Bon Jovi songs in beer tents this summer" thing.
Word of our collective distaste has spread downstate.
Reeves Wiedeman of New York magazine put together a piece with the headline declaring Bon Jovi "the most hated man in Buffalo."
It's slightly bizarre in that it actually quotes people saying "off the record" and then proceeds to put their words precisely ON the record.
Nonetheless, it produced these three gems from 2014 Pro Football Hall of Fame inductee Andre Reed.
On Jon Bon Jovi:
"Man, fuck Bon Jovi!" Reed said. "You might as well just take this city, throw it in the river, and let it go down Niagara Falls."
On Johnny Manziel:
"Who the fuck is Johnny Manziel?" Reed asked. "LeBron ain't your guy! You're not 'Johnny Football.' You're 'Johnny Rookie Bitch.' "
On how Bills fans would react to Manziel if he played here:
"They'd boo that motherfucker outta here," he said. "The fans would put him in his place."
Go Bills!