"You mean, let me understand this cause, ya know maybe it's me, I'm a little ****ed up maybe, but I'm funny how, I mean funny like I'm a clown, I amuse you? I make you laugh, I'm here to ****in' amuse you? What do you mean funny, funny how? How am I funny?"–  Tommy DeVito
"Most entertaining" is our 4th and final category before the big reveal of the overall Buffalo Sports Media Power Rankings.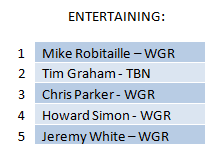 5.  Jeremy White—  A driving force on WNY's top-rated morning show, Jeremy comes in just behind…
4.  Howard Simon—  …  the guy whose name is in the title of the show.  Working together since 2004, Simon and White have grown their listening audience not just by keeping entertainment a priority, even through the most dire of Bills and Sabres seasons.
3.  Chris Parker—  "The Bulldog" has been "talkin' sports" since the mid-90s at WBEN and has settled into his role as WGR afternoon host, even with his transformation from crazy-looking long-haired party guy to…  well, crazy-looking long-haired family man.
2.  Tim Graham—  I'm sick of writing about Tim Graham.  Tim hates sunshine.  (That felt good.)
1.  Mike Robitaille—  Mike says things nobody else will say, in large part because nobody else would think to put words into the order that he does.
NEXT:  TOP 10 OVERALL