Get Motivated!, the 1-day inspirational seminar that's been staying just-ahead of the law for years, will be coming to the First Niagara Center on June 12, 2012.  While I admit that I am excited at the prospect of just being in the same room as some of the speakers (including Joe Montana, Bill Cosby, and Apple co-founder Steve Wozniak), here are the reasons I will not be plunking down 2 dollars American for that privilege:
The math is not in my favor.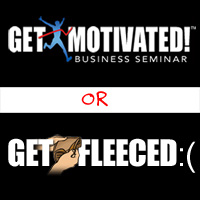 The low price of admission and the fees of the speakers mean that someone has to make up the cost difference. If I'm in attendance, that would likely be me. (The FN Center lists its capacity as 18,690.  At the listed $1.95 per person for early-bird tickets, that generates $36,445 in ticket sales for the event.  In other words, when the booking fee for just one speaker (Joe Montana) is taken into account, the event is already almost $14,000 in the hole.  And that doesn't include the cost for renting the arena for the day, the other speakers' fees, materials, and administration.  That puts a lot of pressure on the event organizers to make up that cost difference.)
Can my brain handle that much upselling?
A follow up e-mail from an account manager for the event included repeated invitations to upgrade the already-purchased seating for $30 or $50, the opportunity to earn free tickets by referring others, a special coupon code, to remember to "Like Us" on Facebook for exclusive offers, and 11 exclamation points!  This was AFTER buying a ticket.  If the sales follow-up on event day continues this pattern, my head would explode by 9:30 am.
If it's free, why do you need my credit card?
As reports of past events describe, Get Motivated isn't just telling feel-good stories and exhortations to try harder and ignore your critics.  It's also selling some 2-day workshops ($99) and investment software.  As reported in May of 2011, attendees to Get Motivated are asked to…
… agree to attend a two-day class sponsored by Wealth Magazine, for $99. They'll also get three months' use of the Investor Toolbox (Investools) website, plus another two months if they attend in early May and put it off till later in the month (a hedge, perhaps, against buyer's remorse). Should audience members fail to cancel their Investools subscription once the three- or five-month trial period expires, their credit card will automatically be billed $39 per month.

Bill O'Reilly will be there.
Like I said, I admit that I'd like to hear Joe Montana, Bill Cosby, and Steve Wozniak speak on just about any subject.  But since, to my knowledge, the organizers have not withdrawn their threat to give Bill O'Reilly a microphone, I can only assume they plan on following through.
Doesn't taking a day off work seem like the opposite of getting motivated?
The video on the event's website says that "After thousands of failed attempts to end the crippling epidemic of polio, motivation was the drive that propelled Jonas Salk to discover a vaccine."  It does not mention Dr. Salk's sitting through 9 hours of speakers and investment software sales pitches on a Tuesday, nor his "getting psyched" by reading 124 page four-color training materials.  Working at your career and gaining new skills–  that seems like motivation to me. Sitting around in an auditorium listening to a bunch of people reminisce seems a lot like the exact opposite of what got the speakers on stage in the first place.