First, thank you for all of the votes.  We appreciate your input.
It's no secret that I'd call every single person involved in this survey a friend.  That said, it's my job to lay out and interpret the data.
Our first category is "most influential."  Here's how they ranked.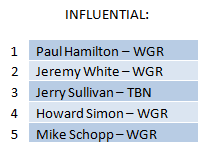 Unsurprisingly, WGR dominates this category.  The only sports radio station in town drives the conversation and, therefore, has the most influence.
5.  Mike Schopp— The team of Schopp and The Bulldog has been an afternoon fixture since 2002.  Mike and Chris have been the afternoon drive-time sounding board for WNY sports fans for ten years and clearly play a major role in steering Buffalo's sports discussion.
I'm in the media and I couldn't care less about them. RT. @JoeBuffaloWins Do only media/bloggers care about media ratings?

— Mike Schopp (@Schopptalk) May 31, 2012
Oh snap!
4.  Howard Simon—  Howard replaced John Murphy on WBEN's One on One Sports in the mid 90's and has been a well-respected voice of reason ever since.  He left radio for TV but returned to sports radio in 2004 to host the morning show on WGR.
3.  Jerry Sullivan—  Sully is a lightning rod and sports fans in WNY have developed a love/hate relationship with him since his arrival at The Buffalo News in the late 80's.  He's highly opinionated and, between his TBN columns and his WGR appearances, may be the most dominant voice in the local arena.
2.  Jeremy White—  Despite somehow never having his name attached to the show that he co-hosts, Jeremy is a major part of the top-rated morning show in Buffalo.  His outside-the-box thinking makes him a "must hear" Buffalo sports voice.
1.  Paul Hamilton—  There's not a Sabres fan in earshot whose view of the team hasn't been at least partially shaped by this veteran broadcaster.  He's an Iowa State Hockey Hall of Famer whose insight helps the community to better understand the team and the game.
I told Paul he'd "won" this category.  Here's his response.
"Wow!  I guess I would say I'm very humbled.  I love what I do so I would never think of it in those terms.  To find out people think of me in that way is so nice.  It's nice to know that the work I put into this is appreciated because it's sure fun to do."
Still to come:
MOST KNOWLEDGABLE
MOST INSIGHTFUL
MOST ENTERTAINING
OVERALL WINNER
So, what's wrong with this list?  Who is ranked too high or too low?  Who is missing?