Category #2 in the survey is "most knowledgeable."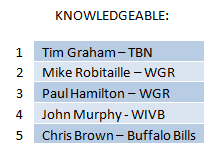 5.  Chris Brown—  It's impossible to find someone with a bad thing to say about Chris.  He's a true "pro's pro" whose background in news, sports, radio, and television makes him a no-brainer for this list.  He's also a SUNY Geneseo grad which would score him extra points if I were allowed to vote.
4.  John Murphy—  Murph once manned the evening radio airwaves at WBEN and, if rumors are to be believed, will soon return as a host on WGR.  In addition to his work at Channels 7 and 4, he served as Van Miller's color man and eventually replaced him as the play by play voice of the Bills.
3.  Paul Hamilton—  A true hockey insider, Paul stepped up to cover the Bills in addition to the Sabres following Chris Brown's departure from WGR.  He already charted as the "most influential" member of the Buffalo Sports Media and is the only person to make it onto each of the first two lists.
2.  Mike Robitaille—  His background as an NHL defenseman and his folksie approach to dissecting the game help Roby to stand out among his peers.  Despite being an employee of the Sabres rather than a member of a separate media organization, his understanding of the game is clearly evident to WNY viewers and listeners.
1.  Tim Graham—  Tim left The Buffalo News a few years back to cover the Dolphins but we got him back when he signed on as the AFC East blogger for ESPN.com.  He has since returned to TBN as an enterprise reporter and is transitioning back into the sports department.  The real world's loss is the WNY sports fan's gain.  When telling Tim that he had earned "most knowledgeable" honors, I asked him to justify his position at the top of the heap.
"In the past year, I've had two NFL coordinators, whom I'd never personally met before, tell me they learned things by reading my work.  I can't think of any better validation than that."-  Tim Graham, 5/31/12
I wasn't impressed so I asked for more.   This is when he made it clear he belongs in the number one slot.
"The guy named Beard in ZZ Top is the only one without a beard." – Tim Graham, 5/31/12
Still to come…  MOST INSIGHTFUL and OVERALL WINNER.