Puppy Bowl X was the greatest sporting event that has ever been played.
Over 200 people entered Trending Buffalo's Puppy Bowl Fantasy League. As it turns out, if you didn't have Loren on your team, you didn't have much of a shot. The Brittany spaniel was the puppy version of the Super Tecmo Bowl version of Bo Jackson, scoring 4 touchdowns to go with over 413 rushing yards.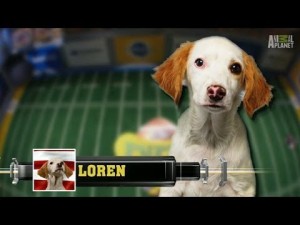 Loren dogminated. His toy paw-session and Corgi numbers were off the charts. It was a performance that barkened back to the days of Jim Brown. Loren hounded the defense, making them whoof on several tackles. It's clear that he boned up on his playbook. He'll fetch a good price in free agency.
Mandy, a dachshund, was a distant second in the TB scoring with 3 touchdowns and 272 rushing yards. Loren's sister Laney came in third with 171 points.
I think we all learned an important lesson on Sunday; gambling makes everything (even puppies) better.
FANTASY WINNERS
Our top 3 finishers each win a t-shirt from our friends at Store 716. The tiebarker didn't come into play but there were 12 total touchdowns scored and each winner's guess is listed.
FIRST PLACE
OWNER: Melissa Fruscione
TEAM: Benton (35), Ginger (117), Lilly (0), Loren (501), Mandy (333)
TIEBARKER: 5
TOTAL POINTS: 996
SECOND PLACE
OWNER: Seph Herzog
TEAM: Delachaise (91), Loren (501), Mandy (333),  Parker (22), Tyga (35)
TIEBARKER: 8
TOTAL POINTS: 982
THIRD PLACE
OWNER: Ryan Klepadlo
TEAM: Bach (70), Danny (0), Laney (171), Loren (501), Shyla (40)
TIEBARKER: 9
TOTAL POINTS: 782
Our 4th and 5th place finishers win nothing… but get listed here because one of them is Riter's wife.
FOURTH PLACE
OWNER: Carol Riter
TEAM: Cody (0), Laney (171) , Lilly (10), Loren (501), Van Helsing (0)
TIEBARKER: 10
TOTAL POINTS: 682
FIFTH PLACE
OWNER: Jim T
TEAM: August (61), Benton (35), Brody (15), Hudson (60), Loren (501)
TIEBARKER: 3
TOTAL POINTS: 672
TOTAL SCORING
(Note: If you submitted your entry after the 3pm deadline , your team was disqualified and therefore you won't see your name on this list.)
CLICK HERE to see where you finished among our 210 entrants.