While we've all been enjoying steady sun and perfect temperatures for weeks now, most Buffalonians might not have noticed that all these days have added up to something groundbreaking — Buffalo has moved past San Diego to earn the top spot on a list of U.S. cities with the Best Weather.
According to Weather Wunderground, their "Best Weather" list uses data found from published U.S. government weather reports, historical trends from publications like the Farmer's Almanac, and an economics tool called the "Outdoor Inventory Index" (OII) which quantifies outdoor activity dependent on weather conditions. The OII looks at the weather outside standard meteorological tools — including such seemingly mundane things as different prices offered for golf tee times by hour, recreational rental activity, and even how often restaurants offer outdoor seating.
Anybody can say their weather is great. Filling up a patio day after day at a place like Charlie's Boat Yard (the new restaurant at the Small Boat Harbor site formerly occupied by Dug's Dive) proves it.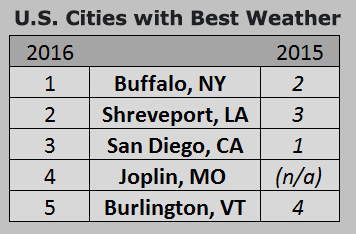 "'Great weather' is a term typically applied subjectively," explains Jeffrey Bartoo, who helped compile the list. "But when you start to look at time spent outdoors, you learn what conditions truly have mass appeal. An average temperature of 78 degrees might sound ideal but when you see activity drop significantly during the middle of the day because it's 100 degrees outside, you get a truer sense of how the weather is being used."
Is Bartoo surprised to see Buffalo surpass a big-name weather city like San Diego? "Not really," he says. "Each benefits from having a big body of water just to the west, which really moderates temperature and gives a broad inventory of usable outdoor time. San Diego is starting to face some population issues that impact the weather — like air quality — and that's a problem a smaller city like Buffalo doesn't have."
How much of Buffalo's top ranking comes from an unseasonably mild winter and this "great" stretch of summer weather? Not a ton. Historical trends from the past ten years play a much larger role and, and in the big picture, economic activity used in the OII tends to stay fairly consistent.
Looking to improve Buffalo's ranking in the "Best Weather" category next year? Hop in your convertible and head to the "hot spots" listed in the links below… some great suggestions for doing your civic duty and utilizing a chunk of Buffalo's untapped weather inventory.