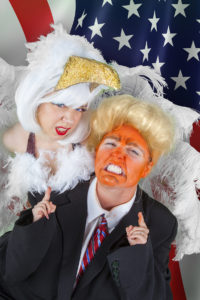 On September 24th, 2016, Squeaky Wheel presents the THIRD PARTY, an "un- conventional" presidential election parody and dance-off. On the edge of the great Niagara, the enormous halls of the historic Agway will shake as un-convention-goers stomp their feet and blow off some political steam, sending up and celebrating the current election and the foibles of our democracy. Partygoers will participate in interactive performances contrasting the politically satirical and the utopian, and can let loose on the dance floor to a variety of musical acts throughout the evening.
Brought to you by the "Squeaky Wheel PEEPSHOW SUPER-PAC", the THIRD PARTY delivers activities and happenings on and off stage, ranging from mock elections (in real voting booths!) and opportunities to vote on everything from favorite beer to best Third Party contender after candidates perform speeches, songs and dances for both public and private audience approval.
Partygoers can visit the "Scandal Room" (create and film your own scandal) hosted by artist Caesandra Seawell, make a political statement on the soapbox, get exit-polled, and take a selfie with our literal, live "scapegoat" all playing to the beat of a political themed playlist for interstitial times, care of Ron Ehmke. Peddlers and Change-makers will roam the room, peddling and selling any influence your heart desires!
The THIRD PARTY will broadcast and livestream on the web – brought to you exclusively by the SWN (Squeaky Wheel Network) team featuring roving reporters, all part of a faux- news program hosted by political pundit and artist, Shasti O'Leary Soudant. Adventures abound as the evening progresses!
Early arrivers will enjoy a beer tasting from several local independent breweries, while latecomers may happen upon a risqué military intervention, or a climactic balloon drop. Ongoing performances include Buffalo favorites, Carmine the Goat (a goat!), Kyle Butler, Ron Ehmke, Lizzie Finnegan, Ruth Goldman, Mickey Harmon, Tilke Hill, Norah Hurley, Holly Johnson, Brian Milbrand, Seth Oyer and Pocket Sand Improv Group, Sarah Paul, Julie Perini, Caesandra Seawell, and Shasti O'Leary Soudant, Jeff Shervin, Annette Daniels Taylor as well as visiting headliners Jeremy Bailey(Toronto), and Max Bernstein (NYC).
Our main stage features some of the most exciting acts in Buffalo and beyond, from jam- band cools Space Junk, noise performance by Chrysler Montgomery, theatrical acts from Torn Space Theater, Buffalo Aerial Dance, Cat Sinclair and Fifi Laflea of The Stripteasers, as well as electronic and soul/hip hop DJ's, DJ Ephraim Asilli(Hudson, NY), and DJ Big Basha to dance out the night.
The party starts at 8pm with a complimentary beer tasting for the first hour. The location is 1100 Niagara Street at the Agway building. Parking will be available at 1095 Niagara Street, across the street.
General admission tickets can be purchased for $15 in advance or $20 at the door.
The THIRD PARTY is Squeaky Wheel's 2016 fundraiser, supporting our activities in access, education, and exhibition of media arts. For more information, please contact Media Arts Curator Ekrem Serdar at ekrem@squeaky.org.
The Third Party
***PURCHASE TICKETS IN ADVANCE***
September 24th, 2016
8pm – 2am
@ 1100 Niagara Street (Curtiss Malting Agway Building) (map)
$15 Advance | $20 Door
See the official party site at www.thirdpartybuffalo.com.