With two and half years of Sabres ownership under their belts, new Bills bosses Terry and Kim Pegula are in the incredibly rare position to avoid mistakes by learning from previous successes and failures.
Just in case they haven't been taking notes, we'll share ours.
1 Your smart fans are smarter than your PR department.
Asking a sports PR department to "control the story" is like asking a group of middle schoolers to work out a way to "get around Google." Your real PR department plays in front of the fans every game. Anyone who thinks they can change that fact is just pretending.
2 Your dumb fans are dumber than you can imagine.
They're. So. Stoopid. It is impossible for a smart person to imagine how stupid some people are. Stop trying to assplain and move on.
3 Anger is just love disappointed.
The Tourette's-like stream of profanity and hate that catches your ear from time to time is not revealing of the real people inside. They are Buffalo sports fans. They've been here awhile. They have demons. You are here to help them.
4 Don't love your players more than your fans.
We love the players, but that's in spite of the fact that they are in the prime of their lives, getting paid millions to play a game while we have to wait for Friday to afford a knock-off shirt with one of their stupid faces on it. FACT: every time we hear about how spectacular their new locker room-urinal shelves-iPad minis are, we love them a little less. Let them earn our respect despite everything you give them, not because of it.
5 Stay out of the social media room.
Unless you're going to have balls and do something interesting (see Kings, LA), just don't do anything. You're just cluttering our feed with useless vanilla gobbledygook. The only person less interested in a team employee's player interview about "compete (the "noun")" than the player being interviewed is, well… EVERYONE.
6 Keep being yourself.
People will tell you the first Pegula Day press conference came back to haunt you because you set unreasonable expectations. Nonsense– it was one of the best moments in the history of our godforsaken sports town. Yeah, so you can't predict the future. That doesn't mean you should stop trying.
7 Get rid of Drew Stafford.
Just do it.  And then find the Bills version of Drew Stafford and get rid of him, too.
8 Keep telling the media to go F themselves.
The media keeps insisting that the people deserve a chance to hear from you. But speaking on behalf of the people, we don't really want to hear from you. You have stepped forward and purchased our teams so that they can stay in Buffalo. Your job is done here. We are just as confused as you are about what Bucky Harrington is supposed to be doing during the day, but we're sure it's not talk to you.
9 Find your Tim Murray.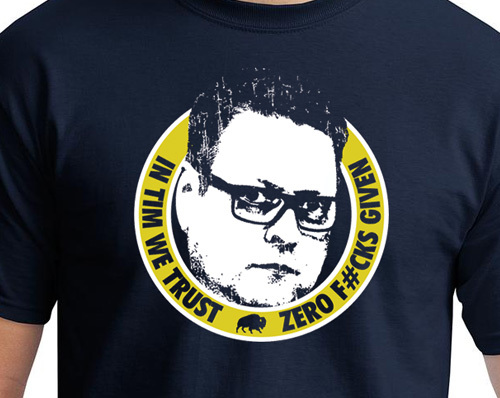 Professional sports are dominated by clichés and pretending. When a guy like Tim Murray comes along and speaks the truth out loud, it resonates with us like a cowbell made from the sun. Find that guy, put him in front of your organization, and we will follow you wherever the ride takes us.
10 – Keep on buying into Buffalo!
Buffalo remains a buyer's paradise for a man of your wealth and discernment. Next, you should look at any number of high value media outlets with which you can complete your regional portfolio. (acquisitionhotline@trendingbuffalo.com)