For better or worse, Tom Brady and his deflated balls continue to be the NFL's top story heading into the 2015 season. There's been a lot of speculation about Brady's suspension and the possible next steps, the guys at SBD have some predictions on Brady's lawsuit against the NFL making it to the court, they have 2/3 odds saying that the case gets to a Judge ruling.  We like gambling on everything… so betting on Tom Brady's future is plenty of fun!
Here are the top 5 reasons we hope his 4 game suspension holds up.
Reason 1 –  Week 2 – Patriots at Bills
The Bills will be 1-0 coming into this game and a chance to go 2-0 with a win over the Patriots is pure gold. It's about damn time the Bills get past the Patriots in the AFC East. With Jimmy Garoppolo in under center instead of Tom Brady, The Bills will have no problem picking up the W.
Reason 2 – The "Buffalo Hotels" shot
You remember a couple years ago when Brady through this one out there?  "And even when I started my pro career, he traveled to Buffalo. I don't know if you guys have ever been to the hotels in Buffalo — they're not the nicest places in the world — but he would still travel to those. It was just great to grow up in a house like that and feel so supported by your mom and dad."
Reason 3 – He's Too Damn Pretty
Look at Peyton Manning. Now look at Brady. Now look at a picture of Terry Bradshaw in the '80's. Now look at Brady. The prettiest man to every play football up till this point was John Elway, and well….look at him. Brady is the kind of looker that belongs as a partner at a law firm, or the owner of a club for hipsters. He belongs in slacks and a tee-shirt getting a martini at 10:00AM, before he goes to his Fraternity's annual lunch where they sit around and laugh about how rich they are. He's the type of looker who's more fit to be captain of the Swim team, than the Football team. Has he ever broken his nose EVER??? Doesn't look like it.
Reason 4 – His face.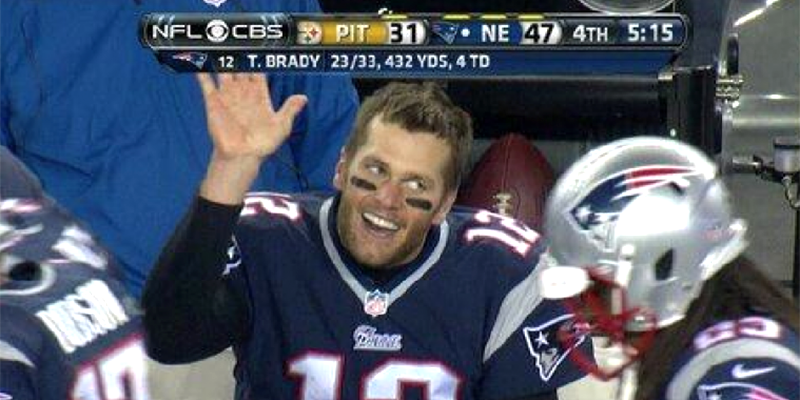 Reason 5 – This is the only way to get rid of him
In an email just released during the deflategate investigation, the dude just said he's going to play 5 to 7 more years. For Christ's Sake! FIVE TO SEVEN MORE YEARS of this guy?