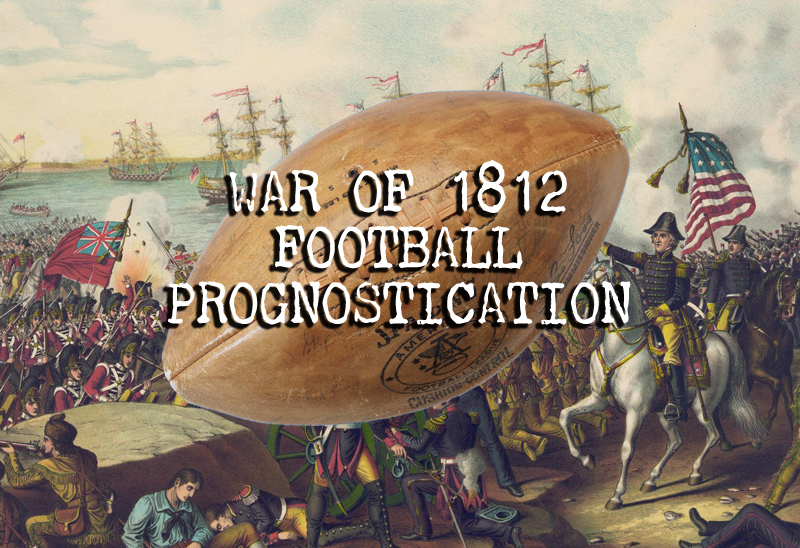 (Editor's note: Mixed into a rambling narrative about the current state of affairs in the NFL loaded with historical and pop culture references, Mr. Brutal makes some football picks. Why does he call it the "War of 1812 Football Prognostication"? He likes history, he's Canadian, and it probably has something to do with those two facts. That's all we've got.) 
Thursday November 13, 2014
8:30 pm Eastern Standard Time
Buffalo @ MIAMI (-6) 42.5
Last week, Miami went to Detroit and lost 20-16 on a late TD pass delivered via a bad mechanics side-arm zinger from a scrambling Matt Stafford. The Dolphins were lucky to be in the game. They had total offensive production of 228 yards and averaged about four yards per pass completion. The Lions were better, but struggled yet once again in the red zone in this borderline snoozefest.
Some would have called this contest a defensive masterpiece, some would have it called it boring, some would have called for the services of the late doctor and longtime Detroit resident, Jack Kevorkian…  and some of us would have called the tone of this game emblematic of the "alive yet rotting" present state of the Motor City.
Bills' head coach Doug Marrone is supposed to be an offensive guy. He is supposed to be aggressive and according to his c.v. was once the offensive coordinator for the New Orleans Saints(?)… in name, at least, because we all know that Sean Payton does not like to share the keys to the Lamborghini.
He calls the Bills' plays and is most responsible for the identity of the team's attack. Ye,t after another poor showing due to Sharia Law-esque conservative play calling, bad execution and transparent tendencies, it appears the Bills' need help directing their attack.
After witnessing the Kansas City victory last week despite the dead-on Andy Reid impersonator at the Ralph standing stoically behind the Chiefs' bench trying to distract coach Reid, Buffalo fans felt that the tactic had backfired and should now be undertaken as a measure to boost the fortunes of their team.
As we speak, a private plane has departed Buffalo-Niagara International Airport and is on its way to Miami with seven men holding front row tickets behind the Buffalo bench. Seven professionally trained mimics, all dead-ringers for some of the greatest offensive innovators who brought change to modern football: Mike Martz, Norv Turner, Sam Wyche, Grantland Rice, Amos Alonzo Stagg, Wayne Fontes and Rich Kotite.
The Dolphins could only rush for 50 yards against the Lions last week. It won't get much better against the front four wall of the prairie bison. Now QB Ryan Tannehill may have more success against the Bills' secondary, but we predict a close, low scoring game between long-time rivals off a short week and therefore take Buffalo, cowboy Kyle Orton, and the points.
(Editor's note: Fake Andy Reid is actually a Chiefs fan.)
Pick: Bills (+6)
Bills +6