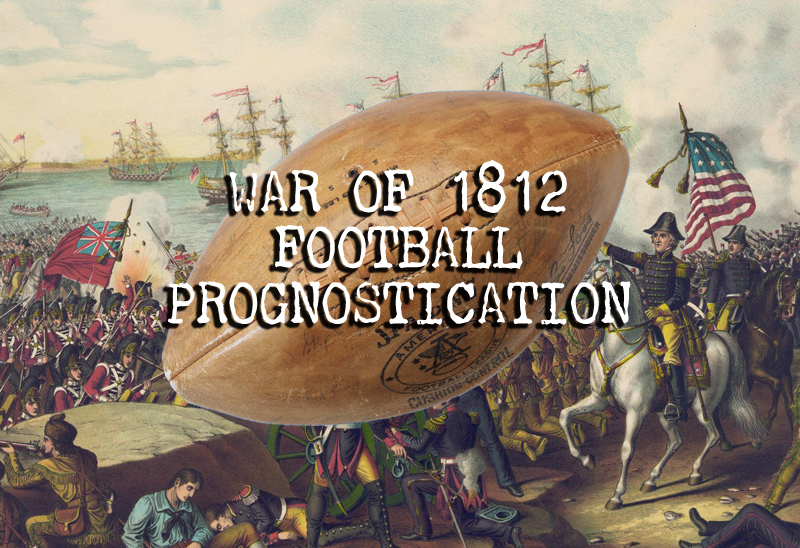 (Editor's note: Mixed into a rambling narrative about the current state of affairs in the NFL loaded with historical and pop culture references, Mr. Brutal makes some football picks. Why does he call it the "War of 1812 Football Prognostication"? He likes history, he's Canadian, and it probably has something to do with those two facts. That's all we've got.)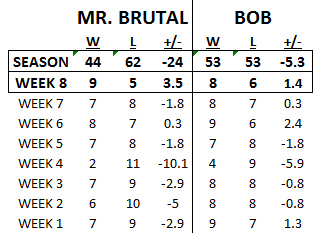 Sunday, November 2, 2014
1:00 pm Eastern Standard Time
Tampa Bay @ CLEVELAND (-6.5) 43.5
The Buccaneers dumped some salary and some draft disappointments at the trade deadline this week. None of this helps or hurts the team much today. Lovie Smith figures Josh McCown back at quarterback will make the difference, but he's mum on whether or not he will start or replace present starter Mike Glennon who is obviously on the proverbially short leash despite leading the Bucs back from a 10 point deficit in the fourth quarter to lead 13-10 before losing in OT to the Vikings.
We're nervous with this pick, because the Browns are nowhere near as statistically good as their record and will definitely be looking ahead to next Thursday's showdown with the Bengals in the Battle for Ohio.
Mr. Brutal: BROWNS (-6.5)
Bob: Tampa Bay +6.5
Arizona @ DALLAS (-6)
Uh Oh! The first speed bump in the Dallas Cowboys' dream season was hit hard and tore the undercarriage in that Sunday night 20-17 overtime loss to Washington. When QB Tony Romo went down with that back contusion and was hauled off to the locker room for examination, owner, GM, shadow coach and apparently now team doctor emeritus Jerry Jones decided to rush the Steve Austin surgically repaired spine of their starting quarterback back into the game.
All this despite the fact that backup Brandon Weeden had led the team to two successful drives and 10 points. Tony came back to the sidelines after x-rays and an opiate spike. Then Jerry "Marcus Welby" Jones ( Christ, he actually looks like Robert Young ) imposed himself into the decision-making process down on the Dallas sideline. Like some early Halloween-celebrating lecherous ghoul, he got into head coach Jason Garrett's ear and made it clear what was to happen regarding Romo's return.
Tony came back in, looked shaky, took some more hits and was lucky he retained motor function in his limbs and that his fumble inside his own ten didn't end the game sooner.
Notice: We will no longer make references to Jerry Jones' macabre' experimentation with facial surgery (at least for a couple of days) after being shocked by a far more disturbing case last week.
We were accidentally surfing the net for "Addicted to Bridget Jones" websites to commiserate in chat rooms with other hopeless, starry-eyed fans of the fictional, insecure London professional. Our communal heroine worship of our mutual obsession and her wacky adventures in an unfair, misogynistic world of constantly shifting expectations for thirty-something women was abruptly interrupted.
Suddenly, we observed a photograph that was labelled "Renee Zellweger." We almost fainted. It must have been some sort of mistake, or was there an interruption in our ability to perform visual phototransduction between our eyes and brain? Apparently, there was not.
After God knows what kind of bizarre Frankenstein face manipulations, our goddess now looked nothing like the perky pixie image we had burned into our central memory banks. Her stretched skin and widened eyes now made her look like a shorter, younger version of Meredith Vieira. Depending on your taste, this may not be a bad thing. However, this will likely have enormous ramifications in our sex and celebrity-obsessed culture and probably require foundation-shaking alterations to the private fetish dreams and spank-bank balances of tens of thousands of middle-aged men.
Whether Tony Romo plays or not, we like the Cards here. Bruce Arians is firming up the play of his team. Their attack is getting a little better each week, the defense has been steady and the Dallas loss to the Washington Aboriginals of no Fixed Complexion last week provided a blueprint to the world for kneecapping the Cowboys.
Mr. Brutal: Cardinals (+6)
Bob: Cardinals +6
Philadelphia (-2.5) @ HOUSTON 48.5
The Eagles lost a tough one in Arizona last week, and are on the road again this week in the southwest. They should win because they are the better football team, but I wouldn't bet real money on this game unless an Iranian Morals Court forced me to make a choice under penalty of death by stoning.
Mr. Brutal: Eagles (-2.5)
Bob: Eagles -2.5
New York J-e-t-s, Jets! Jets! Jets! @ KANSAS CITY (-10) 41.5
The latest battle of the secession in the "Show Me" state between Jayhawkers and Bushwhackers last Sunday was a bit anticlimactic as the Chiefs pulled away from Jeff Fisher's Rams in the second half and easily won 34-7.
Gary Glitter's Rock n' Roll Part II played loud and often last Sunday as the Chiefs put four touchdowns on the board and easily won. Unfortunately, Gary, whose real name is Paul Francis Gadd, doesn't benefit as much these days from the constant playing of that anthem and the monstrous yearly royalties it generates. After multiple child pornography and sex crime convictions earned in England and Southeast Asia, and more pending, Gary can no longer leave the United Kingdom to enjoy travel or to perform. Even his movements within the United Kingdom are closely monitored.
In this era of more awareness regarding what went before as mostly unmentionable crimes, maybe the Chiefs should consider shelving the tradition of playing Mr. Paul Francis Gadd's signature song after every Chiefs' major score.
To be fair, these crimes were incredibly messy and complicated. Gary has always maintained his innocence, declared he never knowingly slept with underage girls, has in certain cases been mistakenly identified as a pedophile by the sensationalist UK media and has vowed to continue to prove his innocence. He has also spent millions of pounds to fight his legal battles.
But Gary Glitter has earned between $500,000 and $1.1 million in royalties (mostly from Rock n' Roll Part Two) every year for over forty years, so he has the resources to survive any type of boycott.
The Jets come into Missouri a complete mess. Michael Vick is now starting at QB after Geno Smith appeared to deliberately attempt to throw the ball, the game and his career away last week against the Bills. New addition Percy Harvin was a non-factor and managed to not assault any of his teammates in the locker room before or after the game to the best of our knowledge.
(None of this is a surprise, Percy Harvin is a graduate of the Gainesville College of Elocution, part of the extensive University of Florida matriculation matrix that has produced outstanding athletes and upstanding citizens like Aaron Hernandez and 30 other football players guilty of felonies during the Urban Meyer era.)
Rex Ryan appears to have survived not being fired this week, but his trip to the city on the eastern bank of the Missouri River along the Kansas-Missouri border may be as eventful as the 1933 Kansas City Massacre.
A gang of criminals led by Vern Miller and possibly "Pretty Boy Floyd" killed four law enforcement officers and the fugitive, Frank "Jelly" Nash, in their custody. They were attempting to free Nash, but he infamously became a "gangster-on-gangster friendly fire victim" at the Kansas City Railway Station. The notoriety and violence of the incident led to permanent changes in the FBI where they were allowed to carry firearms and make actual arrests.
If Rex, Percy "Chuck Bronson" Harvin and the Dog Whispering Quarterback have a bad day in Arrowhead Stadium on Sunday, and the following week against Pittsburgh it will probably be "Good Bye" to Rex Ryan as head coach as the dreaded "Bye" week follows, the perfect time to jettison a losing football boss.
Chiefs roll.
Mr. Brutal: CHIEFS (-10)
Bob: Jets +10
Jacksonville @ CINCINNATI (-11.5) 43
Cincinnati may have WR A.J. Green back, but the oft-injured and very important LB Vontaze Burfict is out yet again, this time with an ankle injury. Mini-sized running back Giovanni Bernard is also predictably hurt, due to overuse between the tackles. So there is no way on earth the "Orange is the New Black" tigers of the Queen City should be favored by double digits over anyone.
We love the Bengals and have followed them since the family dispute that led the Brown family to start a new franchise in Cincinnati and leave Cleveland in the safe, nurturing and loyal hands of Art Modell. However, they tend to play up or down to their competition and could easily blow this game to Jacksonville.
If this was a real battle between tigers and jaguars we would always side with Cincinnati. Jaguars are the largest new world cat. Like panthers, they are nocturnal and this is a day game. Tigers are bigger, stronger, more aggressive and can swim… so if there is any chance of rain, they hold the trump hand there too.
Mr. Brutal: Jaguars (+11.5)
Bob: Jaguars +11.5
San Diego @ MIAMI (-3) 44
The Chargers are slipping a bit, a victim of injuries and inflexible offensive play calling.
The Dolphins were lucky to get two pick sixes and won 27-13 in Jacksonville, but that didn't stop "Money Bags" Mike Wallace from sounding off about the sorry state of the Miami offense after the game. He criticized the play calling, QB Ryan Tannehill's arm strength, the lack of Dolphins fans who made the trip to Jacksonville and lamented the good old days in Pittsburgh when he was the recipient of many deep balls courtesy of "Big Ben" Roethlisberger. We think this brainstorm of jealousy was ignited when he saw that his old QB threw SIX(!) touchdowns and went over 500 yards later in the day to crush Indy.
Worst case of pigskin envy we've ever seen. Zero sympathy for this prima donna. If you wanted to enjoy a healthy dose of deep passes and a QB with a big arm, you could have stayed in Pittsburgh… although to be fair, if we saw Todd Haley come in as Offensive Coordinator, we would probably leave too.
You also could stop getting regular bouts of alligator arms, a couple easy drops each game and run out pass routes when you are the second and third option like they matter rather than sulk like a petulant brat on a regular basis.
Mr. Brutal: Chargers (+3)
Bob: Chargers +3
Washington @ MINNESOTA (-2.5)
Way to go Washington! Victory in Big D! Then a feel good moment is ruined yet again by the long reach of the short arm of the Little Dictator Danny Snyder.
Obviously following instructions from the top, the public relations Gestapo employed by the Washington NFL franchise roughly grabbed winning QB Colt McCoy and hustled him away from the ESPN Spanish Channel reporter at the fifty yard line at the end of the unexpected victory on National TV in Dallas.
"No means no!" he shouted at the reporter who was just doing his job at a game broadcast by his employer. One can reasonably speculate that Danny Snyder was once again trying to steer the story. The "Paltry Prefect" did not want Colt McCoy talking to the press and reigniting any starting quarterback debate in Washington– the one he constantly helped fuel over RG III and Kirk Cousins with his ill-timed gasoline bombs of ballast shifting bombast.
Well, RG III is starting this week in the Ex-Bengal Coordinator Bowl in Minneapolis between the previous Offensive Coordinator Jay Gruden and the longtime Defensive Coordinator Mike Zimmer.
Big Advantage Mike Zimmer! He's seen all the flaws in the Jay Gruden system on a daily basis for two years.
RG III is back, but trying to operate as a predominately pocket passer doesn't bode well, and the new starter negates a lot of the positive momentum brought on by Colt McCoy's victory. Bob Griffin is the second best young QB starting in this game, and the Vikings' Teddy Bridgewater will be fueled by OC Norv Turner and Zimmer to seize that mantle.
The short week also does not bode well for the Washington Ruby Membranes as the largest protest organized so far this year by Native Americans will take place during the game around the TCF University of Minnesota Stadium.
Mr. Brutal: VIKINGS (-2.5)
Bob: VIKINGS -2.5
4:05 pm
Saint Louis @ SAN FRANCISCO (-10) 44
Head coach Jeff Fisher versus head coach Jim Harbaugh … the overrated against the overadrenalized.
Even with the week off, the 49ers don't usually blow out anyone. The Rams should play their division rival with vigor, at least enough to cover.
Mr. Brutal: Rams (+10)
Bob: Rams +10
4:25 pm
Denver (-3) @ NEW ENGLAND 54
The game everyone is waiting for– Manning versus Brady.We feel no special affinity or preference towards the Android or the Male Model as field generals. But as role models and lifestyles we're going with Tom Terrific every time.
We can only hope Peyton Manning doesn't rag out on the Patriots' scoreboard operator like he did last week on the hometown employee in Denver in the post game press conference.
Nothing like seeing a rich marketing machine man like Peyton take a minimum wage guy, probably just trying to do a good job (albeit a little too enthusiastically) and throw him under the bus via the media by publicly outing him. Real classy, Peyton! If you had a problem with the way things proceeded, handle them internally. It's not like you're not going to get the changes you crave.
Of course, we're not surprised. Peyton is a big promoter, friend and multiple-franchise owner of Papa John's founder John Schnatter. It appears he probably shares a lot of the views of the esteemed businessman and self-appointed economist. Besides bestowing us with yet another mutant mushroom patch of franchised cheap bread and ketchup pizza outlets to bestow high carbohydrate, low taste diabetes-precursor food stuffs to the population, Mr. Schnatter has been very active politically. He is associated with the lovely American patriots, the Koch brothers, and was an avid supporter of Mitt Romney in the last Presidential election, hosting huge fund raisers on his massive compound in Anchorage, Kentucky that is only slightly smaller than the state of Rhode Island.
He is an ardent opponent of the minimum wage hike of course, since the vast majority of his employees work for low pay and even less benefits. But he is an even bigger opponent of the Affordable Care Act. He ranted about this during the last election and vowed to make most of his employees part-time to avoid paying. When a University student at a symposium pointed out that based on the statistics, providing healthcare under the AFC to all his workers would add the grand total of 30 cents to the cost of a large pizza, he refused to engage in debate and said he would lose the competitive edge and just couldn't find that money.
Right, then you'd have to cut back on those "extra quality" ingredients you put on the pizza, even though all your competitors would be facing the same cost increase. Also, the cost of healthcare roughly added up to the purported "discount" on your pizzas you were advertising during the Super Bowl.
Laughable… but the man is entitled to his corporate vision of unending greed.
After all, he claims to be an evangelical christian, and we all know that pursuing unfettered avarice was one of the savior's principal planks to the Sermon on the Mount.
The Broncos are never that great away from the altitude against decent teams. You get Belichick, GQ boy, Gronk, 70,000+ late game liquored up New Englanders and THREE(!) points. And according to the weather forecast, the possibility of 30-40 mph winds that will turn Peyton the Robots' medium-to-long range passes into bloated Hindenburg trajectory sandbags.
Mr. Brutal: PATRIOTS (+3)
Bob: Denver -3
Oakland @ SEATTLE (-14.5) 43.5
Sad news for the Silver & Black Nation this week. Former OT Mo Collins died. The Raiders D has really played well and Derek Carr is probably the best overall rookie QB this year… and that is a big spread.
Mr. Brutal: Raiders (+14.5)
Bob: Seattle -14.5
8:30 pm
Baltimore @ PITTSBURGH (-1.5) 47.5
This game will be bruising. The only thing that concerns us is that Pittsburgh will not be wearing their vintage Bumble Bee-Beagle Boy convict uniforms that brought them so much luck last week, so the karma may not continue.
Mr. Brutal: Steelers (-1.5)
Bob: STEELERS -1.5
Monday, November 3. 2014
8:30 pm
Indianapolis (-3) @ NEW YORK FOOTBALL GIANTS 50
For no great reason, more likely intuition, we loved the Steelers last week to wipe out the Colts. For no great rational reason, we like the Giants to also beat Indy this week.
Both WR Reggie Wayne and RB Trent Richardson missed Sunday's humiliation by the Steelers. They should be back this week but won't be 100%.
But the biggest question mark is the whereabouts of suspended safety LaRon Landry.
The former Colts' starter came off his four-game suspension for failing the performance-enhancing drugs portion of the NFL's substance abuse policy. In this case, no urine or blood test was necessary. He was written off when the NFL official medical attendant tester saw him walk into the office wearing a tight t-shirt and said:
"Let's save us both a lot of time and hassle. I'm just going to write you up for a grade one violation that will result in a four game suspension. Take the plea bargain. It's the best deal you are ever going to receive, and the league really doesn't want a ton of pictures of you in the press. Also, you don't want to have to practice keeping a straight face while explaining that your physique is the result of a new type of weight lifting regimen, frequent protein colonics and a diet heavy in consumption of vicuna milk and alpaca embryo stem cells."
Well LaRon "Louis Cyr" Landry actually did not show up for the Colts' weekly meeting on Monday and his whereabouts are officially "unknown"… so his status for next Monday's game is "unknown." It is possible that he is trapped in his SUV in the Balco parking lot, because his biceps, triceps, pectorals and deltoids have made his upper torso so large that he got wedged and stuck in the door opening trying to exit the vehicle.
The Giants are coming off a bye, have new hope for winning the NFC East with the Eagles and Cowboys losing and are at home. This may be another ESPN Junior Varsity Monday Night game, but the Giants are getting points at home, saw what the Steelers pulled off last week and have a number of super secret plays that they are going to unleash on the Colts.
Mr. Brutal: GIANTS (+3)
Bob: Colts -3