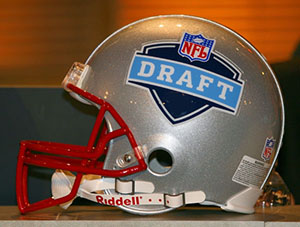 Note: This is before free agency and that could change things. The draft is a process and people move after the Senior Bowl and then again after the combine.  I needed to change my third round pick from last time because Aaron Donald had such a strong Senior Bowl he moved from a late second/ early third round pick to a first or second round pick.  This list will change again after the combine and free agency.
Round One: Eric Ebron, TE, North Carolina
If you want to help EJ Manuel then this is the best player to help him right away. Ebron is a freak athlete, 6'4 245. He has the potential to be the next Jimmy Graham or Rob Gronkowski. You need to make big plays from your TE and Ebron is capable of doing just that.
Most people first saw Ebron on a Thursday night game against Miami where he dominated with 8 catches for 199 yards and a touchdown. Ebron set school records for a TE with 55 catches and 895 receiving yards.
I can't remember him ever dropping a pass that he should have caught. In fact you are much more likely to see him catch a ball one-handed or make an unbelievable acrobatic catch than drop an easy one.
If you look around the league the Saints WR's aren't that great nor are New England's. A big TE could make the Bills WR's acceptable. Johnson, Woods, Goodwin and Graham are better than New Orleans or New England's receivers. The Bills have been behind the curve with getting a great TE. Scott Chandler is OK but this league has been going to one that requires a great TE to open things up.
You must also look ahead to the fact you may lose CJ Spiller after next year. Ebron could make those electrifying plays that you sometimes get from Spiller.
The Bills' choice here to help EJ is the second best tackle or the best TE. The best TE helps him so much more than the second best tackle.
Round Two: Antonio Richardson, OT, Tennessee
Your choice now is for the fourth, fifth or sixth best OT. Here is a situation where I believe you take a guy that played left tackle in college and have him start from day one at right tackle in the NFL.
I believe at this point a guy like "Tiny" Richardson will be available. Richardson is a mountain of a man. He's 6'6″ and 327 lbs. He blots out the sun. He played against great competition in the SEC. He made a name for himself two years ago when he shut down Jadeveon Clowney in their match-up. He then said that he thought Clowney was over-rated. A motivated Clowney won their match-up this year but it wasn't a total domination. They matched up 66 times this year. Clowney won 22 and Richardson won 12. It wasn't a Colin Brown type of beating.
Richardson is the type of guy that isn't pretty but gets the job done. My best equation would be to a guy like Flozell Adams in the past. Not pretty but effective.
Round Three: DaQuan Jones, DT, Penn State
When in doubt go big. I could have gone a number of ways with this pick but decided to go with the best big man available and I think now Jones should be there. Jones had a great Senior Bowl. Let's remember that Kyle Williams is not the youngest guy in the world. Let's also remember that Marcel Dareus had some problems with the coaching staff at the end of the year. Are the Bills going to want to pay Dareus after next year? I think they should but I want to have another disruptive force on the defensive line in case the money is too high.
With Jones, I believe you have a guy that can collapse the pocket and cause havoc in the backfield and hold his ground too. He showed this during the Senior Bowl week. Jones racked up 11.5 tackles for loss last year on the Penn State defense. I worry that new Texans coach Bill O'Brien may take him a few picks ahead of the Bills in the third round. Jones showed he can play in a 3-4 or a 4-3. I love his flexibility.
Round Four: Anthony Steen, G, Alabama
At this point of the draft you need to start looking at positions that haven't been taken as much. For instance thirty WR's may have been taken by now but only three or four pure guards. There may be more "guards" that played tackle in college taken than guards who played guard.
The thing that upsets me most about last year was, long before the draft, the Bills new they needed to replace Andy Levitre. At his draft luncheon, Buddy Nix was asked about taking a guard and he joked how they liked these guys on the roster more than we do. This is not Monday Morning quarterbacking. Everyone knew the Bills needed a guard except the Bills. Colin Brown was a "turd". They can't make the same mistake twice.
Steen may drop a little because he needed shoulder surgery at the end of the season and missed the bowl game– one of the reasons Alabama struggled protecting the passer against Oklahoma. Steen gave up zero sacks and zero penalties this year. Nick Saban praised his consistency. Yes, Nick Saban said something nice! That's rare. Alabama during the regular season gave up 22 sacks last year and only 12 this year.
The problem good offensive line coaches have is they think they can make chicken salad out of chicken s***. You saw this for many years when Jim McNally was the coach. Pat Morris is a good offensive line coach and head coach Doug Marrone has experience coaching the offensive line as well. I hope they don't make the same mistake again by trying to coach up players that just can't cut it.
Round Five: Adrian Hubbard, LB, Alabama
Hubbard has slipped and, to tell the truth, he should have stayed another year with the Tide. He came in as one of the best LB's in the country and after a disappointing season and Senior Bowl he has slid to a pick in the late fourth or fifth round. Here's what I think he does well and how it could fit into the Bills. He moves forward very well. At the Senior Bowl there were two knocks on him. He didn't back up well in coverage and he wasn't impressive physically.
I think he has great potential with and great length on his 6'6″ frame. He needs work for sure, needs to bulk up, but I'd take a risk that he works out.
In terms of the Bills, Jerry Hughes had a great year rushing the passer. If he has close to double digit sacks again this year, that could be a guy that is tough to afford. I believe Hubbard could improve the Bills LB depth this year and if the Bills can't afford Hughes next year take his role.
Round Six: Max Bullough, ILB, Michigan State
Here's another value pick. At this time of the draft, I believe you can still get the sixth or seventh best ILB. It's a position that just doesn't have many guys taken early.
Here is my solution to fix the Bills LB problem. The problem isn't with Manny Lawson. I thought Manny Lawson played very well this year. You need to find a replacement for Nigel Bradham on the weak side and Arthur Moats, who I would cut.  I believe this team needs a major upgrade at LB. This is why I'm using two middle to late round picks on this position.
Take advantage of Kiko Alonso's versatility. Alonso had a great first six weeks of the season. I thought his play dropped off the last 10 weeks. I was especially concerned about his play against the run late in the season. I thought he struggled shedding blocks and it created some big runs. I believe the Bills could use a big run stuffing ILB. My solution is to draft a guy like Bullough and move Alonso to weak side when Bullough is on the field. Again, I think you want to take advantage of Alonso's versatility.
Bullough is not an every down LB and I know it but I feel he can give the Bills a much needed presence against the run. Bullough's grandfather, of course, was one of the worst head coaches in Bills history… but I don't believe in bad karma.
Bullough had 76 tackles this year and 10 of those were for loss. There is a concern that he missed the Rose Bowl for violating team rules. Let's face it– it's the fifth round and you're not going to get guys that don't have some questions about them. His play as a consistent performer for years outweighs him missing his last game for me. The Michigan State defense he was a part of allowed only 248 yards a game and a mere 3.9 yards per play.
Round Seven: Tyler Gaffney, RB, Stanford
I like to look ahead and look at value. First, let us talk about value. There is going to be a good running back available at this point. The running back position is loaded with guys that are going to go from rounds two through seven. Gaffney was a workhorse back at Stanford. He's a power back that could be the next Marshawn Lynch. I rarely saw the first person bring him down. He showed great ability to break arm tackles. Gaffney is a great athlete. He played minor league baseball in the Pirates organization in 2012 before returning to football in 2013. Gaffney rushed 330 times last year for over 1700 yards.
The reason I believe this makes sense for the Bills is they could very well lose both running backs after this year, Fred Jackson because of age and CJ Spiller because of money.