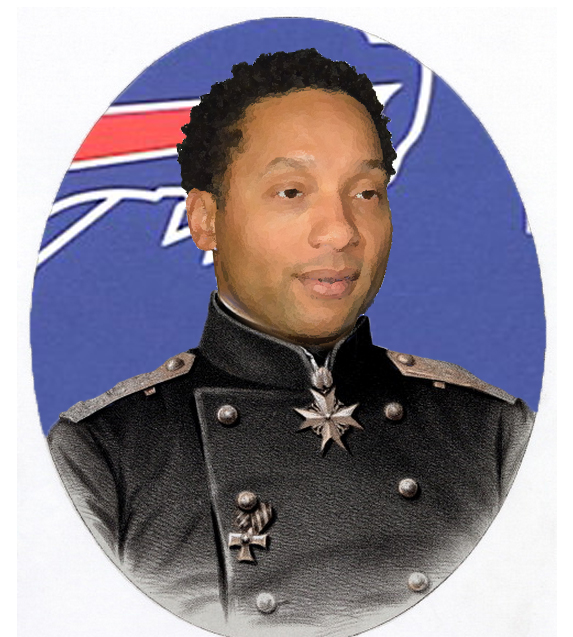 It's 2015, a ridiculous 15 years since the Buffalo Bills' last playoff appearance. But despite that fact, the franchise is still keeping it interesting.
Rarely a dull moment with this team, that's for sure.
The most compelling story that has elicited the most fervent debate among Bills fans and media members alike centers around the Bills potentially wanting to hire a "football czar," to oversee the entire operation.
My colleague Patrick Crawley tweeted…"czars are for Russia," and while that's true, apparently the newest and eventually copied-by-everyone trend in the NFL is to hire an elder football guy with decades of experience to help the organization.
(By the way, if this trend does continue, we're going to have a collection of teams that run only I-formation and hand it to one running back 40 times per game.)
One storyline I don't think has been talked about enough is the future of current GM Doug Whaley amidst the football czar discussion.
With the czar hiring looming over his shoulder, Whaley's future is about as murky as which moves we pin on him, and when exactly we think he "truthfully" took over the football side of the Bills. He's been with the organization since February of 2010, when he was personally selected by then GM Buddy Nix to be his right-hand man and eventual successor.
At that time, Whaley was named Assistant GM and Director of Pro Personnel — the guy who typically deals with trades, free-agents and the famed waiver wire.
Instead of spending the time going through his specific transaction resume from 2010 – 2012, just realize that draft decisions, free-agent signings, trades and waiver-wire additions during that time frame have had a major impact on Buffalo's (sound) overall roster today.
Unfortunately for Whaley, and anyone trying to figure out what moves he was behind, Buddy Nix was retained as GM when Chan Gailey was fired, something that never should have happened. The coach and quarterback and team Nix — with input from Whaley, I'm sure — invested in had noticeably failed and the coach and quarterback were the relieved of their duties for said failure.
For some reason, maybe due to his longtime friendship with late owner Ralph Wilson Jr., Nix was kept for ever-important pre-draft process in 2013. The retention also gave Nix the opportunity to hire another coach, Doug Marrone.
Fair or not, in this day and age, GMs rarely get the chance to hire two head coaches especially when big money was given to a quarterback who didn't work out.
The moment Gailey was fired, Nix should have been canned as well, and the powers that be could have then decided if his successor-in-waiting, Whaley, deserved to finally get his shot as a GM.
Truthfully, the entire Nix-to-eventually-pass-the-GM-gig-to-Whaley experiment flopped because things didn't follow along with the mentor-to-mentee storybook.
In this particular storybook, the elder Nix would have built a winning franchise in Buffalo, and soon thereafter, he'd call it quits due to his age. Then, the team would make a super smooth transition to Nix's understudy, Mr. Whaley, who'd continue to steer the ship on its proper course.
(See: Ozzie Newsome and Eric DeCosta in Baltimore)
Anyway, maybe for the sake of continuity — which seems like an odd thing for a franchise to want which, at that point, hadn't been to the playoffs in slightly over a decade– or maybe simply because the absolute top of the organization had been impressed by Whaley's work and football mind, the former mentee became a GM…less than a month after the 2013 draft.
This is where things get real murky.
Who in the hell was truthfully "calling the shots" in the draft room? Oh, and that draft happened to feature the first time in franchise history the Bills selected a quarterback with their first pick, so it was a damn important draft.
Two days after the draft, the Bills — I write "Bills" because it's basically impossible to know if Nix was the sole architect behind the move on his way out, or if it was Whaley who took the job two weeks later, or if it was a legitimate collaborative effort — traded Kelvin Sheppard for Jerry Hughes.
Considering what was surrendered, it was probably the greatest trade in team history.
Back to the the 2013 draft…a few days following the EJ Manuel selection, Whaley publicly stated he was "integral" in the choice, and that he was the person "handling and setting up the draft board."
The trade back that netted an extra selection which was used to grab Kiko Alonso after the first choice in the second round, Robert Woods, was a stroke of draft-day brilliance.
Sadly, we'll probably never know whose mind conjured up the the trade-back-draft-EJ-draft-Woods-draft-Kiko strategy, but one has to assume Whaley was at least somewhat on board with it.
I tend to think these decisions are more collaborative than anything else, but the GM will almost always take the credit and blame for personnel-related moves.
The 2014 offseason, with Whaley undoubtedly in charge is a mixed bag of mainly good and some ehhh. Brandon Spikes and Corey Graham were perfect, cheap free-agent acquisitions. Chris Williams and Mike Williams were miniature disasters, because they were inexpensive.
As far as the draft goes, well, all signs are pointing to Sammy Watkins being a star in the NFL. But with the insane top-level depth at wide receiver in the class, right now, Whaley and his draft department's choice to trade next year's first-round pick to get the Clemson stud doesn't look like a stroke of draft-day brilliance.
And I'm not sure Watkins will ever be that much better than Odell Beckham Jr., Mike Evans, Kelvin Benjamin, Jordan Matthews and a few others to be worth two first-round picks when they all cost just one.
But Preston Brown looks like a solid player. After a redshirt year to get in "NFL shape" the now 21-year-old Cyrus Kouandjio will be a capable offensive lineman.
Overall, I think Whaley's been near the top and then at the top of the Bills football operations during a period in which the team was built to what it is today…the most impressive roster from top to bottom in a decade, that, unsurprisingly, led to the club's best record in a decade.
Because of that truth, which is vital, I believe he is deserving of remaining Buffalo's GM.
Problem with my thought here is that Whaley's most visible decisions — we think at least — the EJ Manuel pick, and the Sammy Watkins trade haven't exactly panned out yet.
So it's easy for outsiders to say "he missed on EJ, and he could have gotten Beckham Jr….fire him," but, to me, it's not even close to being that simple.
Do I blame Terry Pegula for wanting to add a football guy himself?
No.
Bills sources: GM Doug Whaley will lead the coaching search. Adam Gase will be the first interview Saturday. Frank Reich to follow.

— Tim Graham (@ByTimGraham) January 2, 2015
However, with the Bills reported plans to be interviewing Broncos offensive coordinator Adam Gase, and now with Tim Graham's (above) tweet that Whaley will "lead" the head coach search, it seems like Whaley's in good shape, because why would the Bills begin head-coach interviews before they hired a football czar?
Do the Bills need a football czar, no. Could one help? Sure. But not if it causes the top of the organization to be a constant bickering session over power.
In summation, though, whoever the Bills hire to be the czar, the GM, the president, the assistant president, the head coach, as long as nothing is "blown up," which is extremely unlikely — will inherit a playoff-caliber roster, and there's nothing more crucial than that.
To me, coaching quality, like most things is on a bell curve.
There are your Bill Belichick's and Pete Carroll's on the right, and there are your Dick Jauron's and your Dave Wannstedt's on the left, but the vast majority of the coaches fall somewhere in the middle.
And ultimately, how well they do on the sidelines depends on the team talent.
Think about how rapidly the opinion of Jim Schwartz changed. A year ago, it was the consensus that he simply wasn't cut out to be a head coach after some underachieving seasons in Detroit with the Lions.
Now, after he coached an outrageously talented defense in Buffalo, you'd be hard-pressed to find a Bills fan who wouldn't want the team to promote him to the suddenly vacant head-coaching position.
In 2013, the Bills defense was well above-average with Mike Pettine calling the shots. 50+ sacks, a stingy secondary, etc. With basically an entirely different schematic philosophy with Schwartz in 2014, the Bills defense was almost exactly the same, except the run-defense improvement.
Why did the run defense get better?
Not because of the Wide 9 alignment or anything like that.
Because Whaley added Brandon Spikes, Preston Brown and Nigel Bradham was moved into a full-time starter role. And Spikes, Brown and Bradham > Alonso, Lawson and Moats when it comes to stopping the run.
I'll never forget this quote I read from Tony Dungy…(paraphrased) "the higher I climbed the coaching ladder, the less actual coaching I did."
The next Bills head coach has to be a guy without a massive ego, someone willing to work with what's already in Buffalo while adding some of his most successful wrinkles, someone who knows offense and will be able to hire a smart offensive coordinator who'll get creative with the young but blossoming skill-position talent on that side of the ball.
Oh, and someone who'll want to work with and teach EJ Manuel, who, at this point, based on the fact that he's already on the Bills is 24 years old and will make just $808,000 in base salary and represent a cap hit of $2M in 2015.
Will the Bills finally get the right head coach?
With Whaley at the helm, I like their chances.