The window for Jairus Byrd to reach a longterm contract agreement with the Bills has closed. As we wonder whether he'll sign his franchise tender, it's opinion time! Enter Warren Sapp.
"It's about what the team deems you worthy of being paid," Sapp said. "Sign your tender, go back to work and earn it like your rookie year when you came into the league and you went to the Pro Bowl. That's what you do. Whenever somebody questions your play on the football field, you go out on the football field and you show it."

Sapp said because the Bills didn't pony up the dough, Byrd must not have done enough to earn it.

"I question him because you've been there the whole time with Buffalo, and if Buffalo doesn't see you as an asset as far as their franchise player and the guy they want to put as their safety, (that says something)," Sapp continued. "If the team that watches you practice and play every day doesn't deem you the best safety in the game, then you might want to look at yourself."
It wasn't long ago that "experts" like Sapp let their thoughts fly and that was the end.
Welcome to 2013.
OUT– calling the local sports radio show to complain about a player's contract dispute.
IN– contacting the player directly and publicly, with no regard for just how freaking weird it is to do so.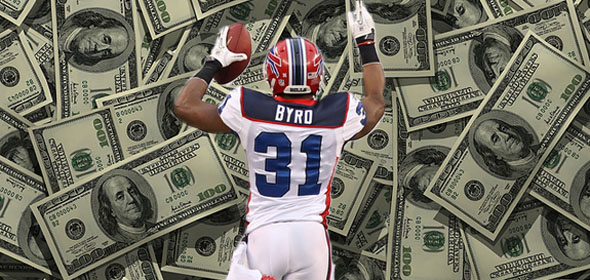 There's the "You make lots of money and I don't so I'm mad at you" crowd.
@jairusbyrd I guess it is all about money with you that is all you players think about and really be a man a join your team you big baby.

— Benjamin Blier (@bjblier) July 19, 2013
@jairusbyrd you going to work this week? I'll trade you my salary for the rest of my life for your one year offer! #justagame

— Francis Stack (@bozosboy2) July 22, 2013
Trade @jairusbyrd already! Doesn't want to be here then we don't want him! Crying poor mouth. Try working 40 hours a week for 40k. #Baby

— Ken Shriver (@SrKenShriver) July 19, 2013
I'm sure @jairusbyrd woke up this morning thinking he deserves Joe Flacco money #BlindedByGreed

— Alex (@AlexDub182821) July 22, 2013
There's the "This tells me all I need to know about you" crowd.
@jairusbyrd if your not gonna play then what? You shouldn't have pics of football players up cause u ain't on this team #selfish

— L~Dog (@Cicctastic) July 21, 2013
@SalSports @JeremyWGR Disappointed by actions of @jairusbyrd. Teammates out at work while he sits. Attitude Reflects Leadership.Trade 31!

— Chris B (@CB21LV) July 18, 2013
There's the "Let me give you some unsolicited advice" crowd.
@jairusbyrd Sign tag,learn new defense in training camp, & show new staff you deserve it. New staff owes you nothing. Wake up! Chan is gone

— Alex (@AlexDub182821) July 22, 2013
"@jairusbyrd: It'll be worth it in the end…."sure friggin hope so. Holdouts end badly. Im just saying. Do the research. — jake paz (@jakepaz13) July 22, 2013
@jairusbyrd bro what do you even need money for? Your a bird. You can poop on peoples cars and shit. Just sayin. Plus bird food is cheap — Jesse Romberg (@Torontoke) July 18, 2013
The best advice:
I wonder if @jairusbyrd likes the verbal abuse he gets on Twitter. An athlete holding out may want to stay off social media for awhile.

— Stephen Walczyk (@Stephenw522) July 22, 2013
At least Stevie's got your back.
The Byrdman! – (@JairusByrd) http://t.co/LMehV5mvMW

— STVN (@StevieJohnson13) July 14, 2013