I stumbled across this old post of mine from four years ago.
Remember winning?
Winning was awesome.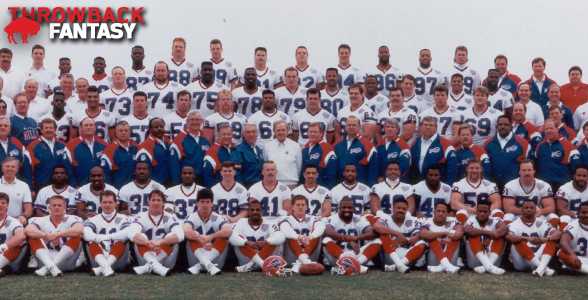 ---
Just acquired it today… not an official NFL release. It's a bootleg DVD thing. I bought it primarily because I remember that as the most entertaining season the team has had in my lifetime yet I'm SUPER hazy on the details. So, I'm about to relive it.
I've been watching for about 2 minutes and already felt the need to talk about it to someone, so you're going to get a running diary regarding a football season from 20 years ago. Some thoughts will be brief and may not seem to make a ton of sense. That's OK.
1. Win over Colts. Jeff George was concussed… of course. (1-0)
2. 30-7 loss to Miami. Really? In the best season I can remember, the Bills started 1-1 and got blown out by a division rival in week 2? And the touchdown came late enough that the announcers referred to it as the Bills "avoiding a shutout." (1-1)
3. Bills at Jets. Hey look, it's James Hasty. McKellar was faster than I remember him. Thurman too. Butch Rolle just caught his 2nd TD of the year… 6th in 3 years. Johnny Hector sucks. Norwood is a really good kicker despite the ridiculous 1-bar "face mask." I don't remember a guy named Hunter wearing #98 for the Bills. If I had to put money on it before tonight, I'd have said that Boomer Esiason was a lefty… no idea why I thought that despite, apparently, watching him throw right-handed for his entire career. Chris Hale recovered a fumble. BTW, this is MNF and Thurman leads the league in rushing. 30-7 win over NYJ. (2-1)
4. Broncos at Bills. I'm already thinking about the end of this game and then, I think, SNF against the Raiders where Odomes rips it from Gault. 14-3 Denver at the half. Bruce Smith keeps making QBs fumble. Don Smith direct snap TD as Dierdorf is saying "a draw would work here" repeatedly. Good call, Dan. (And Jim.) Here it comes… Treadwell FG blocked by Odomes, fielded by Bennett, TD. Elway pass deflected by Dr. Suck, picked by Leonard Smith… TD. Crowd starting to sense this season might be going somewhere… absolutely nuts in there. Elway fumbles at own 5, recovered by Biscuit. Kenny Davis short TD… ballgame… 29-28. (3-1)
5. This game was on TNT… Bills versus Los Angeles Raiders. This game features what may be my all-time favorite play. I hope it's as cool as I remember it. Tasker makes Tim Brown fumble… Neither should go in the HOF. TD Andre Reed… he should. BTW, it's Keith Jackson on the PBP call. TD Lofton… second best receiver on this team and HE'S IN THE HOF. ANOTHER blocked punt… Tasker to Williams… CRAZY crowd. Bennett strips Schroeder, recovers it, and then throws it into the crowd. There's the Odomes/Gault play. What I didn't realize is that it happened with less than 3 minutes left in the game as L.A. is trying to tie the game. Just an amazing play… this DVD is the best $10 I've ever spent. I just saw the 1990 version of the Art Shell face… alert Bill Simmons. SHOUT SONG! (4-1).
6. Jets at Bills. You should ALL go back and watch Kelly to see how good he was. I really didn't remember. I knew, but I didn't KNOW. Bills trail 21-7. Great news… it's O'Brien not Esiason for the Jets, explaining the right/left issue from earlier. Video quality wasn't great and I read it wrong. Honestly, I didn't think Boomer was there yet but I was just rolling with it. Lofton looked then like Evans would look now if the Bills ever had a QB. 30-27 win… (5-1)
7. Bills at Pats. Patriots are wearing their red throwbacks and looking good despite Don Smith's TD. Kelly just threw the ball from his own 25 to NE's 23 to Lofton and it's a play that, if I still worked at WGR, I'd take calls about because it was "underthrown." People are really dumb and getting dumber. OK, back to the game. Grogan is wearing his steel turtleneck. John Stephens is a fumbler… won't last in this league. This is a blowout… the good kind. 27-10 final. (6-1)
8. Bills at Browns. Thurman TD. Repeat. Again. Kelly is 14-19 for 200 and TT has 3 TDs. 42-0. (7-1)
9. Phoenix Cardinals at Bills. Games against Los Angeles AND Phoenix that year… fun! This seems unfair as the Bills' QB is Jim Kelly and the Cardinals' QB is Timm Rosenbach. I think I saw Joe Bugel as the head coach. How does Rolle keep getting open for TDs? Tasker TD. Man, Thurman Thomas was amazing. Billboards between the uprights… Marlboro and Miller Lite. John Hagy INT. Beebe TD. Crazy weather kills Rich Camarillo… 12 yard punt. Win 45-15, (8-1)
10. Pats at Bills. Marc Wilson, I think, at QB for NE. Good luck! 80 yd TD by TT is the only real highlight. (9-1)
11. MNF- Bills at Oilers. Metzelaars TD. McKellar TD. The Astrodome looks like a dump. 3-point loss. (9-2)
12. Eagles at Bills. Andre is fast. This is the 28-0 game. I hope the guy put the 95 yard TD on this DVD. He didn't. (10-2)
13. Bills at Colts. First off, nice stadium, losers. Andre is awesome. (11-2)
---
Apparently, that's where I stopped watching so there's no recap of the rest of the season. If I remember correctly, the Bills went on to win the Super Bowl that year.
If I can find the DVD, I'll try to finish this soon. (Note: This will not happen.)