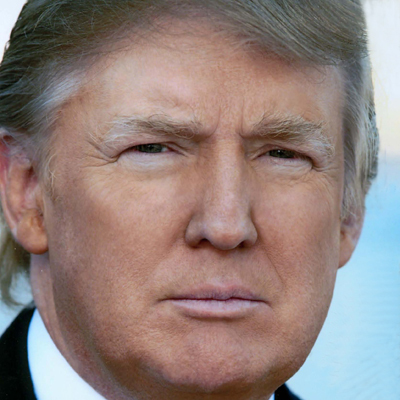 Donald Trump spoke on WBEN radio this morning with hosts John Zach and Susan Rose. The conversation went something like this:
"Guns, guns, the governor sucks, guns. Hey, do you want to buy the Bills? Guns, Paladino, guns."
Here's a transcript of the juicy part.
John Zach: Mr. Trump, a number one priority issue here in the city of Buffalo right now is keeping the Buffalo Bills from eventually moving to another city. It might not happen right away but it could happen down the line. What should any candidate who is thinking about runnign for governor do about this? And also, have you ever thought about owning an NFL franchise?

Donald Trump: Well, people have actually talked to me about the Bills. And, you know, Jim Kelly is a very good friend of mine and I spoke to him two days ago. He called me and actually his family is staying at one of my apartments in New York as he's going through a very tough time. He's a great guy and he sounded actually really good two days ago. He called me from the hospital.

I know so many people in Buffalo and they have asked me about looking at that and I certainly would look at it but I would… if it were ME I'd keep the team in Buffalo. Buffalo, you know, it's a storied franchise. You look at Jim, I mean, he coulda won four Super Bowls. He was something. A field goal here and there and he would've won a couple of Super Bowls at least, right?

I think it's something that is really vital to the area. If the state loses the Buffalo team and if Buffalo loses it with all of the trouble Buffalo's gone through… Don't forget every election for governor, Buffalo becomes a big topic and they all say they're gonna do everything and then as soon as the election's over, you don't hear from the governor again for another three-and-a-half years.

It would be catastrophic, in my opinion, if Buffalo lost the Buffalo Bills.

Susan Rose: Mr. Trump, how serious is your interest in possibly owning the Bills?

Donald Trump: Well, I heard about it, like, last week. I mean, the group of people called me– would I be interested in investing and I'll take a look at it. I mean, I look at a lot of things. I'll take a look at it.

It's certainly a wonderful franchise. The people are amazing. The fans are amazing in Buffalo. And, you know, my relationship to Jim Kelly and the Kelly family and we hope he's going to be OK. He's going through a very, very tough period of time, I mean like about as tough as it gets so we'll see what happens but I would certainly take a look at it.
There's been this "relax, I've got a guy" implication with every public comment made by Jim Kelly regarding the Bills' post-Ralph Wilson future in Buffalo. Is Trump his man? It's certainly plausible.
If you had the type of relationship with Donald Trump where he referred to you as "a very good friend," is there ANY chance his name wouldn't cross your mind when the topic of finding a billion dollars came up in conversation?