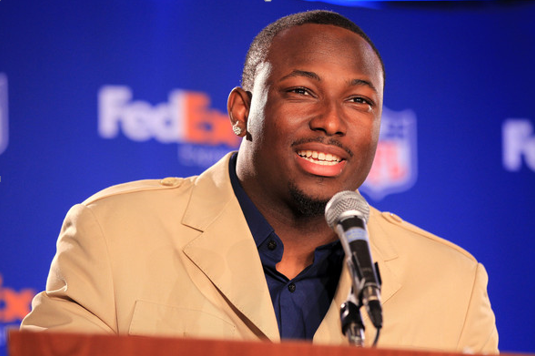 In one of the craziest first days of free agency in recent memory, players moved every which way acrioss the NFL and the Bills fans continued to look back at the wild Alonso-for-McCoy trade that we'll be talking about for seasons to come.
We broke down our mostly-negative opinions on the huge trade already, but a little more came out Tuesday that spins it slightly more positively. For one, McCoy sounds like he's come around a corner on actually wanting to be in Buffalo after a good meeting with Bills owners Terry and Kim Pegula.
As it turns out, though, the Bills were just getting started, as they have since added free agent fullback Jerome Felton and seem to be in talks with tight end Charles Clay. This in addition to signing quarterback Matt Cassel to shore up what has been a nightmare position for the Bills. The Bills are now +1,800 to win the AFC and +4,000 for Super Bowl 50 according to sports betting site topbet.eu.
Felton is regarded as one of the best blocking fullbacks in the league, and will only help justify the commitment to McCoy for the next few seasons. In fact, McCoy himself has said he is pleased with the acquisition of Felton. Still, Felton is not himself much an offensive threat, putting up 35 total yards on six catches and four rushes in 2014.
Charles Clay would be another excellent piece to add to an offense that frankly won't be getting much from its quarterback. Rumor has it Clay will be getting an offer sheet from the Bills today that the Dolphins won't be able to match. Clay caught 58 passes for 605 yards and three touchdowns in 2014 in 14 games.
This is all small potatoes compared to the gravity of the McCoy move, but with some of these things coming into place the sun starts to shine a little brighter on the big trade.