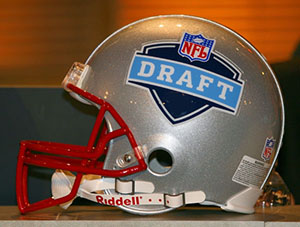 Bob Gaughan watches more college football than anyone you know. We asked him for his quick thoughts on the teams holding picks ahead of the Bills' #8 overall selection in this year's NFL Draft. (If you start following him on Twitter, maybe he'll even start tweeting.)
Kansas City– Traded for QB Alex Smith. Don't know how great of a fit this is with Andy Reid.  Reid loves to pass and Smith appears to me to be better as a play-action type passer. Proof of this is Smith is 3-16 as a starter when he attempts over 35 passes in a game. Andy Reid's teams the past four years have averaged 35 attempts a game. Dwayne Bowe is staying put as is Brandon Albert. Great thing about this draft is as of this point it is still wide open what KC does. Don't rule out still getting one of the great tackles in the draft. Shariff Floyd of Florida could be an option as well.
Jacksonville– Jaguars just realizing that Blaine Gabbert can't play. I could have told them that for free before they drafted him. This team has multiple issues. Maurice Jones-Drew situation was a disaster last year. Jaguars finished with the third worst rushing yards in the league. The offensive line couldn't run block but they made up for it by being horrible pass blockers as well. Jacksonville gave up 50 sacks last year. Rushing the passer was a big issue as well. This team should go big and help one of their lines.
Oakland– Like Jacksonville this team could draft Geno Smith as well. Like Jacksonville this team has many holes to fill. Rolando McClain has been a huge disappointment on the field and off of it with multiple arrests. Looking at their roster I don't feel that the Raiders have one LB I would have confidence in. Both lines could use help. An upgrade at tackle is a must. DT Richard Seymour is owed more money than he is worth now.
Philadelphia– Like the Bills with Doug Marrone, the question with Chip Kelly is whether he will gravitate to his old college for players. Oregon's Dion Jordan will fit a need here. The Eagles do have Vinny Curry that could fill the role of Jordan. The Eagles need help at CB as well with Dominique Rodgers-Cromartie and Nnamdi Asomugha both possibly coming back. The best corner Dee Milliner should be available for them.
Detroit- This team could use help almost everywhere on the defensive side of the ball. Milliner wouldn't get past here if he makes it this far. The Lions haven't tried very hard to keep DE Cliff Avril. Their other DE Kyle Vanden Bosch struggled last year. Safety is a need as well but this is too high to take Kenny Vaccaro of Texas. Let's not forget OLB too.
Cleveland-  Do you like Brandon Weeden? Me neither. The guy is 30 years old and I don't feel he will be an elite QB. New head coach Rob Chudzinski and OC Norv Turner have no ties to Weeden. Pass rusher is a must.  Jabaal Sheard led the team last year with only seven sacks. A CB opposite Joe Haden would be nice. Sheldon Brown is 34 and has lost a step.
Arizona– New Head Coach Bruce Arians may want to start with a new QB in Geno Smith if he lasts. Arians has had Ben Roethlisberger and Andrew Luck to work with in the past. When your QB's are named Kolb, Anderson and Skelton you have a need at QB. The needs don't stop there. Levi Brown at LT isn't the answer. Sam Acho is a decent LB but a better rush LB is a priority. Later in the draft wouldn't be surprised if they went for a RB.
We should have a much clearer picture after free agency.