E.J. Manuel has been a professional quarterback for a total of 20 regular season games. He's started 14 of them.
The number of starts might be higher (possibly 6 higher) if not for his injuries.
It also might be lower (possibly 14 lower) if not for the injury suffered by Kevin Kolb last preseason.
Here are Manuel's career statistics and his average game, rounded to whole numbers.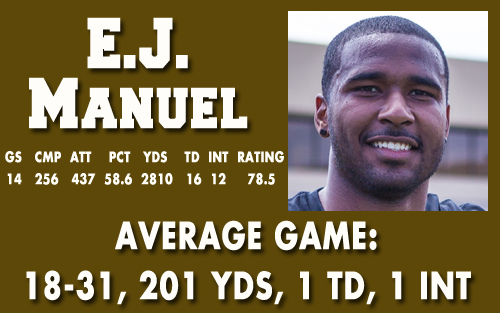 Not great. Not awful.
Medium.
These look a lot like the numbers that just about every young QB puts up when he's getting his feet wet. Yet this performance has been a large enough body of work for some (many, even) to determine that Manuel "doesn't have it."
That's dumb.
Here's where some current NFL QBs stood at the same point in their respective careers– four weeks into their second season as a pro.
20 games in, these four had yet to make a start.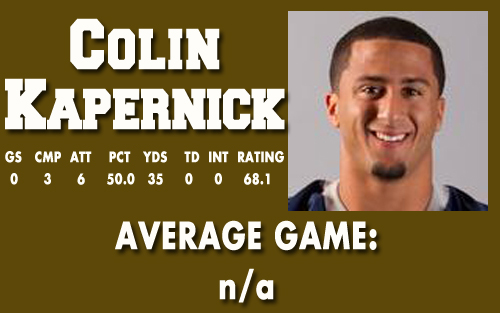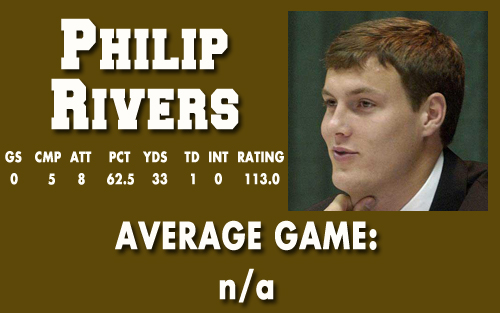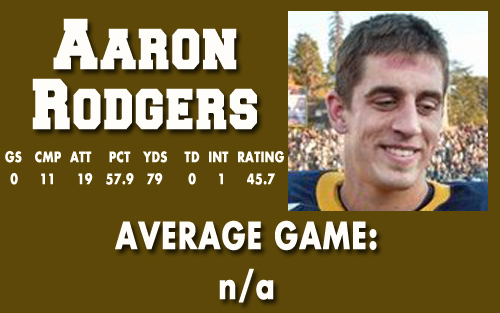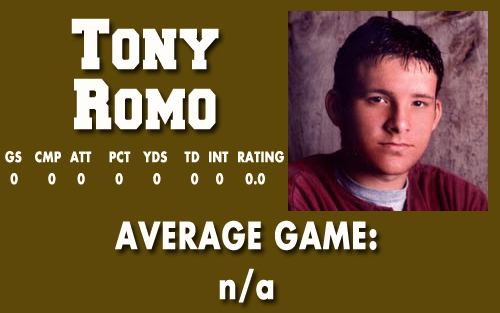 "Why weren't these guys starting?? They've all been good/great since stepping onto the field!"
Well, as it turns out, their coaches all decided to go with veterans while, as brand new NFL players, they adjusted to a new life and a new job in a new city. This gave each of them a chance to practice, study, prepare and mature without having their progress scrutinized and hyper-analyzed by media and fans.
Without playing, they were getting ready to play. Crazy, huh?
Rivers was getting ready behind Drew Brees, who also didn't play much in his first 20 games.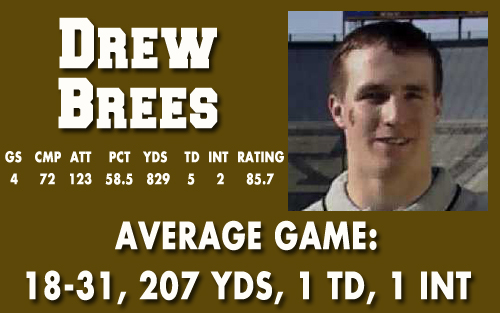 One of the top QBs of the last decade, young Brees put up six more passing yards per game than E.J. Manuel. Other than that, the numbers are IDENTICAL. LITERALLY THE SAME. Scroll back up and look.
I'll wait.
(waiting)
Told ya.
Tom Brady had yet to throw a touchdown pass.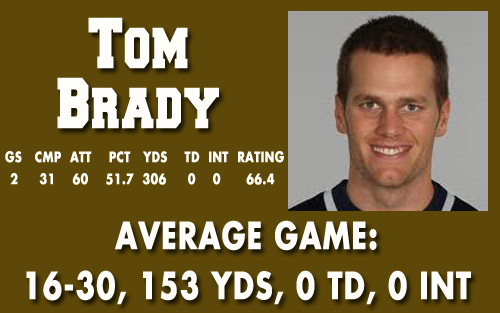 Pedestrian numbers at best but, due to Drew Bledsoe's punctured lung, the Patriots had no choice but to weather the storm with a (far) less than explosive passing game as the kid grew into his role.
Cutler and Foles provided more of the same.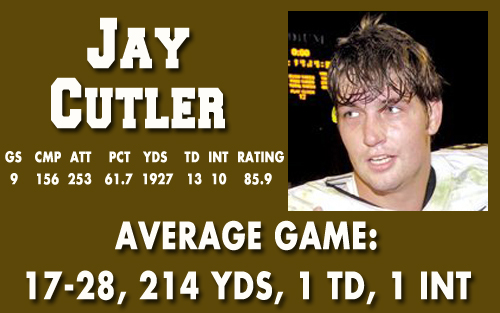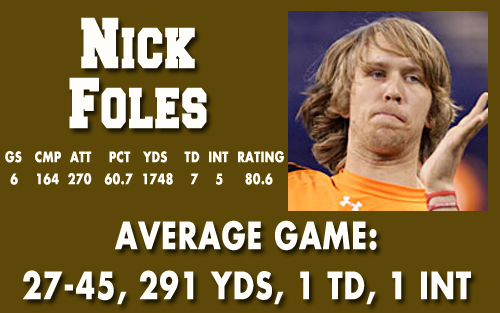 Cutler looks just like Brees… and Manuel.
Foles, obviously, threw the ball a whole lot more than those mentioned so far, explaining his high-end yards per game. The TDs and INTs tell us he was just like everyone else.
These guys were all selected first overall in the NFL Draft.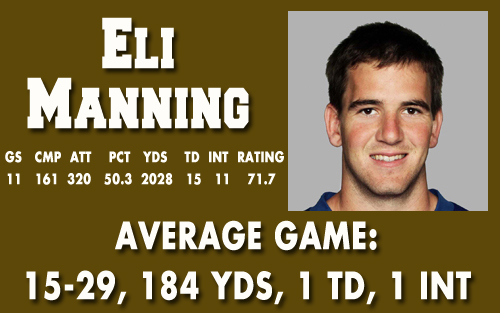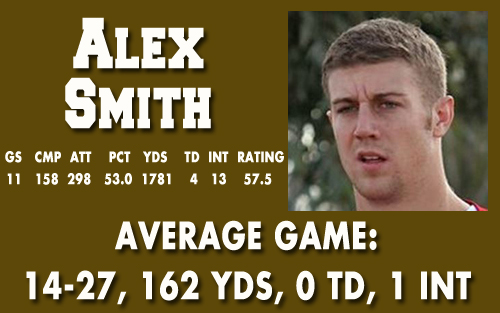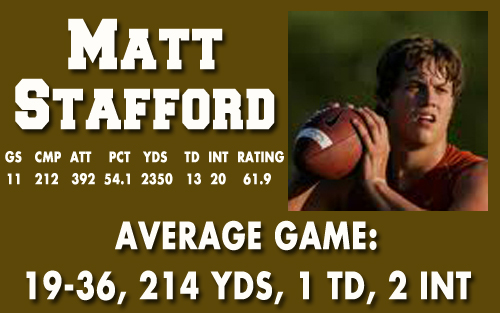 Eli Manning looks like the rest. Smith and Stafford do, too… with an added dose of "Here, other team. Take the ball away."
Hey, there's Kyle Orton.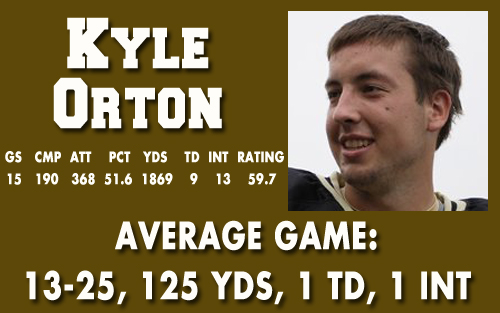 Yuck.
"Roethlisberger" wouldn't fit comfortably in the graphic so I went with…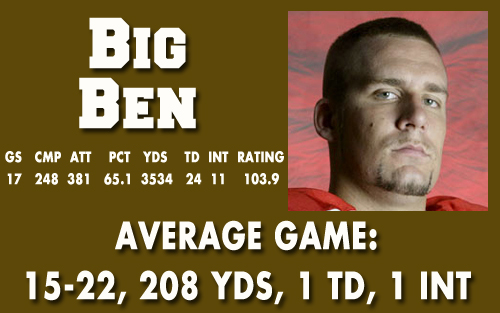 The low number of pass attempts indicate efficiency. The Steelers won with defense, a strong ground attack, and "game management" from their young QB.
These guys started from day one.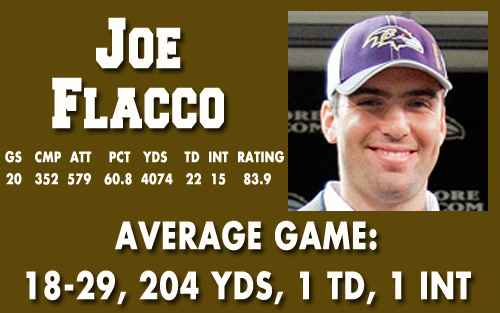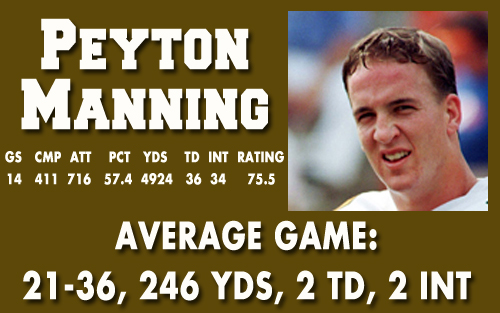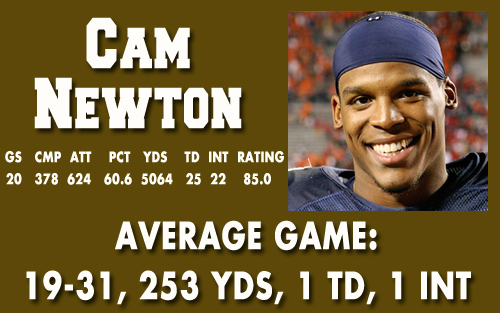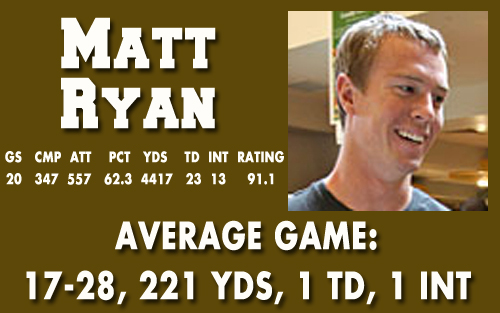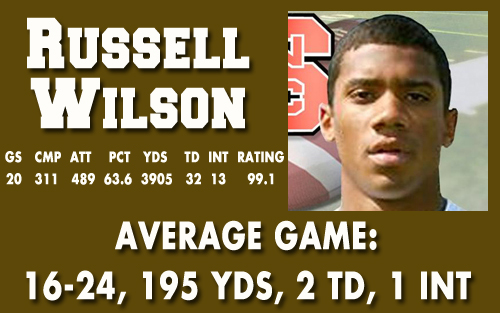 Compared to the rest, there's some bonus yardage mixed in for the two guys drafted first overall (Manning and Newton) and some really nice TD/INT ratios from Wilson and Ryan. Other than that, they look very similar to everyone (except Orton) on the list.
This group has since combined for a bunch of playoff wins and three Super Bowl titles.
Now, back to E.J. Manuel.
He's in the middle of the pack (or better) in number of starts…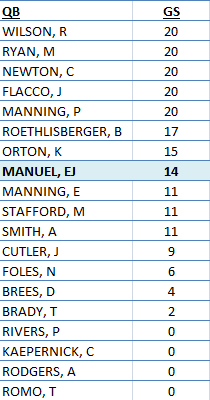 and completion percentage…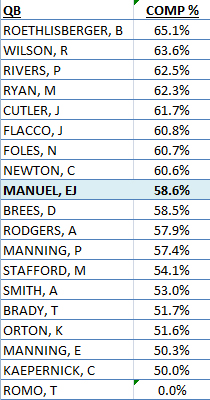 and passing yards…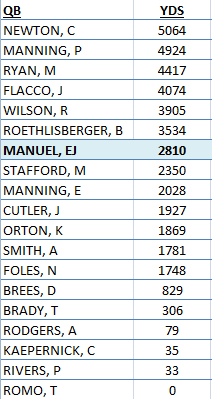 and touchdowns…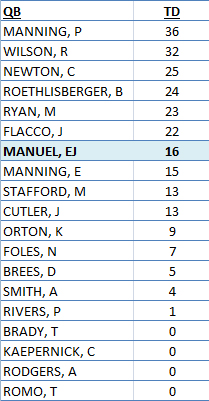 and interceptions…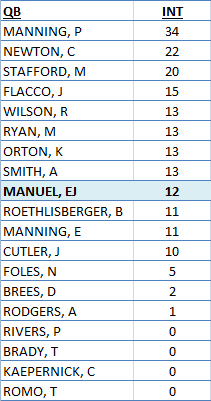 and TD/INT differential…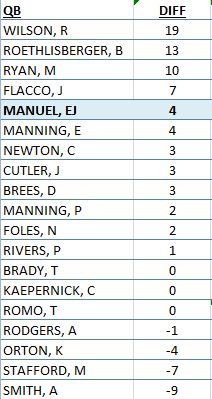 and quarterback rating.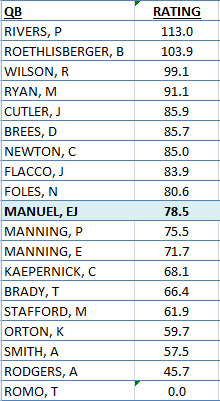 Here's a look at the average game played by these 18 quarterbacks over their first 20 games in the league…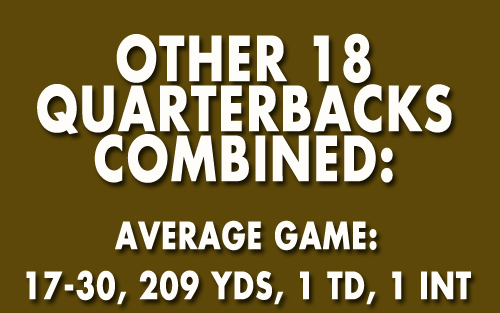 and one more look at E.J. Manuel.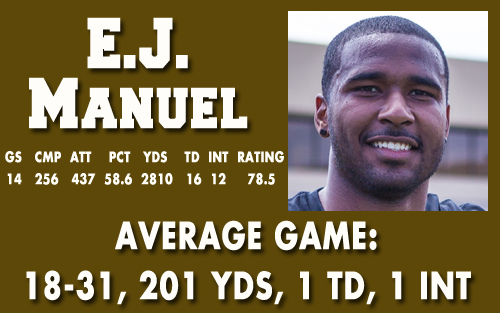 The Bills have chosen to go with a veteran starter over a young one. Fair enough.
Is E.J. Manuel a bust?
If so, so was just about everyone else in the league… until he wasn't.
[Note: Accidentally forgot to include Andrew Luck- average game: 21-38, 264 yds, 1 TD, 1 INT]