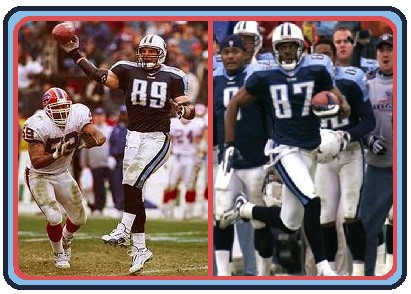 Don't read this on an empty stomach.
It was January 8, 2000 and we were pretty sure the Y2K bug wasn't going to ruin us all.
We were also pretty sure that, by virtue of Steve Christie's 41 yard FG with sixteen seconds left on the clock, the Bills were headed to Indianapolis to take on the Colts in the divisional round of the NFL playoffs.
At least we were right about Y2K.
Mike Keith and Pat Ryan on the Tennessee Titans Radio Network:
Keith: "Do the Titans have a miracle left in them in what has been a magical season to this point? If they do, they need it now. Christie kicks it high and short. Gonna be fielded by Lorenzo Neal at the 25; he dishes it back to Wycheck; he throws it across the field to Dyson…"

Ryan: "He's got somethin'…"

Keith: "30, 40…"

Ryan: "He's got somethin'…"

Keith: "50, 40.."

Ryan: "He's got it! He's got it!"

Keith (voice volume increasing): "30, 20.."

Ryan: "He's got it!"

Keith: "10, 5, endzone…touchdown, Titans! There are no flags on the field! It's a miracle! Tennessee has pulled a miracle! A miracle for the Titans!"
Not only would the Bills skip the trip to Indy, they'd also avoid participating in another playoff game until, well– OK, they still haven't played in one.
Training camp opens in 4 days.
Save us, E.J.