EJ Manuel's first victory at the helm of the Buffalo Bills offense had fans dancing in the aisles at Ralph Wilson Stadium and singing "The Shout Song" in Bills Backers bars across America.
As the first QB taken in this year's NFL Draft, Manuel's every move will be scrutinized across the league in 2013 and, for the second week in a row, he earned rave reviews.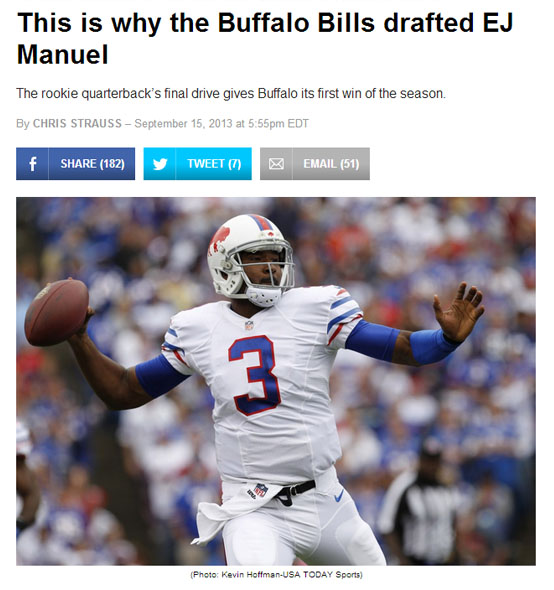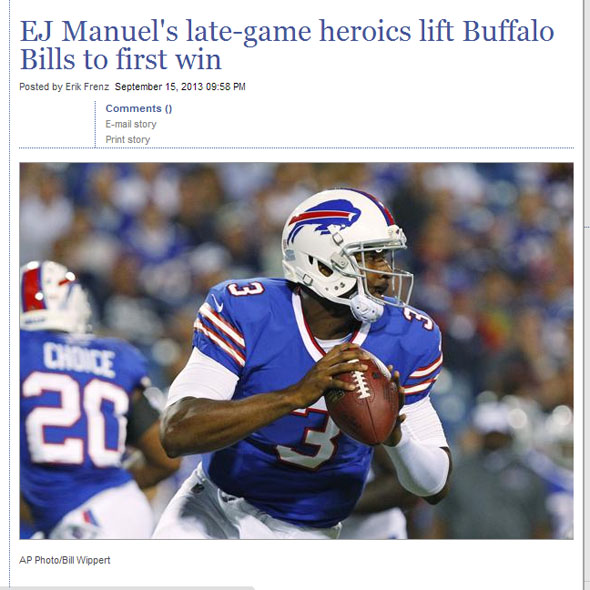 But there's always gotta be a party-pooper. This week, it's ESPN.com's Mike Rodak.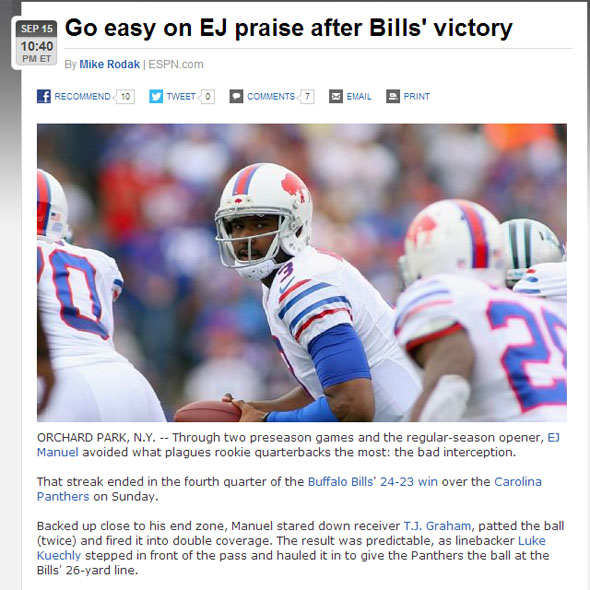 Simply put, the defense bailed out the quarterback.

Up until his interception, the prevailing opinion was that Manuel provided the steady, reliable presence a team needs from a green passer. He wasn't going to win the game, but he wouldn't lose it, either.

That perception took a hit Sunday.

Following the Panthers' head-scratching decision to kick a 39-yard field goal on fourth-and-1 with 1:38 remaining, Manuel led the Bills on a textbook two-minute drive. It put Buffalo in position to score until it almost happened again:

The bad interception.

On third-and-6 with 21 seconds left, Manuel uncorked a bullet over the middle, directly into the chest of Panthers safety Colin Jones. Bad decision. Awful turnover. Crushing loss. Game over, right?

Not quite. Flags flew and the Bills had new life after Kuechly was penalized for pass interference. Two plays later, the Panthers forgot to cover Bills receiver Steve Johnson. Touchdown. Comeback win. Fantastic finish. What a game by the rookie.

Again, not quite.

Given the choice between the Manuel of the season-opening loss to New England and the Manuel of Sunday's comeback win, the Bills might well choose the former.