Back in my radio days, I utilized a device called the Truth Detector to help translate coach-speak into everyday English. The machine is currently boxed up in a storage unit somewhere near Genesee Street in Cheektowaga (though it may be retrieved in time for the regular season). For now, I'll take what I learned from years of working with the trusty old thing and attempt to channel my inner truth-detector.
Today, we examine Bills coach Doug Marrone's words (from a Monday news conference) with regard to the injury-ravaged QB corps on his depth chart.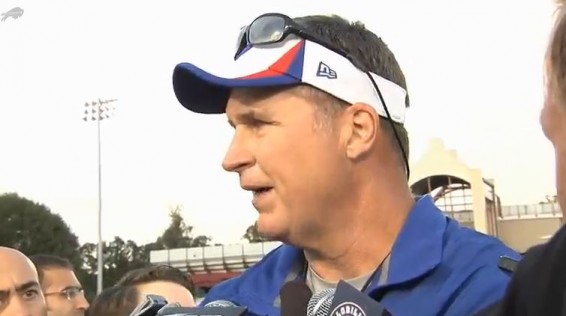 Q: When you look at the quarterback situation and you see who is out there, is it as crazy to you as it is to everybody else?
A: Well I don't know if I would use the word crazy, but I would say it's a little bit of adversity for sure. Obviously it wasn't the plan of what happens. I think that going back and like I said after the game, we went in with a plan to draft a quarterback and this goes way back to the initial stages of where we were going to go with our numbers. We were going to draft a quarterback and we knew we wanted to go to camp with three, with the thought process being more playing time, better reps, more quality reps during that to try to get somebody ready to be the starting quarterback. I think you look at EJ (Manuel) and his performances in the preseason and I think we've benefited from that. Not looking now on Monday morning quarterback situation, you're looking at it saying 'now you've got two quarterbacks that are not participating in practice.' Everyone is like 'Whoa, what's going on?' I look back and I'd still make the same decision. If you have to plan on injuries you find yourself talking yourself out of so many situations of what you might do. Right now we're planning on Jeff Tuel playing the first game and we're working with EJ to get back as quickly as possible. The good part about it is yesterday he worked out on the field; he's working back there, so he's actually starting to move around now, which is a good sign. Then it's just a matter of how he heals and he repairs. When he comes back he'll be our quarterback.
TRANSLATION:  We had three QBs and felt OK about it. Now two are injured, which is less than ideal. When EJ comes back, he's the QB. He's healing, which is a big part of the process.
Q: First game meaning Detroit or first game meaning New England?
A: No, first game meaning New England. Yes that's the first game.
TRANSLATION: That's definitely the first game. It's been on the schedule for awhile.
Q: Tuel will start the first game?
A: Right now that's how we're going about planning on doing it until we know more about where EJ is.
TRANSLATION: Somebody has to take first team reps. Right now, Tuel is doing that. When EJ returns, he'll do that. We can't plan on EJ starting because planning involves practicing and EJ can't practice right now.
Q: Was yesterday the first time on the field for EJ Manuel?
A: Yes. When I say working out on the field, not for us, but for the trainers.
TRANSLATION: Yes. When I say working out on the field, not for us, but for the trainers.
Q: Is it unsettling that you may have an undrafted rookie quarterback going against the Patriots?
A: I'm excited about it.
TRANSLATION: Well, I've already explained that the guy I want to play can't practice right now so, obviously, this isn't intentional. But hey, it'll be interesting if we throw the other guy in, huh? "Exciting" can mean a lot of things and not all of them are positive.
Q: That's a lot to overcome.
A: Pretty exciting.
TRANSLATION: No shit.
Q: You had said you weren't that concerned about EJ's surgery. We assumed he'd be back for the New England game.
A: That's what I'm still hoping for.
TRANSLATION: Yes, I'm hoping that the guy I chose to start at QB is available to start at QB.
Q: You're hoping, but planning for Tuel?
A: It was probably the same way (then) and I probably miscommunicated it in the beginning.
TRANSLATION: That's how it works. What should we d0– run practices without a QB? Again– the guy who I want to stand in that spot on the field is not available to do so, so we're having a different guy stand there. If the real guy is available next Sunday, and I really hope he is, we'll use the real guy.
Q: So you're planning on Tuel being the guy?

A: We're planning on that now because he'll be the guy out there practicing and then as soon as we get EJ out there practicing, then obviously things will change.
TRANSLATION: Are you really just going to keep asking me this? This is what you do for a living?
Q: Can you give an update on QB Kevin Kolb?

A: Well obviously he has a concussion and there's a protocol, even myself, I had to go online and look at what that is and I think we can all do that. He's in that and I think the alarming thing to me was obviously when the report was made about him not ever playing. I had a conversation with Kevin this morning and he's not even close to the process of that type of decision or making it. Now, I do think that with the concussion he'll be out for some time. He's told me that he has not even discussed or thought about stopping playing or anything like that. He's not even in that thought process right now. Right now he's in the thought process of really clearing up and going through the process of clearing up the concussion.
TRANSLATION: No.

Q: What makes it exciting to possibly be starting Jeff Tuel against the Patriots?

A: Because it's fun. You've got a guy out there that's played a lot and has a lot of snaps. It's exciting to get out there and play. It's a great opportunity for him if that's what presents itself. I'm not trying to play games with anyone. Right now we have to prepare, he's the quarterback that's out there and we have to prepare for him to be that guy and to hold the situation until it changes and we get EJ back.
TRANSLATION: Well, football is fun and it'll be a football game– hence, fun. Skydiving is fun, too, because you might go splat but, hey, you might not.
Q: You have to look big picture with EJ too. To rush him back now could be counterproductive to his career down the road.

A: Exactly right.
TRANSLATION: That thought has crossed my mind… and everyone else's. Thanks for the insight.
As I'm about to publish this, I notice a transcript from TODAY's Marrone press conference has landed in my inbox. I haven't read it yet but I think that means Part 2 is coming soon.