Well, THAT was a season to forget. Here's the good news. We'll all forget it.
Ten years from now, when downtown Buffalo is a booming metropolis, the Skyway has been re-purposed as a public waterslide/luge run, and Connor McDavid and the Sabres have already won four Stanley Cups, none of this crap will matter.
1 – Pat Kaleta got dumped.
The Sabres waived Pat Kaleta to help him "preserve his career" following a 10-game suspension for a head shot to Columbus' Jack Johnson in October. Kaleta later suffered a season-ending knee injury while playing with the Rochester Americans.
2 – Lindy Ruff had as many wins at First Niagara Center as Ron Rolston did.
Ron Rolston was a thing. He coached the first 20 games of the season with a 4-14-1 record. His wins came at the Islanders, at the Panthers, at San Jose and finally and home against the L.A. Kings.
Lindy Ruff's Dallas Stars beat Rolston's Sabres 4-3 in First Niagara Center on October 28.
3 – Goaliepalooza!
Ryan Miller, Jhonas Enroth, Michal Neuvirth, Nathan Lieuwen, Matt Hackett, Jaroslav Halak, Andrey Makarov, Connor Knapp, and even Ryan Vinz put on all of that equipment for nothing.
4 – Henrik Tallinder came back.
Hank was brought back to Buffalo in an apparent effort to "save" Tyler Myers but, for some strange reason, opted to wear a cloak of invisibility for all 61 games.
5 – Steve Ott was the captain.
He was the captain of this team for 59 games and oh my god doesn't that seem like a million years ago already?
6 – Torrey Mitchell.
Apparantly, he was a hockey player.
7 – Matt Moulson could have been our friend.
Moulson came to Buffalo from the New York Islanders as part of the Thomas Vanek trade and played well. We could have even justified re-signing him to keep him around for the rebuild. More importantly, he helped the Sabres lead the league in "Eyebrows Against Average" along with two dynamic contributions from veteran Drew Stafford.
8 – The Pat LaFontaine Experience.
Here today, gone today. That happened. Actually, we'll probably remember this one.
9 – We're going streaking!
The Sabres won 3 (THREE!) games in a row just before the trade deadline. It's OK to admit you started to get a bit nervous about they'd blow the tank-job for the number one draft pick.
10 – John Scott scored more goals than Ville Leino.
John Scott, one. Ville Leino, NOTHING.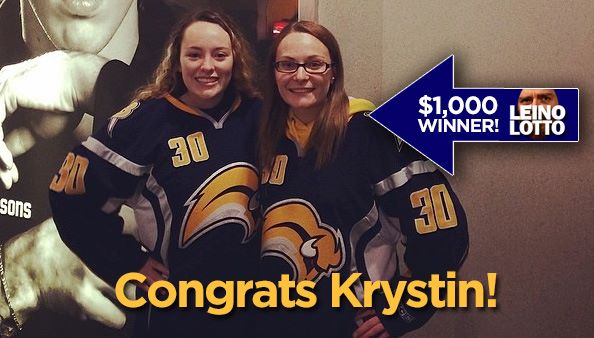 Leino made one fan happy while making the rest of us sick. Krystin Hoppel won $1000 when, with 14 games left, we here at TB stupidly guaranteed he'd put one in before the season was through.
So, if you're scoring at home, Leino's "perfect season" earned:

Thanks a lot, buddy.