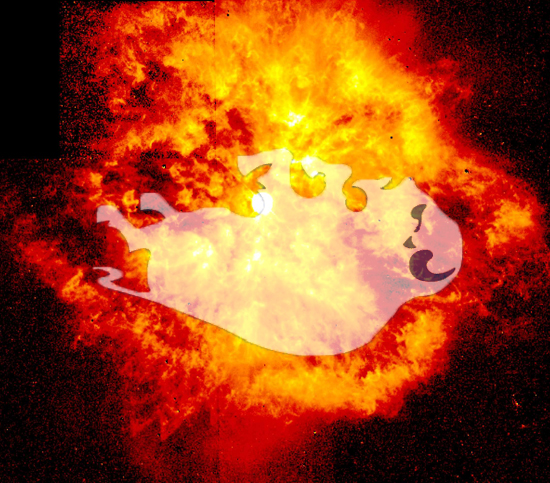 Yes, I'm wasting my time writing this but I've wasted a lot more time watching this team. What's another few minutes? With 7 games left on the regular season schedule, the Sabres technically remain in reach of a playoff spot. (YAY!) Here are the basics (utilizing maximum points each team can conceivably earn) heading into the weekend of April 12-14.
BEST POSSIBLE OUTCOMES:
FRIDAY:
Devils over Senators in regulation
SATURDAY:
Sabres over Flyers in regulation
Canadiens over Leafs in regulation
Rangers/Islanders- can go either way but NO OVERTIME
Capitals over Lightning in regulation
SUNDAY:
Sabres over Lightning in regulation
GOAL:
Replace one of the teams currently in top 8.
STANDINGS: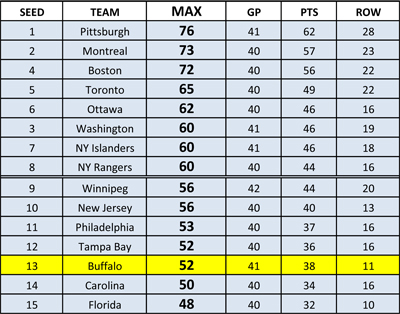 REMAINING SCHEDULE:
4/13   #11 Philadelphia
4/14    #12 Tampa Bay
4/17    at #2 Boston
4/19    #8 NY Rangers
4/20    at #1 Pittsburgh
4/22    #9 Winnipeg
4/26   #7 NY Islanders
TARGETS:
Sabres can't catch Pittsburgh, Boston, or Montreal. They also can't take a playoff spot from the Southeast Division winner (currently Washington but possibly Tampa Bay.) This leaves Toronto, Ottawa, NY Islanders, and NY Rangers as "replaceable" teams.
Rangers (max out at 60 points to Sabres 52) face Sabres on 4/19.
Islanders (max out at 60) face Sabres in regular season finale on 4/26.
Senators (max out at 62)
Leafs (max out at 65)
OTHER OBSTACLES:
Jets (max out at 56) face Sabres on 4/22. Could pass Capitals and bring them into the equation.
Devils (max out at 56)
Lightning (max out at 54 but hold tiebreaker over Sabres.)
Flyers (max out at 55 points) face Sabres on 4/13.
THINGS WE LIKE:
Wins by Sabres- preferably in regulation.
Losses by Rangers, Islanders, Senators, and Leafs and (to a lesser extent) Jets, Devils, Lightning, Flyers, and Capitals.
Playoff hockey.
THINGS WE HATE:
Overtime. Regulation decisions limit total point pool to 2. OT bumps it to 3. No good.
Having to do this every year.
Missing the playoffs.
UM, LET'S GO BUFFALO!?