So, Danny Briere needs a job, eh?
Flyers GM Paul Holmgren:

"I met with Danny last week and informed him of our decision to use a compliance buy out on his contract. This was a very difficult decision for us to make as Danny has been a very good player for us over the past six years. Danny came to our organization as a free agent in July of 2007 and has been a tremendous player, person and role model in all aspects and for that we thank him. We wish him continued success and best wishes in any future endeavors."
Well Paul, if you still like him, why are you letting him go?
Good god, man.
And that's AFTER lopping off most of Briere's $6.5 million hit.
Holmgren says Briere "has been a tremendous player, person and role model in all aspects and for that we thank him." (Now get out…)

— James Mirtle (@mirtle) June 20, 2013
It's Buffalo. We like the things we used to have.
On this date in Buffalo in 2006, Daniel Briere scored in overtime against Carolina to force a seventh game in the Eastern Conference finals.

— Jerry Sullivan (@TBNSully) May 30, 2013
See? We liked Briere back then. Do we still like him now?
Should we bring Briere back? ABSOLUTELY. If it was 3 years ago. — Scott Michalak (@ScottyMCSS) June 20, 2013
Sure, he's 35. That's why he's available and, theoretically, affordable.
Danny Briere would help the Sabres the same as Takeo Spikes would the Bills. Sounds nice on paper, but…. — Patrick Moran (@PatrickMoranBSD) June 20, 2013
Wrong comparison. Spikes is associated with an awful, playoff-less era of football. Briere was at the heart of a team we believe should've won the Cup. (Stupid staph infection.)
OK, so, "not loving up to his contract" does NOT mean "he was crap." Briere was great at times w/ Phi. Production was short of $ though — Matthew Coller (@MatthewWGR) June 18, 2013
And that contract is gone.
I know Danny Briere is shot. I still want him on my team. — The Defenseman (@TheDefenseman) June 17, 2013
Us too! (Except for the part about him being shot. He might be shot but we don't KNOW it.)
The Sabres have the opportunity to reacquire one of the most talented and productive players in the history of the franchise after sitting out the crazy, overpaid years of his career. It's a phone call worth making. If the change in ownership has helped any bitterness Briere harbored toward the franchise to dissipate, he might even answer the phone.
Friend requested Briere. We'll see…. #FB

— Fake Darcy (@FakeDarcy) June 20, 2013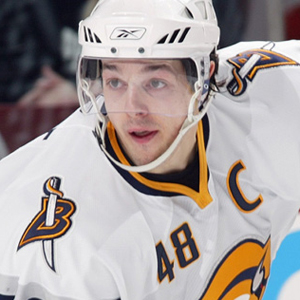 Say yes, Danny. We miss you.