If you like #SabreSim2012, please follow presenting sponsor Oogie Games!


(BUFFALO, NY) Pavel Datsyuk brought all the scoring the Red Wings would need in a 3-1 victory over the Sabres at First Niagara Center.  Datsyuk netted both Detroit (2-0-0) goals against Ryan Miller, who turned in a stellar 30 save performance as the Sabres fell to 1-1-0 on the young season.  Todd Bertuzzi added an empty netter.  Tyler Myers posted Buffalo's lone tally.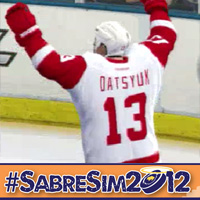 Robyn Regehr nearly gave the Sabres an early lead as his slapshot rang off the post near the 7 minute mark of the opening period.  Buffalo applied consistent early pressure to Detroit netminder Jimmy Howard but a Matt Ellis giveaway in the offensive zone sent Henrik Zetterberg on the rush.  Datsyuk joined him to beat Ryan Miller high to the stick side from the top of the faceoff circle.
Buffalo evened things up when Tyler Myers ripped a shot from the slot that nicked a Detroit defensemen and deflected past Howard at 7:22 of the second period.  Drew Stafford and Andrej Sekera picked up the assists.
Datsyuk struck again with the game winner at 8:31 of the third, getting loose to Miller's right to pick up a rebound and roof it and give Detroit the 2-1 lead.
Sabres' head coach Lindy Ruff pulled Miller in favor of an extra attacker in the final minute and quickly saw Bertuzzi slide the puck into the empty net to seal the game.
*****
SCORING:
FIRST PERIOD
DET 10:46 – P. Datsyuk (2), (H. Zetterberg)
SECOND PERIOD
BUF 7:22 – T. Myers (1), (D. Stafford, A. Sekera)
THIRD PERIOD
DET 8:31 – P. Datsyuk (3) (N. Kronwall)
DET 19:39 – T. Bertuzzi (1) ENG (Unassisted)

 *****
Sabres Lineup:
Forward Lines
Vanek – Hodgson – Pominville
Foligno – Ennis – Stafford
Leino – Ott – Gerbe
Ellis – McCormick – Kaleta
Defensive Pairings
Regehr – Myers
Ehrhoff – Sulzer
Sekera – Leopold
Goaltender
Miller
*****
What did you think of the Sabres' performance?  Use the comments section below.
.