This is Part 2 of a Trending Buffalo series in which we simulate the entire 2012 Bills season using Madden 13.  Part 1 is here.
OK.  1-3 is no fun whatsoever, but the Bills roll into the 2nd quarter of the season feeling good about last week's win over the Pats.  That's gotta count for something, right?
WEEK FIVE-  BILLS (1-3) at 49ERS (0-4)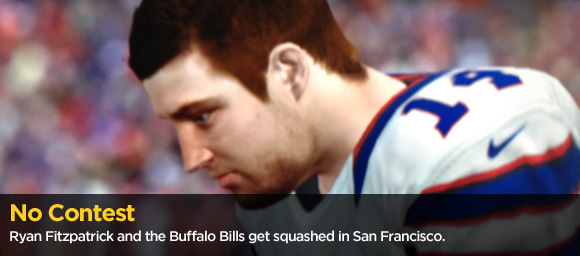 The Niners draw first blood with a 12 yard Frank Gore scamper after a dump off pass from Alex Smith.  They also draw second blood just prior to halftime when Brandon Jacobs converts from 1 yard out following a Ryan Fitzpatrick interception.  Third blood goes San Fran's way with Gore's second score of the game, this time a 77 yard rushing TD.  Mix in a FG and a late pick 6 by Chris Culliver and we've got ourselves a bloody mess.  49ers 31, Bills 0.
Key stats:  
Ryan Fitzpatrick: 20-38, 193 yards, 2 INT
Fred Jackson: 16 carries, 39 yards
Stevie Johnson:  3 catches, 20 yards
Frank Gore:  28 carries, 147 yards, TD; 1 catch, 12 yards, TD
Bills D:  5 sacks, 3 from Justin Smith
Postgame show:
"This team shows no ability to build and carry momentum.  Way to follow up that Pats game, guys."
"I have NEVER liked Dave Wannstedt."
"Fitz hasn't been the same since he got that big contract."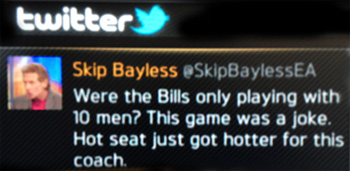 ——————–
WEEK SIX-  BILLS (1-4) at CARDINALS (3-2)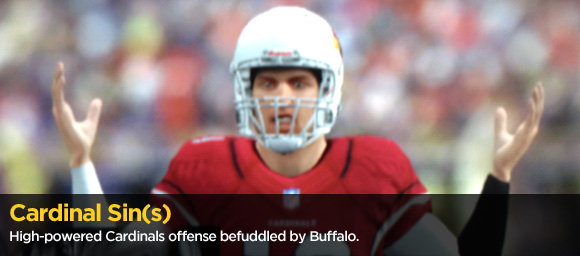 The surprising Cardinals enter Week 6 not only with a winning record but averaging 33 points per game.  George Wilson intercepts a John Skelton pass on the first Arizona drive, giving the Bills the ball at the Cards' 27, and it takes just two plays for Fred Jackson to get into the end zone.  The teams exchange field goals before, in the final minute of the half, Skelton finds rookie Michael Floyd from 21 yards out to even the score at 10.  No scoring in the third but Rian Lindell hits from 42 to give the Bills the lead on the first play of the fourth quarter.  Buffalo's defense forces a three-and-out and adds to it's lead on a 41 yard Fred Jackson touchdown run.  Skelton throws his third pick of the day and Lindell tacks on another field goal.  BILLS 23, CARDINALS 10. 
Key stats:  
Ryan Fitzpatrick: 11-23, 122 yards, TD
Fred Jackson: 23 carries, 104 yards, TD
Bills D:  3 INT (Wilson, Gilmore, Barnett)
John Skelton:  13-41, 181 yards, TD, 3 INT
Postgame show:
"The Bills should give a game ball to John Skelton.  That guy's a joke!"
"They have to keep feeding Freddie the ball.  He's their only chance to turn this thing around."
"If they can just take care of business and get to the bye at 3-4, I like how the schedule looks."
——————–
WEEK SEVEN-  TITANS (1-5) at BILLS (2-4)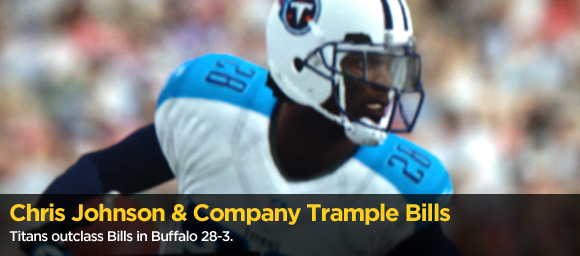 The Titans bring the 32nd ranked defense in the league into this Week 7 match-up in Orchard Park.  Matt Hassselbeck hooks up with Nate Washington to produce the game's first score.  The Bills drive but stumble in the red zone following a Terrence McGee interception and Rian Lindell boots a 26 yarder to make it 7-3 Tennessee.  The Bills fail to pick up the first down on a fake punt (run by Moorman) but Rob Bironas (who dispenses free FG kicking advice online) misses a 33 yarder.  7-3 at the half.  A 33 yard TD run by Javon Ringer puts the Titans up 14-3.  Jairus Byrd picks off Hasselbeck deep in the Bills zone but two plays later, the Bills give it right back as a batted ball winds up in the hands of safety Jordan Babineaux. The Titans add seven more on a 25 yard pass from Hasselbeck to Damian Williams.  Chris Johnson rips off an 82 yard touchdown run for good measure.  TITANS 28, BILLS 3.
Key Stats:
Ryan Fitzpatrick:  10-25, 117 yards, 2 INT
Fred Jackson:  22 carries, 56 yards
Mario Williams:  1 sack (his first as a Bill)
Chris Johnson:  18 carries, 165 yards, TD
Javon Ringer:  11 carries, 57 yards, TD
Bills D:  235 rushing yards allowed
Bills O:  186 total yards against worst-ranked defense in the league
Postgame show:
"Can't move the ball.  Can't stop ANYONE.  Blow it up.  Start over."
"Why did they even acquire Tarvaris Jackson if they're not going to give him a chance here.  He's got two weeks.  Make the move, Chan!"
"You know, I'm actually glad it's gone this way.  It's going to free up my Sundays to spend time with my family."
——————–
WEEK EIGHT-  BYE
Fitzpatrick benched.  Tarvaris Jackson named starting QB for Week 9 against Texans.
Talk shows:
"This guy couldn't beat out a rookie in Seattle and now he's our savior?"
"When you have two quarterbacks, let me tell you something…  you don't have any quarterbacks."
"Did London Fletcher sneak into Fitz's house and hit him in the ribs again?"
——————–
WEEK NINE-  BILLS (2-5) at TEXANS (6-1)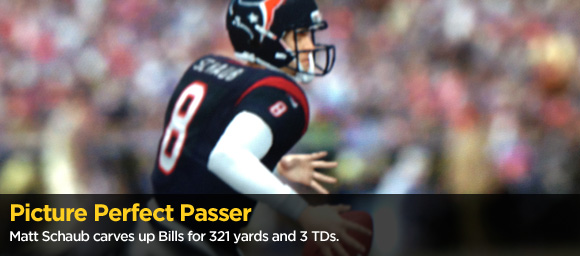 The Bills trail the Texans 13-0 and have already gone three-and-out three times before Tarvaris Jackson completes his first pass–  a gain of nine for Stevie Johnson on Jackson's sixth throw of the game.  A couple more Titans touchdowns, another Bills FG…  blah blah blah.  We watched this one so you wouldn't have to.  TEXANS 34, Bills 6.
Key stats:  
Tarvaris Jackson:  13-36, 133 yards
Matt Schaub:  24-30, 321 yards, 3 TD
Andre Johnson:  10 catches, 179 yards, 2 TD
Total offense:  Titans 450 yards, Bills 169 yards
Postgame show:
"Ride this kid out and see what he's got.  The season's lost already.  At the end of the year, cut them all if you have to."
"Do you think Flutie could still get it done?  How much can he possibly be making at CBS?  Nix has GOT to at least make that phone call, right?"
"How close are they to solving this NHL lockout?"
——————–
AFC EAST STANDINGS:
Miami                 5-2-1
New York           4-3-1
Buffalo               2-6
New England      2-6
KEY STATS TO DATE:
Bills D:  7 total sacks (Kyle Williams 3, Mario Williams 2)
Trent Edwards and Tyler Thigpen are both available as free agents.  Both are starting to sound appealing.
UP NEXT:
Third place in the AFC East is on the line as the Bills travel to Foxboro to face the Pats.