6-5 looks OK. 11th place in the conference doesn't.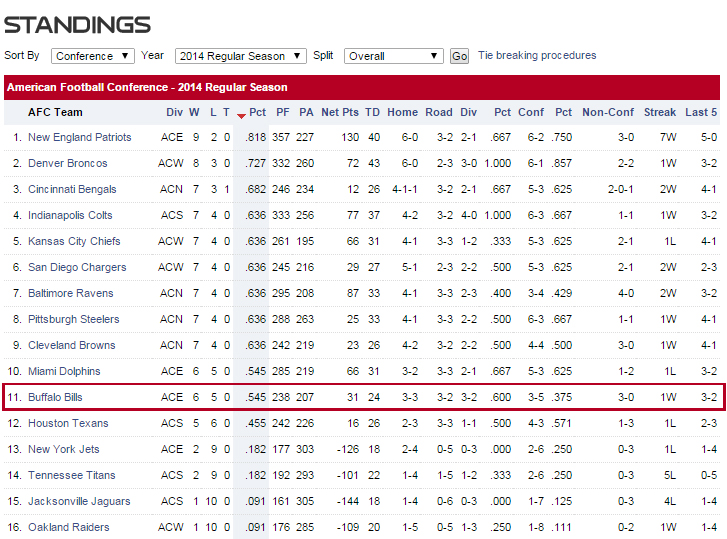 So, how do the Bills fix that?
It starts with winning, of course.
If you want the Bills playoff drought to end this season, here's what you're looking for this weekend.
STEP 1: Bills over Browns
This gets you to seven wins and moves you past the Browns in the tiebreaker. Vegas has the Bills as a slight favorite. Lay the points. Piece of cake. Boom… tenth place!
STEP 2: Jets over Dolphins
Although when we saw the Jets on Monday night, they looked like a team that will never win another game… they've got a pair of wins on the season. Hell, they beat the Steelers last week. Plus, Geno Smith is back in as the starter. Boom… ninth place!
STEP 3: Chargers over Ravens
Chargers beat the Bills so you don't want to wind up tied with them. (However, if they'd like to go all Chargers on us and tank in December, you'd probably be OK with that.) Ravens have a losing conference record and are much more reasonable for the Bills to pass. In fact, a loss here coupled with the Bills win moves Buffalo ahead of them. At least in the short term, this is ideal. Boom… eighth place!
OTHER STUFF WE'D LIKE TO SEE:
While none of these games will pay off immediately by bumping the Bills up in the standings and we're not necessarily planning on the Bills winning the AFC East, let's keep as many options on the table as we can.
Chiefs over Broncos would move KC to the top of the AFC West bringing Denver into the wild card mix. Chiefs beat the Bills but the Bills still get a crack at the Broncos. Go Chiefs.
Titans over Texans would deal a serious blow to Houston's already fading "in the hunt" status. The return of Ryan Fitzpatrick as Houston's starting QB may help this process along.
While we're at it, let's see any NFC team over any top 10 AFC team. That means:
Saints over Steelers
Redskins over Colts
Bucs over Bengals
Packers over Pats
With four full weeks of action remaining and complex and evolving tiebreaker scenarios, we'll have a whole new set of hopes and dreams next week but, for now, that's where we stand.