We're three days removed from the latest Patriots debacle and I keep coming back to one thought.  If they had it to do over again, I think the Bills would probably consider using a running back with two fully-functioning shoulders in their goal line package.
C.J. Spiller's fumble at the 1 yard line with a little over a minute left in the 2nd quarter set the tone for everything that followed.   Not to get all "I called it" on you, but I'm certainly not the only one who spoke the words "they're not going to win this game" in the wake of that turnover.  I moped through halftime, mourning the loss of the opportunity to make it 21-7 and  send the Patriots to the locker room trying to figure out how to "get back into this thing."  Instead, "here we go again" kicked in for me, and probably you, and probably both teams.  For the Pats, it was more like "OK, here we go!" but you get the idea.
(Side note:  Shouldn't the phrase "forward progress was stopped" have at least come up in the discussion held by the "real" officials following that play?  And, if that's going to be a rule, shouldn't it be considered on the vast majority of plays ruled fumbles?  Arbitrary rule enforcement drives me crazy.)
I posed this question on Twitter.
OK, took me 3 days to ask this but does anybody else think that if Spiller scores instead of fumbling, the Bills are 3-1?

— Brad Riter (@BradRiter) October 3, 2012
Some responses.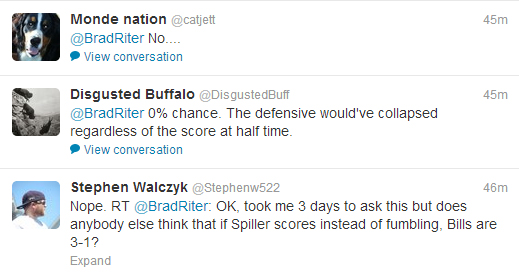 OK, nevermind.  The conversation during the week after a loss makes my head hurt.
There were a lot of things to hate about the Bills second half performance on Sunday.  I take solace in my belief that C.J. Spiller was 3 feet away from preventing them from ever happening.