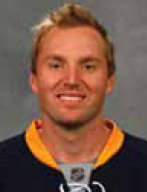 David Anderson's post yesterday suggested that Thomas Vanek is the type of high-end trade bait that could land the Sabres a large piece of a future Cup winner.  Along the way, he made some debatable points about Vanek's worth or lack thereof.
I considered writing a follow-up piece to dispute some of Anderson's points but have chosen instead to turn over the floor to one of our readers.  I give you…  Alexander S. Bauer.
Fact #1 – Comparing players to Briere and Drury is a complete waste of time. Neither of those players has won a cup since leaving the Sabres. Get over it.

Fact #2 – The same goes for about 25 other NHL teams. To place that blame predominantly on Vanek is a bit ridiculous.

Fact #3 – Just because you're bored because there has been relatively little action lately doesn't mean anyone is, or should be on the chopping block. Moves for the sake of making moves are bad, which is what every single suggestion to move Vanek has been.

Fact #4 – Vanek has put up more points per minutes than Parise and Ryan and more goals per minutes than all but four players since the lockout.

Fact #5 – Craig Rivet, Mike Grier, and Rob Niedermayer were not 'used up' when the Sabres acquired them. All of them gave at least one serviceable season. Rivet put up 2-22-24 the first year he played for the Sabres, the third highest assists total and fourth highest points total of his career. In 09-10, the Sabres were 2nd in the NHL killing penalties, thanks largely to Mike Grier's 2:38 SHTOI per game, highest on the team. Rob Niedermayer gets a lot of crap but his 19 points were in line with the 16, 16, 21, 22 he put up the four previous seasons. Don't blame him for your unmet expectations. Oh, and he also had 4 points in the playoffs, the same number as Tyler Ennis and Jason Pominville. It helps if you actually take the time to look at the numbers.

Fact #6 – Thomas Vanek has averaged 63 points a season. Fine. Bobby Ryan has averaged 62. One of these players has been centered by Ryan Getzlaf. One has been centered by Derek Roy, Jochen Hecht, Rob Niedermayer, and Luke Adam.

Fact #7 – It is a wild assumption to say that the Sabres expected Vanek to be the face of the franchise (pretty sure it was Ryan Miller) or that Vanek is guilty of 'sulking.'

Fact #8 – Vanek has played with torn ligaments in his leg, a broken finger, broken ribs, and internal bleeding. There is leading with the words you say. There is also leading by example.

Fact #9 – For harping on Vanek's so-called unfulfilled potential, you named several players that haven't accomplished anything.

Who do you honestly think Vanek, the team's best goal scorer, can be traded for that improves a team that was notoriously bad at scoring goals last season? What are you going to do when Foligno can't carry over his hot streak, or Bobby Ryan scores 22 goals because Getzlaf isn't his center?