Famous Idaho Potato Bowl
San Diego State 49, UB 24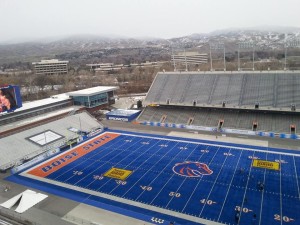 The Bulls second bowl appearance went much the same way their first bowl appearance went. It was an awful performance. In fact, UB's best bowl performance still is the fact they didn't play the 1958 Tangerine Bowl because they wouldn't allow the Bulls to bring their two black players: Willie Evans and Mike Wilson.
Looking back, I guess you can point to the fact that the Bulls eight wins came against teams with a record of 24-72. UB beat just one team this year that finished with a winning record. Compare that to San Diego State, who beat Boise State, San Jose State and lost to a ranked Fresno State team in overtime. San Diego State took control of the game early and led 28-10 at halftime on way to an easy win.
The Bulls couldn't stop running back Adam Muema. Muema gashed the Bulls defense for 229 yards and three touchdowns. When he wasn't running wild Aztecs QB Quinn Kaehler was throwing for 211 yards and two touchdowns and he ran in a third TD untouched from 29 yards out. The Bulls were outclassed at all of the skill positions.
Joe Licata has a miserable first half. Licata wasn't helped by receivers that were dropping balls. Turnovers were another problem UB had. Biggest turnover of the first half was a Licata interception with under a minute to play. One play later Dylan Denso caught a 25 yard TD pass and the Aztecs took an 18 point lead into the break. Any hope of a comeback was easily snuffed out when the Bulls fumbled the second half kickoff. A minute and a half into the third quarter and the Aztecs converted the fumble into another TD and the score was 35-10. Game, Set, Match! The Bulls turned it over three times on the day.
Thus ends an important era in Bulls football. Khalil Mack will be a Top 10 pick in next year's draft. Mack had six tackles in his last game. Credit the Aztecs for creating a scheme to neutralize Mack. Whenever Mack made it into the backfield he was met by the Aztecs good fullback Chad Young. Bo Oliver will find his way into an NFL training camp. Oliver was the best Bull on the field on this day gaining 114 yards on 28 carries. Oliver finished his career with just over 4,000 yards rushing. Alex Neutz struggled to get separation from the Aztec corners. He only had three receptions (1TD) and was one that had a few drops as well. Neutz one TD extended his own school record. Neutz finished his career with 31 TD receptions.
New Mexico Bowl
Colorado State 48, Washington State 45
The New Mexico Bowl is getting the reputation for wild finishes after Arizona made a great comeback last year and this year with Washington State blowing a 15 point lead in the last 3 minutes.
We love Mike Leach but come on you can't lose that game. Here is the critical sequence. With two minutes to go Wazzu was up 45-37. They had just tried a QB run and their QB Connor Halliday fumbled. It was reviewed and found that he was down first. So they get the ball back on 2nd and 10. The clock is running. For some reason they snap the ball with 20 seconds left on the play clock. CSU is out of time-outs. If they just took a knee on second and third down they would of punted the ball back to CSU with about 20 seconds left in the game. Instead they run their fullback, who of course fumbles and gives the ball back to the Rams.
Kapri Bibbs scored his third TD of the game and the two point conversion tied it with 33 seconds remaining. Colorado State kicks off and Washington State fumbles the kick-off. Jared Roberts kicked a 41 yard field goal as time expired to give the Rams the victory.
This lose will haunt Washington State for the whole off-season. It is very embarrassing to lose this game. Let's not forget that Washington State lost a heartbreaker 31-24 in the last seconds to Auburn in their first game of this season. Washington State played the toughest schedule in the country.  Four of their six losses were to teams that are currently ranked in the Top 16 in the country.
Connor Halliday threw six touchdown passes to six different receivers. For Colorado State Bibbs was very impressive considering he had a turf toe and still ran for 169 yards.
Las Vegas Bowl
(25) USC 45, (20) Fresno State 20
This was a big game for Fresno QB Derek Carr for the 2014 NFL draft. He hasn't played great competition so a game against this type of Pac-12 defense was going to go a long way. Carr had a horrible game. In his defense he doesn't have the Alabama offensive line in front of him, but still he has to be better. To us Carr's foot work looked sloppy and he missed on a few deep passes. Another problem in evaluating him is the Fresno offense throws so many WR screens. We would like to see him make more throws that he would have to make on Sundays.
Clay Helton guided the Trojans because Ed Orgeron stepped down after Steve Sarkisian was named head coach. USC looked like the Varsity playing against the JV. Cody Kessler has come a long way since Lane Kiffin was fired. Kessler was fabulous throwing for 344 yards and four touchdowns. Marqise Lee caught two of those TD passes and had 118 yards receiving. Lee looked like a first round pick going up against the Bulldogs secondary.
Have to give credit to USC DC Clancy Pendergast too. He took over this year after Monte Kiffin had a horrible defense last year (sound familiar Cowboys fans). His defense played very well most of the year and dominated this game.
Not often does little brother FresnoState get a chance to play USC. This was only the third time they met. The only other time these two teams met in a bowl, Fresno won 24-7 in the 1992 Freedom Bowl. The USC fans were chanting "Our maids went to Fresno". Ironically, these two teams will meet again in August as they kick-off the 2014 season.
New Orleans Bowl
UL Lafayette 24, Tulane 21
What a great atmosphere in New Orleans. This was the only bowl game this year where both teams are from the same home state the game is taking place in. This bowl stole the show for a raucous crowd for a minor bowl game.
ULL QB Terrance Broadway broke his arm on November 30th so it's amazing he was able to play. Not only did he play but he played well and was hit several times by a blitzing Tulane defense. ULL built a 21-0 lead with a strong running game and an opportunistic defense. Corey Trim intercepted a Nick Montana pass (Joe's Son) and raced 82 yards for a touchdown to give the Rajun Cajuns a 21-0 lead early in the second quarter. It looked like the romp was on. Two things then happened. Devin Powell replaced Montana at QB and the Tulane defense started to blitz on almost every down. Tulane rallied and got back into the game. By late in the third quarter Orleans Darkwa rushed for his third TD of the game and the score was tied at 21.
The momentum turned back to ULL early in the fourth quarter when Sean Thomas intercepted his second pass of the day. It set up a 27 yard field goal by Hunter Stover to give ULL the three point lead.
Tulane has a great kicker in Cairo Santos. Santos won the Lou Groza award last year as best kicker in the country. The game looked like it was headed to OT. ULL sacked Powell with 9 seconds left to push a field goal attempt back five yards. Santos lined up for a 48 yard attempt. He pushed the attempt just left and Tulane lost. It was the Green Wave's first bowl game in 11 years.