If you like #SabreSim2012, please follow presenting sponsor Oogie Games!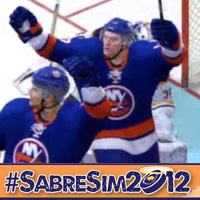 (UNIONDALE, NY)   Former Sabre Brad Boyes contributed to every New York goal (2 G, 2 A) as the Islanders knocked off the Sabres 4-1 at Nassau Coliseum.   Buffalo falls to 2-2-0 while the Islanders improve to 5-0-0.  New York has given up just 6 goals in those 5 wins.
Making his fourth start in eight nights, Ryan Miller put up his sloppiest performance of the season.  He lost track of the puck in his crease, allowing Frans Nielsen to put the Islanders on the board at 7:28 of the first period.
Neither club scored in the second, with Buffalo creating the best opportunity as Jason Pominville rang one off the post.
Kyle Okposo made it 2-0 at 5:03 of the third, ripping a wrist shot just above Miller's blocker.
Okposo set up the next one, pulling Tyler Myers out of position and finding Brad Boyes alone in the slot for a one-timer and a 3-0 nothing lead at the 9:46 mark.
Buffalo's Marcus Foligno netted his first goal of the season, putting home his own rebound at 14:17.
Boyes added his second of the night with an empty-netter at 19:31 to put the score at 4-1.
Buffalo outshot New York 33-27.
Marcus Foligno suffered an undisclosed injury and is expected to miss at least a week.
The Sabres return to action on Wednesday night when they host the New Jersey Devils.
*****
SCORING:
FIRST PERIOD
NYI 7:28 – F. Nielsen (2), (B. Boyes, M. Streit)
THIRD PERIOD
NYI 5:03 – K. Okposo (1), (B. Boyes, M. Eaton)
NYI 9:46 – B. Boyes (2), (K. Okposo, A. McDonald)
BUF 14:17 – M. Foligno (1), (J. Pominville, J. Leopold)
NYI 19:31 – B. Boyes (3) ENG, (K. Okposo)

 *****
Sabres Lineup:
Forward Lines
Vanek – Hodgson – Pominville
Foligno – Ennis – Stafford
Leino – Ott – Gerbe
Ellis – McCormick – Kaleta
Defensive Pairings
Regehr – Myers
Ehrhoff – Sulzer
Sekera – Leopold
Goaltender
Miller
*****
What did you think of the Sabres' performance?  Use the comments section below.
.