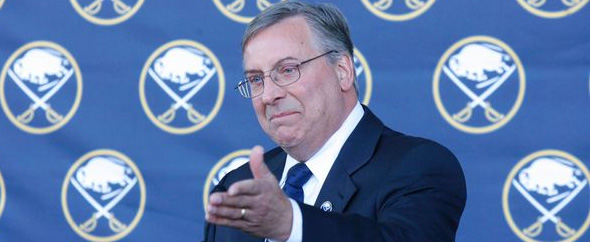 On the day Terry Pegula bought the Sabres, he set the bar for sports news conferences to a height that would make a Hollywood producer blush. We sat stunned as it seemed a heavy cloud was suddenly lifted from a franchise and an entire city. A fanbase accustomed to discovering new and horrible ways to have its collective heart crushed received an unprecendented gift: REAL HOPE.
Quotes from "Pegula Day 2011":
"Starting today, there will be no financial mandates on the Buffalo Sabres hockey department."

"Panic doesn't seem to work. Our feeling is you pick good people and you try to stick with them."

"Starting today, the Buffalo Sabres' reason for existence will be to win a Stanley Cup."

"If I want to make some money, I'll go drill a gas well."

"We'll put the pedal to the metal as capably as we can. I don't know if it's wise to spend to the cap every year. But we're not in this to save money, that's for sure."
Nearly 2 years later, after missing the playoffs in 2012 and a rough start in a lockout-shortened season (They're 1 point out of the playoffs with only 35 games left!), the critics have come forward to perform their postmortem on what doomed the Pegula era.
Here are the (alleged) strikes against Terry Pegula.
1. He's too generous.
A franchise that has had its recent past defined by letting Chris Drury and Danny Briere leave for richer contracts has been granted the freedom to match and outbid for any player in the league. Oh, the shame.
2. He's too honest.
With a previous owner in prison and questions about management's responsibility for mishandling failed contract offers in the past, Terry Pegula has announced where he stands and has stood by his words. Is he insane?
3. He supports the team too much.
To help in recruitment and improve relations across the hockey world, the new owner extended invitations and flew in at his own expense every Sabres alumni and their guests. When Robyn Regehr was thinking about accepting a trade to Buffalo, the Pegulas called him several times and offered to fly out to meet with him. Clearly, the man is a monster!
4. He invests in the franchise… and the city.
From improving facilities and expanding scouting capabilities to committing more than $100 million to downtown development, he is strengthening the future of the franchise and city. The man must be stopped!
5. He trusts his people.
As a fan of the team, Pegula entered his new role as (shocking) a fan of both the coach and the GM. It's easy to forget, but these two men traded for Danny Briere, built a President's Trophy team around Chris Drury, and developed Ryan Miller into one of the best goaltenders in the world. Vanek and Pominville have thrived. Darcy Regier and Lindy Ruff have shown signs that they just might know what they are doing and Pegula trusts them to do their jobs, until such time as he decides that he doesn't. The horror!
6. He's too patient.
After an improbable playoff run, one disappointing season, and a tepid start to 2013, Terry Pegula has not cleaned house and started from scratch. Compare this with the revolving door of coaches and GM's in Orchard Park and ask yourself how often a revolving door leads to championship success. The man obviously knows nothing! I'm panicking! Why isn't he panicking?
7. He's a fan.
The new owner loves hockey, appreciates the team's history and accomplishments, and understands how the sport helps define this community. He wants the Sabres to succeed, and is willing to spend money and accept criticism to achieve that success. Oh my god, he's rooting for the team like he always did but now has the ability to have an impact on the results! Help!
Yes, the Sabres' performance so far has been disappointing, but how will anything listed above doom this franchise going forward?
There's been one full NHL season since Pegula took the reigns and, in it, the 8th-seeded Los Angeles Kings took home the Cup.
1 winner. 29 "losers."
The other 29 teams didn't all fail. Some are in position to do great things in the future.
The team's purpose for existence is not to "hurry up and win the Cup so that critics will believe in ownership's level of commitment, thus putting to bed the 42 seasons seasons of failure that didn't happen on our watch."
The stated goal is to win the Cup and then to win it again. The obvious, unstated goal is to be in a position, on a yearly basis, to compete for the division, the conference, and available free agents.
Take a deep breath, Sabres fans.
We're just getting started.